Dani Olmo: "In the field I like to think; I don't want to run for running "| sports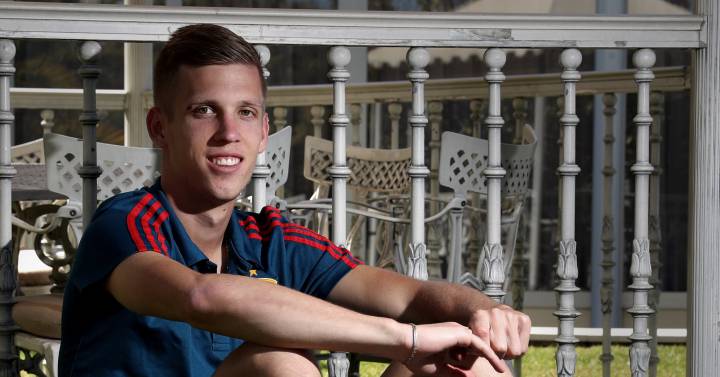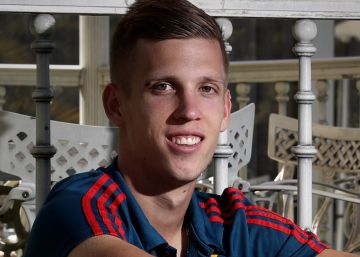 Mirko Barišic, president of Dinamo in Zagreb, is a man of out of focus ideas. In 2014 it illuminated an unprecedented plan. Hire a tanned extreme dribbler in the Barcelona cadet – a player profile that La Masia systematically produces – mold it in the Croatian League and make it a total footballer. A revelation capable of attracting the attention of the great European clubs that, after the ellipsis, would pay a fortune. Dani Olmo, who was 16 at the time, was chosen to undertake the ideal investment.
"The project that they had – and so they transmitted it to my father – was to make me the most expensive transfer in the history of Dinamo," says the attacker of the Spanish sub-21 team. "It was in his mind since I arrived. So far the Dinamo record is Marko Pjaça's 25 million Juve in 2016, and Modric's 21 at Tottenham in 2008. I don't have a clause there. That they ask for 40 million are things that the press says. I don't get into that. In the end, what is up to me is to play football: that's where I can talk. "
To speak, Olmo has been speaking Croatian perfectly for years. Its integration and subsequent training in the Balkans is an unparalleled epic in the Spanish quarry. Chosen best player of the Croatian League 2017-18 and 2018-19, European Under-21 champion last summer and more decisive Dinamo figure who plays the Champions League in Group C with Shaktar, Atalanta and Manchester City, the Barišic's dream is about to come true. If the Spaniard did not leave Croatia last summer it was because the 40 million euros that Dinamo requested went out of the market. Croatian football does not generate so much expectation among clubs with more purchasing power. The sum of all summer Croatia transfers does not exceed 25 million.
"I left school in Barcelona and went to Zagreb to be a soccer player," he recalls. "The most difficult part of the adaptation was the language. At first I tried to go to school but I didn't hear anything. I went to private classes. After a year and a half I let go and started speaking Croatian. But I started training with the first team three months after arriving. "
"Dinamo offered me to enter the dynamics of the first team," he explains. "That meant training with professional players who have played world championships, such as Reis, Leko, or Vukojevic. Training with them every day at 16 helps you mature. And since childhood I always wanted to play football. I dreamed of being professional. At that time in my life we ​​thought it was the best option to be what I wanted to be. I went through very hard stages but it all comes out, and the more difficult the situation is, the more it strengthens you and you learn more. I think I was right. I'm very happy".
"I arrived as an extreme and when they saw me they told me that I had to play in the middle, from midpoint," he recalls. "Little by little they were converting me to play inside and there I play in that position. Just like now in the sub-21. As an inside, although I feel better in the midpoint behind the nine. In defense I can be more close to the parea band close, or in the 4-4-2 second point. But in attack they give me freedom to move between the lines. In both Dinamo and U21. "
Born in Tarrasa in 1998, he sometimes speaks of himself in the first person of the plural. He knows he has never been alone. His great support, his father, Miquel Olmo, who as coach was responsible for the bench of the Sabadell or Girona, advises him at every step along his adventure. "My father has influenced me a lot," he warns. "That your father is a coach is not a burden. Unlike. We talked a lot about football and that helped me to learn, to know how to look at the space and attack it, not to be late but to have a good timming, and to profile myself, to face the ball. A good control can open many situations and a bad one closes them all. I think I have greatly improved that. "
Rarely do soul dribblers reflect so deeply on tactics. Dani Olmo, who came to work with solvency as fake nine In the final of the European Under-21, he is a student devoted to concepts. "In the field I like to think. I don't want to run for a run, "he says. "Before I look to see where the free space is, how the opponent moves and there I try to occupy that area where I think a ball can pass. More when I play between the lines, or fake nine, or in the midpoint. When I get there, I try to think quickly to go to one that comes to me or assist my partner. "
"More than studying the rival," he observes, "I think everyone has to watch their own games on TV: see how you act in certain situations. For example, in a play in which you open the band, you look and discover that it would have been better to stay in the starting position. Because the end that marked you had to open. Because our circulation ended up in band. If you see those things and know how to recognize that you were wrong, and correct yourself, you can improve a lot. "
This Thursday will act as captain of the U21 against Germany in Cordoba (The Archangel, 7:45 p.m.). He will then face Montenegro for the 2021 European classification and return to Croatia. Demanding months await. On December 11, the Champions League round of 16 will be played with the City in Zagreb. A unique opportunity to make history and, if all goes well, sign for a major league club after a journey that no one but he can boast.
"The Champions is a showcase for the entire team," he says. "We know that a good year in Europe can open many doors."
You can follow EL PAÍS Sports in Facebook, Twitter or subscribe here to the Newsletter.