Dancing is fashionable in the Canary Islands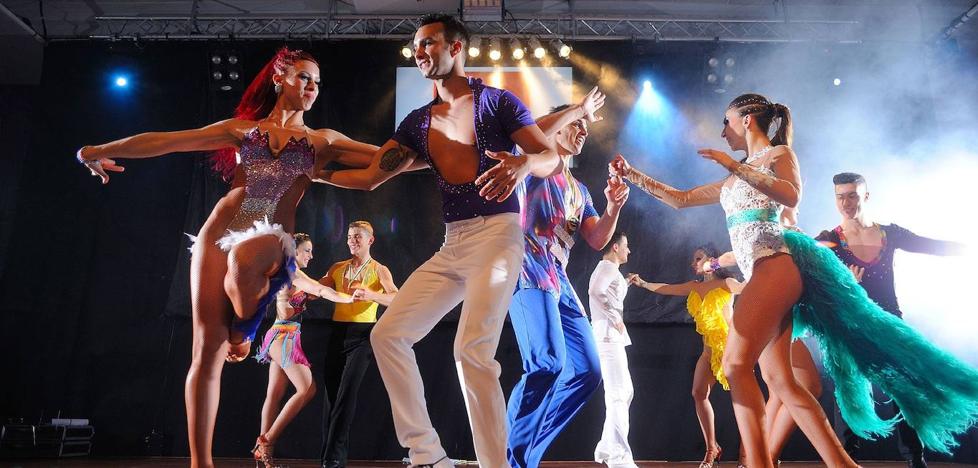 18th edition of the Canarias Salsa Open
Latin dances are part of the group of physical practices preferred by Canarians, not only for the physical exercise itself, but also as a way of socializing
The
dance learning and exercise and the dances allow to tone the body, enrich the mind and expand the personal musical repertoire. As Voltaire well said: "Let us read, and let us dance; these two diversions will never do any harm to the world."
In Spain there are about two thousand academies, schools and associations in which Latin dance classes are taught. Around half a million people come to them to learn to dance or perfect dance techniques. Approximate turnover is
100 million euros per yearemploying the sector to more than 15,000 monitors, teachers and administrative staff of these centers.
dance fashion

It always has been, but in a society in which its members look to physical activity for a way to maintain better health, the search for
leisure-sports activities has been shot. Latin dances are part of the group of preferred physical practices, not only because of the physical exercise itself, but also because of the camaraderie and the attraction to Caribbean rhythms.
Couples of all ages, and women and men individually, are encouraged to
learn and practice these rhythms. They are so rewarding that once you start with them you can't stop.
Another advantage is that in most cases, with practical and simple methods, students manage in a short time to distinguish and dance rhythms such as Salsa, Merengue, Bachata, or Chachachá.
Salsa dancing is good for your health, since moving with the patterns of Latin rhythms is a healthy physical activity. Its habitual practice supposes an improvement of the physical and mental form.
Can be found
thousands of academies and schools in all capitals Spanish and European. Also in any city or small town there are Latin dance academies. In the expansion of these
teachings It has influenced the immigration of professionals from countries such as Cuba, Venezuela, the Dominican Republic and the Latin world of the United States. There are many
teachers of these countries that teach Latin dances, and specifically Salsa, on the European continent.
In the archipelago there are currently
more than a hundred academies in which they are taught
Salsa classes, as well as bachata, kizomba and urban rhythms, the latter aimed at the youngest. In addition, nightlife venues complement its
offer organizing During the week Latin parties, in which dance teachers give workshops and offer entertainment.
From America to Japanthe practice of Salsa dance has become an industry that attracts the attention of millions of people, both those who practice the dance as a simple hobby, as well as those who do it semi-professionally and professionally.
The Canary Islands are considered the European Caribbean. Musically speaking, internationally renowned artists and groups such as Celia Cruz, Luis Fonsi, Don Omar, Juan Luis Guerra and a long etcetera, achieved European projection through the promotional platform of the Archipelago.
This fact makes the islands a point of reference when talking about Salsa and Afro-Caribbean rhythms. Precisely,
at the end of this month of August Santa Cruz de Tenerife will be the scene of a new edition of the Canarias Salsa Open, franchise of the
World Salsa Open world championship. An event to which other activities have been added, such as the presentation of a musical,
"The Sound of the Street", and a full day of workshops with teachers of international prestige and from the Canary Islands. It will be the days of
August 25 to 27 at the La Recova Art Center.
Programming of the 18th edition of the Canarias Salsa Open:

Thursday, August 25:
9:00 pm: Musical 'The Sound of the Street' with Maykel Fonts as guest artist. More than 14 live musicians, more than 20 dancers on stage, DJs, projections... all of this enlivened by the actress, singer and master of ceremonies, Mar Gutiérrez Meneses.
Friday August 26: dance workshops
11:00 a.m.: Mayikel Fonts - Salsa Fonts Style.

12 noon: Verónica Peidró- Bachata

5:00 p.m.: Silvio González – Laps as a couple (on2) Social

6:00 p.m.: Cristo Fernández (MMDanza) – Salsa (on1)

7:00 p.m.: Rebeca García Frías – Salsa Ladies Style

8:00 p.m.: Adrián Rodríguez – Salsa in Couple (impro for competition)
Ticket Sales

the rhythm of
ticket sales to be able to attend this edition of the Canarias Salsa Open is going quite well, so predictably
will run out soon. For this reason, those who are interested in participating and attending the workshops, the musical or the championship itself must purchase their tickets through the official website (
https://www.salsaopencanarias.com/venta-de-entradas/)
This event
it is possible thanks to the collaboration the Canarian Institute for Cultural Development (ICDC); Development Society of the City Council of Santa Cruz de Tenerife; Autonomous Organization of Culture of the City Council of Santa Cruz de Tenerife; Puerto Rico Tourism Company; Being-Radio Club Tenerife; newspaper El Día; Watch me TV; Base Sports Health; Throw Sauce on it; Dragon Lithograph; Tunera.Es; Restaurants- Pizzerias Da Canio; Bamboo Lounge&Bar; and Aguidance Projects.