Daimler is forced again to call hundreds of thousands of vehicles to the workshop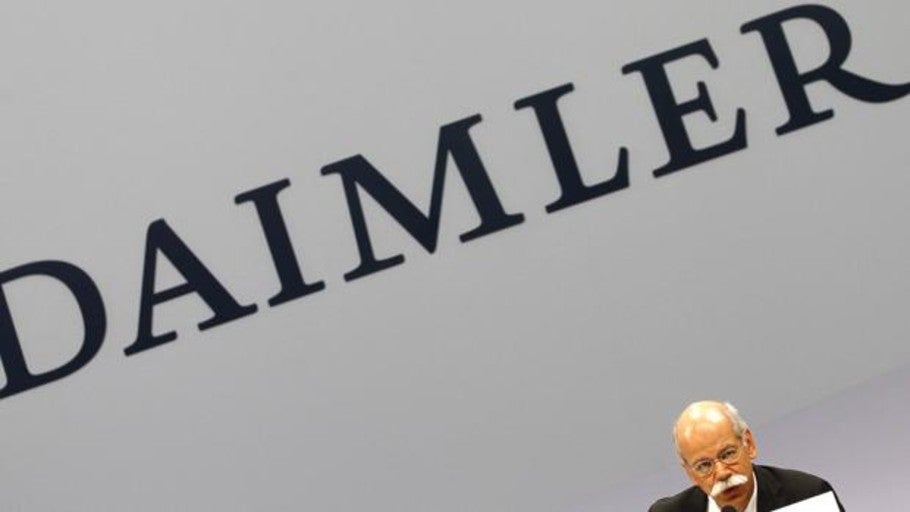 Berlin correspondentUpdated:
The German automobile agency (KBA) has ordered Daimler, manufacturer of Mercedes Benz, call for review hundreds of thousands of diesel vehicles equipped with a trick program, as recognized by the manufacturer. "We estimate that a number of cars around six figures is affected," explained company sources. At least 260,000 "Sprinter" vans must pass through a workshop throughout Europe. All affected vehicles were manufactured before June 2016.
This decision takes place as the conclusion of the investigation that the KBA opened in early October, according to the German media. The agency suspected that Daimler installed in those vehicles a «Illicit computer program» to ensure that during laboratory tests they appear as less polluting than they really are.
Daimler had already had to call a review beforehand about 700,000 vehicles, of which about 300,000 had been sold in Germany, since the scandal of fraudulent diesel engines broke out in 2015. The Volkswagen firm admitted that it had tricked 11 million vehicles worldwide.
Last September, the German car giant accepted without appeal an order from the Stuttgart Prosecutor's Office that forced him to pay a fine of 870 million euros by hundreds of thousands of diesel vehicles that violated emission standards. "The company refrained from filing a legal appeal against the fine," he said in a statement. In their own statement, Stuttgart prosecutors said the fine was related to some 684,000 vehicles that have been reported for excessive emissions by the Federal Automotive Transportation Authority. "The researchers identified a negligent violation of supervisory tasks in the Daimler unit that deals with vehicle certification as of 2008," the statement acknowledged, "official permits were granted for diesel vehicles, although their nitrogen oxides emissions (NOX) sometimes did not correspond to regulatory requirements ».
The KBA has ordered the removal of successive batches of Daimler vehicles in recent years, as it has discovered higher emissions than those due, but the company has always denied its participation in the so-called "dieselgate" scandal that broke out in 2015. "Daimler maintains … objections against the orders of KBA », insists the manufacturer of Mercedes-Benz.
Stock Market Fall
Volkswagen, meanwhile, has had to pay more than 30 billion euros in fines, legal costs and compensation, mainly in the United States. In Germany, the Volkswagen brand and its subsidiaries Porsche and Audi have paid fines similar to that on Tuesday against Daimler, for a total of 2.3 billion euros. Daimler has accepted the sanctions justifying that "it is in the best interest of the company to end the administrative infringement process … and thus conclude this matter."
The prosecution has warned that both the fine and the obligation to call the vehicles to the workshop "have no effect on the investigation of Stuttgart prosecutors on individuals in relation to the suspicion of manipulation of motor control software." Nor will it affect individual or collective civil lawsuits against Daimler for excessive emissions.
As a consequence of this process, lDaimler's actions have been suffering in the markets, but the company hopes to keep its results in line with those of the previous year, despite having increased the provision of funds in hundreds of millions of euros for problems related to its diesel vehicles. At the end of June, it issued a warning about benefits, after confirming its obligation to withdraw 60,000 Mercedes diesel vehicles in Germany equipped with software designed to distort emissions tests.
The owner of Mercedes-Benz, based in Stuttgart, is being investigated for its diesel emissions in Europe and the United States. In last April, EU competition defense regulators accused BMW, Volkswagen and Daimler of conspiring to block the deployment of clean emission technology. Since then, Daimler has reduced its profitability forecast for Mercedes-Benz van sales. It now expects a negative return, between -2% and -4%, below its previous forecast of a return on sales from 0% to 2%.
In 2018, Daimler posted a net attributable profit of 7,249 million euros during the past year, with a 29% decrease compared to earnings of 10,728 million euros in the previous year. The president of the company, Dieter Zetsche, has acknowledged that the multinational is facing "strong winds against", which are reflected on the balance sheet and on the share price of the corporation.
. (tagsToTranslate) daimler (t) vehicles



Source link