Cyberbullying: "He controlled me. I lived with psychosis ": the experience of a woman spied on through mobile | Technology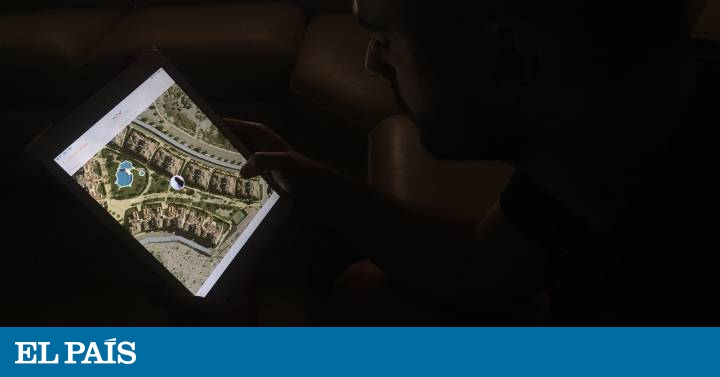 Until eight months ago Laura (fictitious name at the victim's request) could not do anything with her cell phone without her boyfriend knowing. He knew every message he sent, every photograph he stored or every I like it that gave in any social network. He also knew at all times where he was, what he was talking about when he called and what he was looking for on the Internet. Who today is already his ex-partner had a spy application installed on his mobile without her knowing: "When I was having a conversation or talking with a person he did not control, I wondered about it and I did not give credit. I lived with psychosis. "
The app that her boyfriend had unloaded on her smartphone for four months it allows, for about five euros, to access the call history, view the photos stored on the device, read the emails or check the installed applications. The version premium, which is worth about seven euros, includes additional functions. These include recording calls and the phone environment at any time, reading WhatsApp chats, accessing Tinder messages and even deleting data from the phone or blocking it by remote control. This application, as explained on its website, remains hidden on the phone where it was downloaded and does not appear in the list of apps installed in it. The identification of this and other market programs has been ignored so as not to facilitate its use.
What has happened to Laura is not an isolated case. A group of researchers from Cornell University, New York University and the Israel Institute of Technology found dozens of applications of this type in the market: since apps more basic that give information such as the position through the GPS to some very advanced ones that allow access to the camera, the remote screen display and the possibility of controlling the mobile through the computer being able to access all the content and Its applications. The research, published in 2018, reveals that most of these apps They are "dual use" and pose as child or anti-theft security tools. This makes it difficult to understand the real scale of the problem.
Laura, 26, began the relationship with her ex-partner when she was dating a friend of him. "He always said that he could not trust me because if he had done that to his friend, surely he would do it too. At first they were discussions that passed quickly. But over time he began to become obsessed with me. I wanted to know what I was doing and where I was going. If I told him something, I wondered many times if it was true. Jealousy was present in our daily conversations, "Laura recalls.
As the relationship progressed, which lasted two years, she increasingly "did fewer things": "I barely published on social networks and I lost a lot of friends." Her boyfriend wanted to be aware of all his movements. "When I was writing, I always looked sideways. Later he asked me for the passwords and I didn't want to give them to him, but he got very angry because he said he couldn't trust me, so I gave them to him and he created other profiles on Instagram and Snapchat so I could have my privacy. I didn't do anything wrong or fool around anyone, but I wanted to feel free to talk to my friends and friends, "he says.
His partner lived with the obsession that she left with another boy, as he says: "I once caught him when he came out of the bathroom with my phone in his hand and he told me that he had taken it to watch the time. When he called me a number I didn't know, I wrote it on his cell phone. He also knew the names of all the contacts added on Facebook and had questioned me about all the boys forcing me to delete several ".
The control was increasing. To the point that there came a time when he learned about things she had never told him. It was then that he began to suspect that he was spying on her in some way. He searched on the Internet and when he learned of the existence of such applications, he decided to seek help and end the relationship. Contact with Stop haters, the first Spanish non-profit association to fight harassment on the Internet.
There, the first thing they did was check and verify the security of their phone, their passwords and social networks. This is the usual procedure that they perform with each person who resorts to them, according to the computer scientist of the association José Miguel Rodríguez and the lawyer of the organization Sara G. Antúnez. In this way, they realized that someone had installed a remote control application on their mobile phone with which they could see everything they did on their phone from another device without their knowledge.
To install this application, Laura's ex-partner needed to have her phone only once. "I didn't have access normally, but once asked me to search for something on the Internet with the excuse of not having data," Laura recalls. Rodriguez explains that who installs a app of this type "you may need access to the device or not, as it may fool the victim into thinking that the application you are installing is useful for a particular use." For example, when a person makes another believe that a app Location can be helpful if you lose your phone, but it actually has other functions.
Young couples
People who use this form of harassment "tend to have minimal knowledge in technology to manage spy applications and hide them." This type of behavior, according to the computer scientist, is increasingly common among young couples, in cases of gender violence and in situations of celotyping – pathological skies – or suspected infidelity: "There is a significant distortion of sentimental relationships and privacy of the individuals that make them up due to the rise of social networks ".
The American public radio NPR published in 2014 the results of a survey of 70 shelters in which battered women were staying. Almost 60 of them claimed to be working with victims controlled by their abusers with these types of applications. Some 50 said they also attended to women whose conversations had been heard in secret remotely. That same year a study conducted by the organization Women´s Aid confirmed the same reality. Four out of ten women They stated that their partners or ex-partners had used their online activities to track their movements and control them.
Although Antúnez points out that it is more frequent that these types of applications are installed by men on women's phones, he states that there is also a high percentage of girls who perform these practices. And it is even possible to find these behaviors much less frequently among employers and employees and parents and children. In fact, the application used by Laura's ex-boyfriend is intended to monitor children under 18 and locate employees through mobile phones or tablets owned by the company.
Rodríguez explains that these applications, which are available both in the Play Store and in the Apple store, are legal: "The dangerous thing about these applications is not themselves, but the use that is given to them, which sometimes is not That's the right one". "This type of apps They have other objectives such as, for example, in the case of a person who records video tutorials, being able to view the screen on the computer and manage it from the computer. They are also useful for remote assistance and to solve problems without having the physical device, "he says.
However, using them to spy on a person without knowing it can be a crime. The Spanish Criminal Code punishes this act as a crime against privacy, based on the constitutional right to the inviolability of communications and to preserve personal privacy, which can result in prison sentences ranging from one to four years. For example, a judge convicted in 2015 in Spain two and a half years in jail for a man for spying on his partner's cell phone.
The computer scientist and the lawyer of Stop Haters recommend to any person who thinks that he is being victim of these practices to restore the mobile to the factory state and to denounce the case. Until Laura contacted Stop Haters and took steps to end control, she felt "locked up and distraught": "He was not aggressive, but very manipulative and blackmailed and made me feel guilty." Now he is in shock: "I am receiving psychological assistance to understand that what he has done to me is a form of abuse." And he is clear about what advice he would give to anyone who could go through something similar: "That at the first suspicion, cut the relationship, it will always get worse. And seek professional help. "
. (tagsToTranslate) control (t) live (t) psychosis (t) experience (t) woman (t) spy (t) mobile (t) dozens (t) apps (t) advertise (t) tool (t) monitor ( t) minor (t) anti-theft (t) allow (t) illegal action (t) (t) listen (t) call (t) read (t) chats (t) access (t) phone (t) person (t) consent



Source link