Curbelo's party also supports covering up Parliament's tables when there are plenary sessions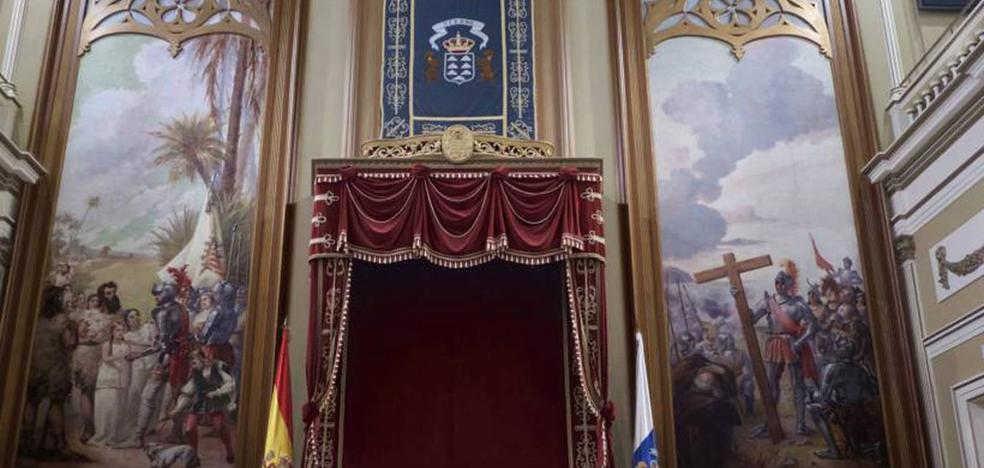 Controversy over the images alluding to the conquest of the Canary Islands
The Gomera Socialist Group, the party led by Casimiro Curbelo,
adds to the request of Canarian Coalition and Podemos that the paintings that are at the head of the plenary hall of the Parliament of the Canary Islands are hidden when there are parliamentary sessions.
See the press conference here:
This Wednesday the deputy
Jesus Ramon Ramos Chinea He has joined the press conference on this matter held in Parliament and which had been called by Francisco Déniz, from Podemos, and Mario Cabrera, from CC.
This question
was already raised in the previous legislature and was ruled out from the Parliamentary Table.
Referrals
paintings are allusive to the conquest of the Castilians and one of them shows the delivery of two Guanche minors to the conquerors.
Francisco Deniz stressed that
"not acceptable" that those canvases are presiding over the room when there are plenary sessions.
In addition, as Mario Cabrera pointed out, behind the head of the Table there is a
third covered canvas representing the provincial division.
What the parliamentarians are now proposing is that
the pictures are covered when there are plenary