Cuca Escribano: «From the project of 'The co-pilot's syndrome' I have come out transformed»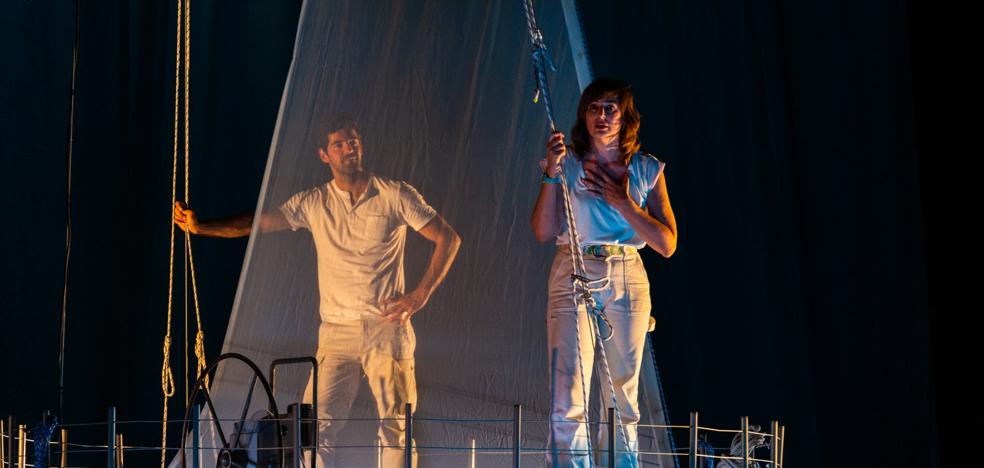 The actress co-produces and co-stars with Miguel Ángel Muñoz in the production that will be performed this Tuesday at the Auditorio Teatro de Agüimes
to the theatrical project
'The co-pilot syndrome' a Cuca Escribano entered and another has left the same
Cuca Notary. Both for the reflection that the work develops and for what her involvement as a co-producer in a piece that
This Tuesday, starting at 8:00 p.m., it will be performed at the Agüimes Theater Auditorium within the first edition of
Maps Fest.
The actress confesses that, deep down, she has experienced something very similar to what she suffers in her flesh
Marine, the protagonist of this work written and directed by Vanessa Montfort. «Suddenly I saw myself producing and I admit that I felt quite scared in case I was going to be able to carry the project forward. In case I managed to get investors, money for the team... I've been through a storm and at times, I didn't consider myself capable of doing it, as happens to Marina. I had been reading Vanessa's text for more than a year before, but until I got inside I didn't have these fears.
In the end, everything turned out very well. I have come out transformed», she points out proudly in Agüimes after the performance of the production, on the 11th, at the Guimerá Theater in Santa Cruz de Tenerife.
'The co-pilot syndrome' adapts the successful novel on stage
'Women who buy flowers', of one's own
Vanessa Montfort. «I have been a friend of hers for a long time and at a dinner she told me that she had half written the work based on her novel. I told him that if we raised the project and here I am », she recalls with a laugh.
Marina's double trip

The play begins when Marina decides to fulfill her husband's last wish before he died: that he cross the Strait of Gibraltar on his sailboat to dump his ashes in Tangier. "She is at a crucial moment that is going to generate a 180-degree turn in her life.
During eight days of navigation he will have to face a storm of the elements, which is not easy, and also an emotional one. She will see that she has always been sitting in the passenger seat, letting herself be carried away by the decisions he made. during that journey
she will reproach her ghost for many things and she will place herself in another place», advances the actress who shares the stage with
Miguel Angel Munozwho embodies that husband who appears during the journey.
"No one is capable of making the decision that Marina makes without rolling up their sleeves," Cuca Escribano stresses.
"Sometimes we let ourselves be carried away by fear, others by comfort and other times by the environment.
The work is not positioned. It is not even a feminist work, because it is something that happens to men and women, that we let ourselves be carried away in pursuit of the dreams of others and until there is a death, a job change, a dismissal or another traumatic situation, we did not decide to take the helm and change course. Y
it's not easybecause if you haven't taken care of your own life before, doing it on the fly is complicated, "he explains.
Connect with the public

Since its premiere in April at the Teatros del Canal, this production has received a great response from the public.
«Many when leaving tell us that it has made them think.
Some also tell us that they have criedbut since the end is hopeful, they have connected very well with Marina and have left in peace, "says the actress about this production whose tour will stop in August and from September will tour the country again until June 2023.
Praise for Munoz

The actress Cuca Escribano is all praise for her co-star, Miguel Ángel Muñoz. «He is a wonderful partner and I am very comfortable with him. We knew each other, but had never worked together. It is the third function that he does with Vanessa and since she read the text she said yes. From the first moment she has been super in favor and at one point in the play she has a monologue that gives goosebumps.
He is a very loving, caring and generous person.», says the interpreter.
Escribano considers that good emotional connection to be key for the theatrical productions to come to fruition. «In the audiovisual sector it is different, but
if in a play that goes on tour There is no good harmony between the actors, in the end the public notices it, "he defends.
He acknowledges that the text of 'The co-pilot syndrome' is complicated for the actors, but both have their tricks to keep it fresh.
"If we haven't done it for more than ten days, we call each other on the phone and we pass on all the text, which
it takes us about 40 minutes. Miguel Ángel is a multitasker, he is into a thousand things, but he always finds time to do it, even in the most surprising places.
He is a great professional»reiterates.