CSKA torments Real Madrid with triples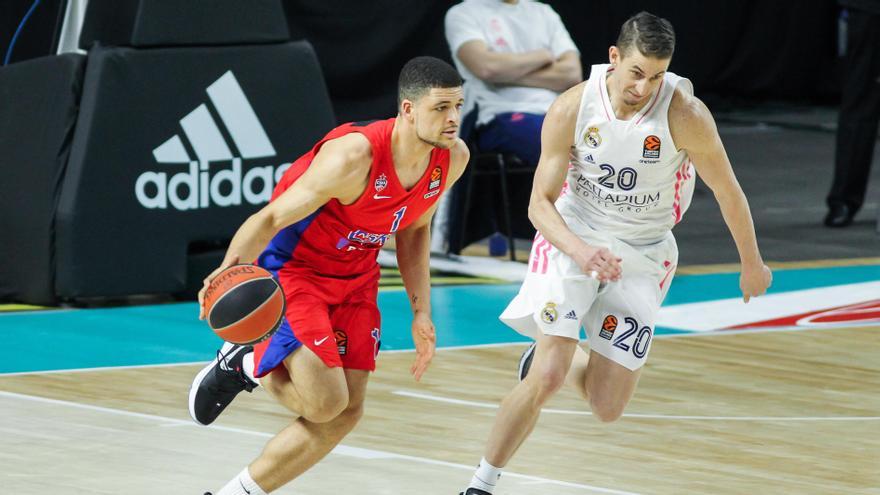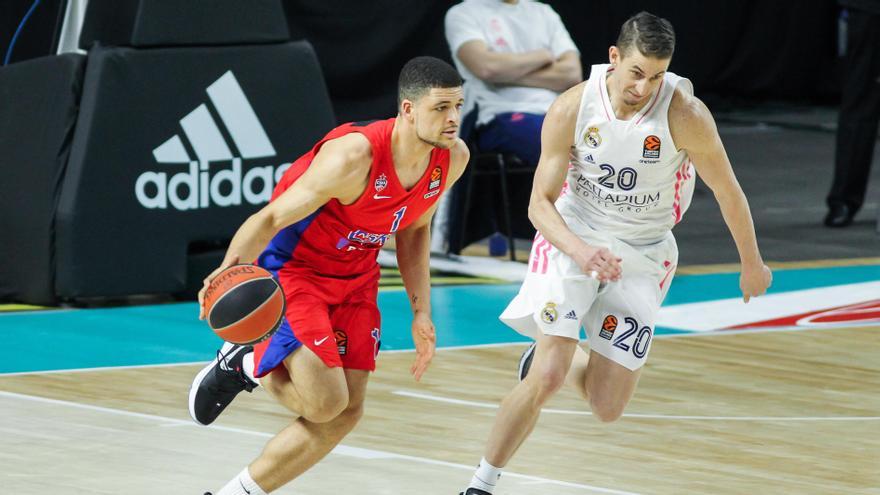 The triples of CSKA they martyred the Real Madrid and allowed the Russians win by 89-96 in a match where they scored 16 from beyond 6.75 meters and that keeps the European future of Pablo Laso's team in the air.
Will Clyburn with 4 of 6 triples, Mike James with 4 of 6, Toko Shengelia with 4 of 7 and Johannes Voigtmann with 4 of 7 capitalized on the Russian aim from long distance.
Dimitris Itudis, Greek coach of CSKA, was clear about the game plan, to remove Walter 'Edy' Tavares from his zone of influence in defense and Toko Shengelia executed it perfectly with 3 of 4 triples in the first five minutes.
The 0-8 start with triples by Shengelia and Mike James was a premonition of how much Madrid was going to suffer from shots from behind the Russians' 6.75 meters.
Tavares, in attack, was one of the best of his team in the first quarter and together with Fabien Causeur and Trey Thompkins they managed to neutralize Shengelia's 11 points and James's 8 in the 21-23 that ended the first quarter.
CSKA signed 5 of 10 triples and Madrid stayed at 3 of 5 in the first ten minutes.
In the second act, despite Thompkins' good start, CSKA put land in the middle on the scoreboard with triples with James scoring 4 of 4 in the first half and Will Clyburn 3 of 3, for a total of 10 of 19.
Faced with this three-way exuberance, Madrid stayed a bit stopped, both in defense and attack, while the scoreboard shot up to 41-55 with which it came to rest.
But the worst thing, however, was not that result but the feeling that Pablo Laso's team did not know or could not do anything to prevent it or to stop James and Clyburn.
The rebound, 13 for 11, and the assists, 11 for 6, were for Madrid, but they took a back seat to the martyrdom suffered by the Russian triples.
Pablo Laso was clear that to turn the sock around, everything was going through the defense and Madrid came out with renewed vigor in this regard and in the first minute of the game they had already committed three personals, to which CSKA responded with another triple from Shemgelia , 41-58.
The 20 points of advantage for the Russians came early, at 2 and a half minutes, with another triple, now by Johannes Voitgtmann for 43-63.
Gaby Deck and Thompkins, also with their own triples, gave their team a minimum of hope, 49-63 (m.24.30), but CSKA navigated this arreón of Madrid pride with sufficiency and continued to dominate on the scoreboard, despite the basketball more offensive and direct than Madrid tried.
Two consecutive triples by Jaycee Carroll, who came out in the second half of this quarter, allowed Madrid to close the gap and another one from Causeur allowed the lead to drop by ten points, 65-74 (m.28.30). The score at the end of the third quarter was a hopeful 67-74.
Madrid, back in the game, he continued taking risks with his game both in defense and attack and it was the moment of Voigtmann, who with 5 points in a row, returned to launch his team on the scoreboard, 70-81 (m.32).
CSKA managed the advantage to perfection, stopping Madrid's rhythm in defense with fouls and adding in attack with Voigtmann and Clyburn as stilettos.
Madrid fought until the end and had some option when they approached five points to 85-90 with 2 and a half minutes to go, but CSKA closed the game with the final 89-96.
The CSKA consolidates its playoff options, while Madrid complicates a little more your pass.
Data sheet:
89 – Real Madrid (21 + 20 + 26 + 22): Alocen (2), Causeur (14), Deck (12), Thompkins (20) and Tavares (12) -starting five-, Abalde (7), Tyus, Laprovittola (2), Taylor, Carroll (17) and Garuba ( 3).
96 – CSKA Moscow (23 + 32 + 19 + 22): James (22), Hackett (4), Voigtmann (18), Shengelia (14) and Kurbanov (3) -starting five-, Lundberg (4), Bolomboy (4), Antonov, Strelnieks (4), Clyburn (23) and Eric.
Referees: Robert Lottermoser (ALE), Matej Blotauzer (SLO) and Mehdi Difallah (FRA). Toko Shengelia was eliminated by five personals (m.37).
Incidents: Match corresponding to the thirtieth day of the Euroleague basketball played at the Palacio de los sports (Wizink Center) in Madrid without an audience due to the pandemic.