CSIF summons the Treasury to negotiate the salary increase after the order to prepare the 2023 Budgets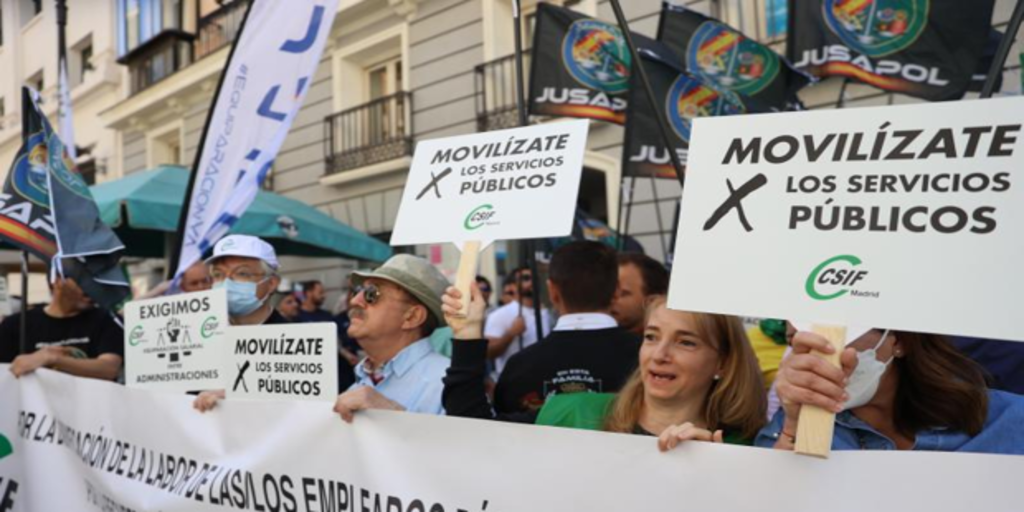 ABCMADRID Updated: 06/21/2022 11:14 a.m.
Save
Related news
The Union
CSIF has sent a letter to the Ministry of Finance and Public Administration, summoning him to convene "immediately" the General Negotiation Table of Public Administrations. The request comes after the publication in the BOE of the rules for preparing the General State Budgets (PGE) for 2023. In the letter, CSIF reminds the Government that "it is time to move from words to deeds" , and that the Executive "cannot shy away from collective bargaining by breaching its commitments."
In this line, CSIF demands that the Government take advantage of the processing of the PGE to demonstrate the same level of commitment and dedication that public employees have had in recent years.
In a scenario of runaway prices and an energy crisis, CSIF and Jusapol (a platform that brings together the majority unions of the Police and Civil Guard) will once again take to the streets of all of Spain tomorrow, Wednesday, June 22, in defense of the quality of services and the working conditions and remuneration of public employees, demanding that the Government keep its word and start negotiations once and for all for a salary increase.
These mobilizations take place on the eve of the celebration of the United Nations Day for Public Administration, which CSIF takes advantage of to draw attention to economic uncertainty and its effects on the services that citizens receive.
The main mobilization will take place in front of the Ministry of Finance and Public Function in Madrid, while in the rest of Spain similar concentrations will be held at the doors of the Government delegations. It is the second time that CSIF has taken to the streets in less than a month to demand that the Executive initiate a negotiation to compensate for the effects of inflation. Public employees have suffered a loss of purchasing power of more than 15% since 2010, when their salary was lowered, according to the union.
CSIF also claims the abolition of the replacement rate, the effective stabilization of places, improvements in retirement conditions, the correction of pay inequalities between administrations, the updating of compensation for service or the improvement in health care of the civil servants mutual.
If there are no answers to their mobilizations, CSIF warns that they will go back to the streets to protest. Thus, the union predicted "a hot autumn" if the group of public employees do not recover their purchasing power and if the Government does not attend to other requests "to guarantee that they can continue to provide quality service to the citizen, stabilizing the staff of civil servants or suppressing the replacement rate.
View commentsTopics

Source link