CSIF and Jusapol denounce the loss of purchasing power of officials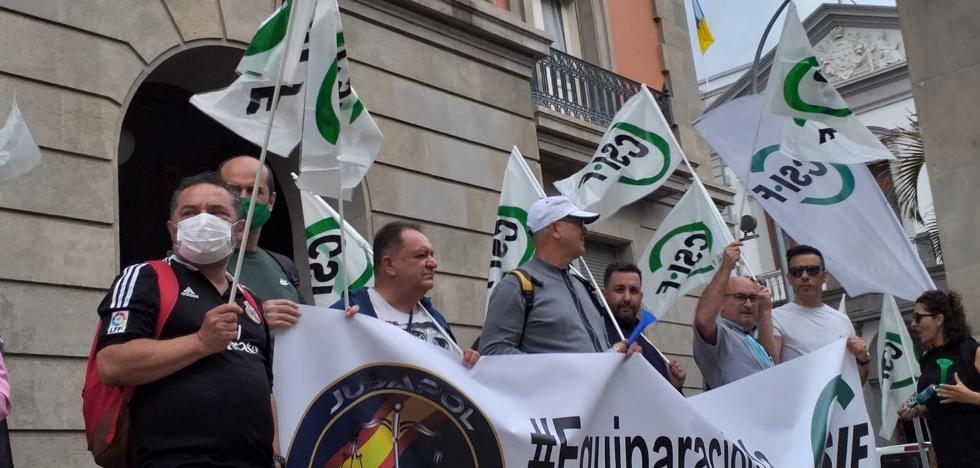 Both unions demonstrated this Wednesday at the headquarters of the Presidency of the Government
CSIF Canarias and JUSAPOL met this Wednesday at the gates of the Government Subdelegation in Santa Cruz de Tenerife and in Las Palmas de Gran Canarias in defense of the rights of all public employees.
A mobilization called by the Central Independent Union and Officials (CSIF), the most representative union in public administrations, and the JUSAPOL union in which they have denounced the loss of purchasing power to which employees are subjected, with so many restrictions. public.
"We get tired of repeating that in 2010 all public employees in this country
we suffered a fierce cut in our salaries between 5 and 10%, to this day remain unrecovered. To this must be added the salary freezes of the following years, placing their loss of purchasing power above 15% to date, "said the president of CSIF in the Canary Islands, César Martínez Araque.
In addition, Martínez Araque insists, "we come from a health crisis in which public employees have maintained public services at the level that citizens deserved, we have had the recognition of society and supposedly also the recognition of politicians".
However, he continued "right now what we have is
the silent response from the Ministry of Financewe did not receive an adequate response to our request for an urgent meeting to negotiate a multi-year plan that encompasses a series of conditions for improving the salary and working conditions of public jobs».
The JUSAPOL union that has supported these protests wants to make publicly visible the specific working conditions of the national police within the civil service.
"We ask that the negotiation with the Government be resumed.
We have filed a collective dispute before the Ministry of the Interior based on three fundamental pillars; salary equalization, working hours and selective processes", explained Víctor Blanco, provincial representative of the JUSAPOL union in Santa Cruz de Tenerife.
In addition, Blanco added that "it is urgent to conclude with the equalization of salaries of the State Security Forces and Corps, National Police and Civil Guard with the regional police."