Cruising with Bon Jovi | Culture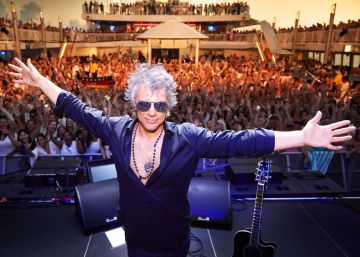 About 2,400 followers of Jon Bon Jovi they set sail on Monday from Barcelona on a thematic cruise centered on the figure of the American singer of rock. The Runaway to Paradise, On board Norwegian Pearl, he will arrive in Palma de Mallorca on Tuesday, and the musician will offer a concert on the deck of the ship on Wednesday.
Two hours after closing the boarding gate, Ana Jiménez, 41, arrived in a hurry with her husband and two children. I was afraid of being late for access. Jiménez, an English teacher from a town in Aragon, learned the language of Shakespeare to understand the meaning of her favorite songs. On board the cruise, he will fulfill a dream: to photograph himself with the singer, one of the prerogatives of the most privileged passengers. In total, these vacations will cost the family 5,800 euros, drinks not included. The prices for this mythical expedition range from 1,300 to 5,000 euros per person.
This is the second of the musical cruises focused on the American singer that is celebrated this year. The first made a similar tour in April between Miami and Nassau, in the Bahamas. In addition to his songs, the artist, who will be on the ship Tuesday and Wednesday without overnight, will offer a round of questions to his fans, and will be photographed with all those who, like Jiménez, have acquired some of the passages gold.
On the cruise embarked 53 nationalities. Only 11% of passengers are Spanish. According to a shipping company spokesperson, most of these thematic crossings are hired by US citizens. Heather Hughes, a 45-year-old Canadian, has flown from Toronto with her mother Sherry, 75. This experience has allowed them to meet the Sagrada Familia on an express visit to Barcelona, ​​the city to which the ship will return on Friday. Dressed in two black T-shirts of the group, for Heather it will be the twenty-third time she will see her idol on stage. Of course, it will be the first one that will pull him over the waters.