Crowded opening of the unprecedented exhibition on Caco Senante at the Casa de Canarias in Madrid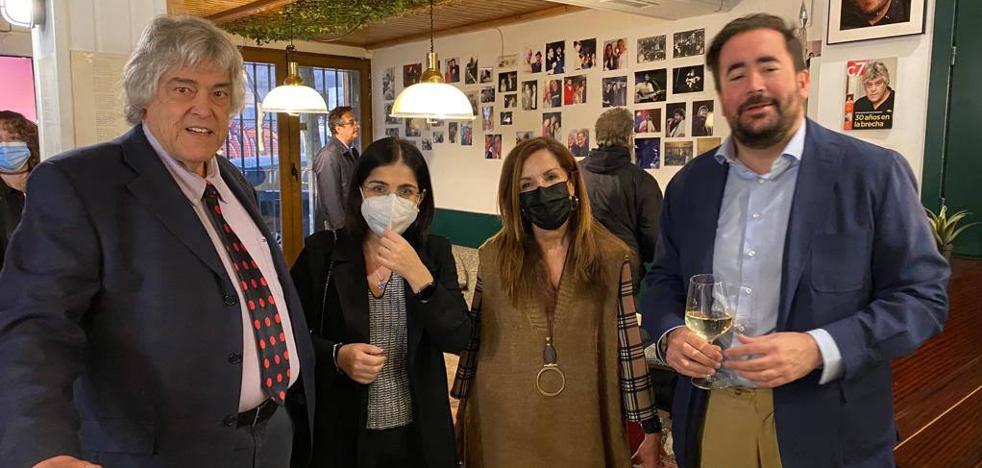 The act included the intervention of the minister Carolina Darias and the president of the Casa de Canarias Roberto Miño
A crowded Casa de Canarias in Madrid put up, this Wednesday, the sign that there are no tickets on the occasion of the
he inauguration of the unprecedented exhibition on the life and professional career of the great Canarian artist, Caco Senante. The artist exhibited in the already named
Embassy of the Canary Islands in Madrid, chaired by Roberto Miño,
unpublished and original pieces from his entire career, choosing as the title of the exhibition The sauce of life in honor of Mojo Picónone of the great anthems of his musical career.
Official documents of censorship of his songs during the Franco era, photos of his great concerts with Sabina, Serrat or Rubén Blades, trophies from his childhood or original posters of his concerts on all continents will fill a Casa de Canarias for the next two months it was filled to the brim for the occasion.
An emotional Senante was surrounded by a multitude of people who wanted to accompany the artist, among whom were, among others,
the minister Carolina Darías, Teddy Bautista, David Ascanio, the delegate of the Government of the Canary Islands in Madrid Lola Padrón and his entire family led by his wife Nuria and their children.
The exhibition
collects the most intimate and important moments in the life and career of the versatile Canarian artist and his more than 45 years of successful career. Singer, actor, composer and even successful restaurateur in his memorable restaurant in the capital of Spain
Caco's WinerySenante thanked those present
"All the love of my friends and followers throughout a life full of emotions, struggle and love."
He personally thanked the figure of the president of the House, Roberto Miño for his initiative and "for his friendship and support of all these years in which we have already become a family."
Miño questioned manifested before the attendees «
Caco, you are and will be the best example for those of us who have placed fighting and defending the Canary Islands in a very special place in our lives».
The Exhibition has been produced by the painter and creator from La Laguna, Alberto Perez Milan, and by Senante himself. In addition, during the inauguration, a 100% Canarian cocktail was offered for the occasion within the framework of the Madrid Fusión Fair, which is being held this week in Madrid by the Canarian restaurant
stop led by the hotelier businessman Guillermo García Bello.