Cristina Ramos and the road to Eurovision: "San Marino called me, caught me by surprise"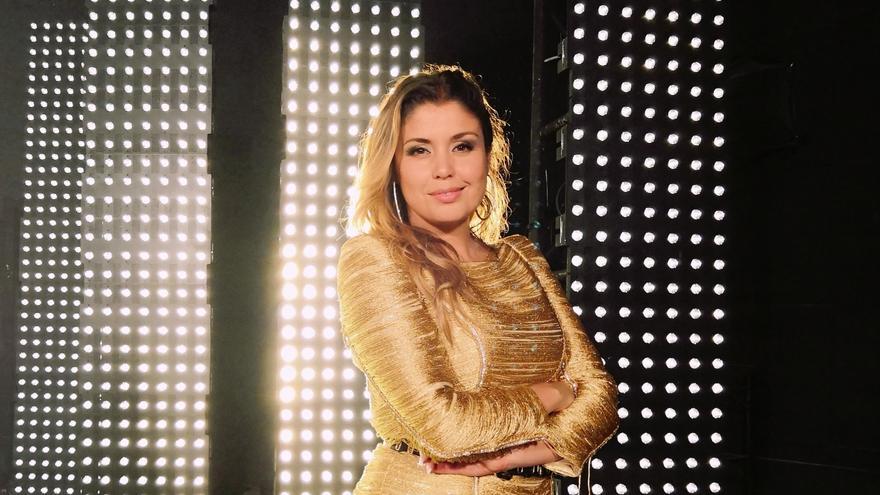 The singer from Gran Canaria Christina Ramos has never visited the small country of San Marino, nestled in the middle of the Italian peninsula, but will aspire to represent it in Eurovisionfor which he will have to prevail in a pre-selection against nine other candidates. "They called us"acknowledges Ramos, an international Canarian who promises to surprise and win the ticket to travel to Turin in May and participate in the European song contest.
"The lyricists, the team that I work with, let's say they have contact with people from San Marino and at the time, a year and a half ago, they got in touch, San Marino got in touch with them and asked if I would be interested in introducing myself" , explains on the phone.
And the answer was affirmative: "We said yes, why not, because I am open to everything, and the possibility arose. This year they called us and caught us by surprise", remember.
Cristina Ramos (Las Palmas de Gran Canaria, 1979) is a regular in talent shows all over the world, having conquered Spain's Got Talent in 2016, Mexico's voice in 2018 and being among the top five of America's Got Talent one year later.
But now his adventure is another: to achieve the pass for Eurovision representing neither more nor less than San Marino, a tiny state located in the middle of the "Italian boot" in Emilia-Romagna (north).
A voice for San Marino
yours will be one of the ten proposals that will compete on February 19 in the program A voice for San Marinowith which the country will choose its representative for Turin 2022, along with the Italian Achille Lauro or the Turkish DJ Burak Yeter, among others.
Her presence on campus immediately lit up social networks, although she does not see it as "something strange", and even less so with an extensive international career like hers.
"I can understand that people see it as something strange, but at the end of the day I think that it is the country that chooses the representative and the song (...) In the case of San Marino, It already has a tradition of looking for people outside. I don't see it as weird", he insists.
About the song that will be, the secret is inevitable, but it will have to do with her lyrical and rock style, it will be "very Cristina Ramos".
"The only thing I can comment on is that it will be very faithful to what I usually do. It is something that has always worked and we have realized that it does not leave anyone indifferent," he predicts, laughing, confessing, at least, that will sing in several languages.
And with Spain?
The artist, however, assures that representing his country, Spain, in the future would be "an honour" and that Televisión Española (RTVE), which organizes the national preselection, knows her and knows her desire.
"TVE knows us, my team has presented proposals and songs and they know that I am open," she says, alluding to past years.
However, he did not participate in the Benidorm Fest. "I understand that this year the characteristics of the show that they wanted to create were different and that I was not within that style that they wanted to put on. But yes, they know perfectly well that I am about to represent my country, it would be an honor," he says.
Ramos has listened to the Spanish bet, "SloMo" by Chanel, an artist and a song about which he spares no praise.
"I can see all the work behind this 'performance', it's brutal and what she does is at the height of the greatest. That background that you have to have, has a lot of work, dancing with those heels and singing as if you were at the hairdresser", he commends.
controversy and passion
Regarding the controversy that has surrounded the final of the Spanish contest, he understands that the spirits are lit because in Spain "there is a brutal passion" for Eurovision, which leads to the frustration of the followers of the artists who do not manage to win.
Survey | What do you think about Chanel representing Spain in Eurovision with the song 'SloMo'?

"But the songs I've heard in Spain have seemed very eurovisive to me and, in fact, I didn't know which one to opt for," he says.
Do you see yourself winning in San Marino and traveling to Turin next May for Eurovision? "I do not know why not, weirder things have happened to me", cuts off the singer, with an amused tone.
But, as always, he prefers not to create expectations, but to enjoy the moment because that way, he claims, results are achieved.
"If I'm honest, I've never thought much beyond what could happen, I dedicate myself to enjoying what I'm living at that moment to the fullest because I've realized over the years, with the experience I can have in this the song contests, that when you really enjoy and don't think about anything else but to do it perfect, well, give everything and work, in the end the results are always very good", he maintains, already with one foot in San Marino.