Cristina Pardo, excited to interview her father by surprise: "I'm very nervous"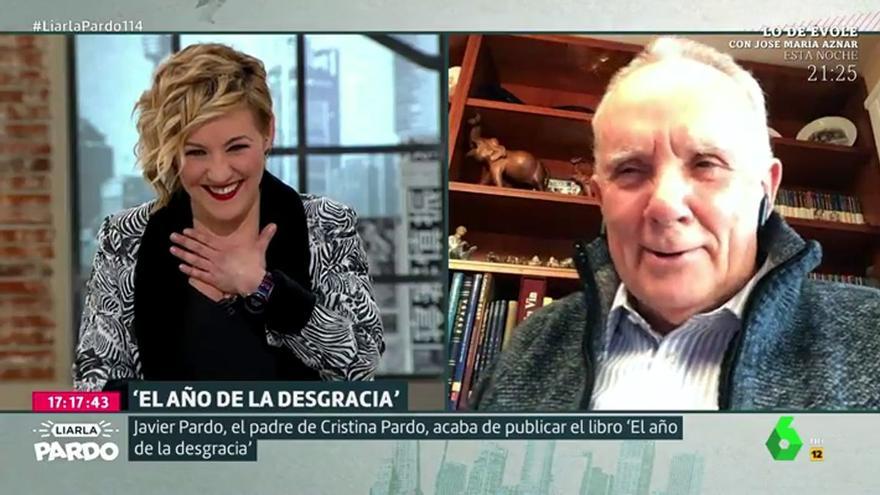 Cristina Pardo placeholder image received this Sunday a surprise in full direct. The presenter of 'Liarla Pardo' He had the opportunity to do one of the most special interviews of his professional career, since without expecting it, he was able to chat for a few minutes with his own father. Javier Pardo He connected live with his daughter's program to present 'The year of misfortune', the book you just published.
"The cover of a book has just arrived at our newsroom and I think you know the author quite a bit," began the reporter Inés Paz while the cover of the novel appeared on the screen. At that moment, Pardo put his hands to his head. "My ass is very tight right now"He acknowledged with a laugh.
Seeing her father on the other side of the connection, Cristina did not hide her surprise: "Oh Daddy! But what is this? Dad, I'm very nervous". "Cristina, easy questions because I've come here to talk about my book," Javier joked before explaining the plot of his book, which revolves around an unsolved crime that took place in his town in the 1950s.
"Dad, this is very rare," confessed the presenter, visibly moved by this impromptu talk. Javier, a doctor by profession, explained that he decided to undertake this literary adventure after retiring. "One wants to do things and that story was more at hand than others"he commented.
Cristina stressed that Javier has carried out this project "with great effort and enthusiasm". "My father has made a book that is very good, I want him to sell many", He added before dismissing the call: "Dad, I don't know, I love you very much."