Cristiano Ronaldo measures the Ansu Fati effect on La Roja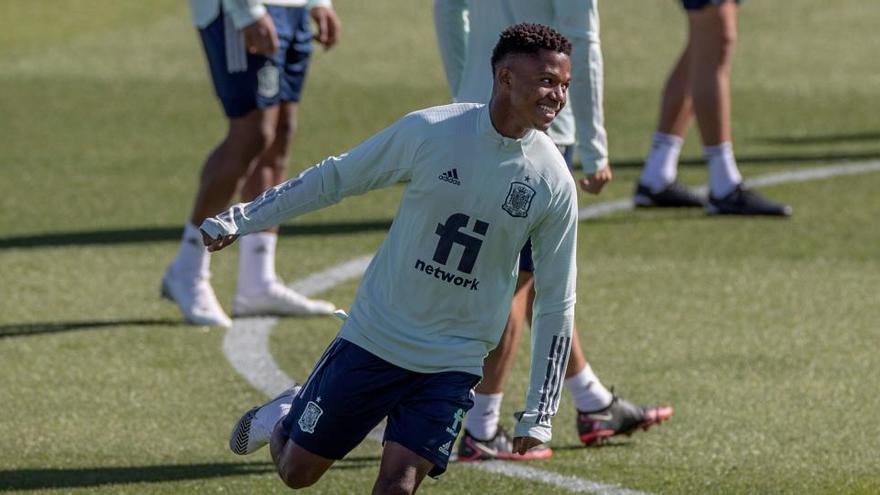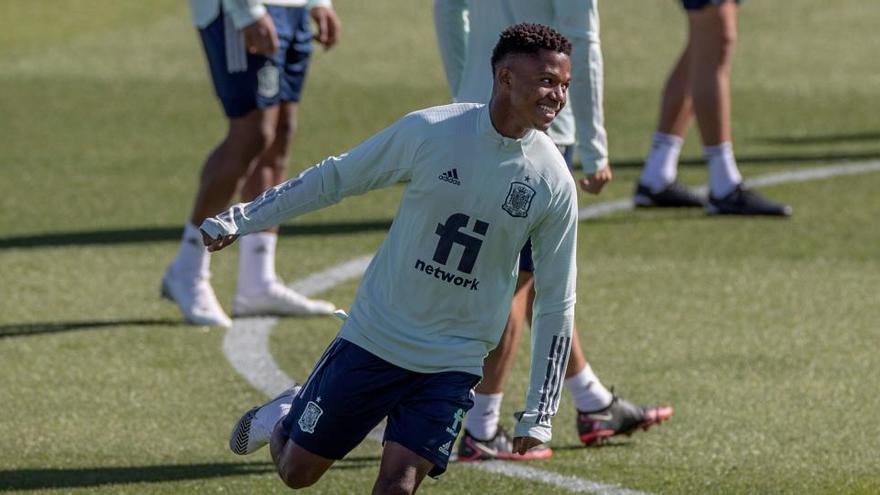 The Spanish team faces a demanding test this Wednesday in Lisbon, andThe Iberian derby against the European champion Portugal of Cristiano Ronaldo, in the process of growth and with the great sensations that he exhibited with the imposing staging of Ansu Fati, a new star in the football universe.
"The team is above any player," said the Spanish coach, Luis Enrique, which gives way to the irruption of Ansu Fati without looking at the ID that indicates 17 years, but warned that, tactically, it will not happen as it did with Leo Messi in Barcelona, in which he designed a team to suit him.
His impudence at home to Germany and the exhibition, becoming the youngest scorer in the history of the Spanish team, against Ukraine confirm that he is a different footballer. And Luis Enrique celebrates the management of a new genius, but he demands it. "In order for him to play, he has to run backwards as he does now," he said.
That demand that keeps Ansu from the constant praise in which he lives is the path followed by the coach with a player whom he pampers and protects within. You know what it can give you, but not how far you can go.
Portugal is a new yardstick, but also a test bed for Spain, with its mind set on the two immediate games of the League of Nations against Switzerland and Ukraine.
Luis Enrique wants to see what he brings Adama Traoré in the style of Spain. A player that he lacks, an extreme that overflows with a speed tip that is difficult to match. It will be the third attempt after an injury and the coronavirus, which prevented its premiere previously. Fitting it will be a new variant that attracts rivals and creates spaces where there will be brand-free teammates.
The goal aims to leave a supportive wink to Kepa Arrizabalaga, in a bad situation at Chelsea but with the confidence of the coach. Reaction of David De Gea gives him ownership and the friendly is a space to regain the confidence of a goalkeeper who always met Spain.
Dani Carvajal will be missing from the right side due to a knee injury and the option is opened to Sergi Roberto, if Jesús Navas is reserved.
Luis Enrique boasts of having the best midfielders in the world and Thiago Alcántar is missingfor the Covid-19. Dani Ceballos returns with Sergio Canales and José Campaña may have his first minutes, in duels conditioned by the pandemic. In Naples, Fabián Ruiz had to be confined and Spain's offensive options are numerous depending on the choice of playing with a pure striker, Gerard Moreno, or a false nine.
Portugal arrives at the appointment with two casualties compared to the original call for Fernando Santos, both on the defensive line, due to Covid-19. Mário Rui fell off the list not being able to leave Italy due to the cases in his team, Naples, and José Fonte left the concentration after testing positive.
The casualties will be covered by Nuno Sequeira, from Sporting de Braga, and Domingos Duarte, from Pomegranate, who had already entered previous calls but did not make his debut, so he could debut with the Portuguese team in the friendly against Spain.
In the attack, Santos exhibits all his offensive gunpowder with Cristiano Ronaldo, João Felix, Diogo Jota, recently signed by Liverpool, and Francisco Trincão. Even so, it is expected that the coach will rest some of his figures to reserve them for the League of Nations duels that he will play against France and Sweden on October 11 and 14, so Cristiano and some more of the usual, such as Bernardo Silva and Bruno Fernandes could be left out of the starting lineup.
Despite being a friendly, Santos hopes that the Iberian duel is a "show" of great intensity And that despite the new faces in both teams, the basis of what was seen in their last match, in the 2018 World Cup (3-3), remains.
Probable lineups
Portugal: Anthony Lopes; João Cancelo, Rúben Semedo, Rúben Dias, Raphaël Guerreiro; João Moutinho, Danilo Pereira, Renato Sanches; Trincão, Diogo Jota and João Félix.
Spain: Kepa; Sergi Roberto, Sergio Ramos, Pau Torres, Gayá; Busquets, Mikel Merino, Dani Ceballos; Adama Traoré, Ansu Fati and Gerard Moreno.
Referee: Paolo Valeri (ITA).
Stadium: José Alvalade.
Time: 20.45.