Creativity will be the most sought after skill in postcovid | Fortune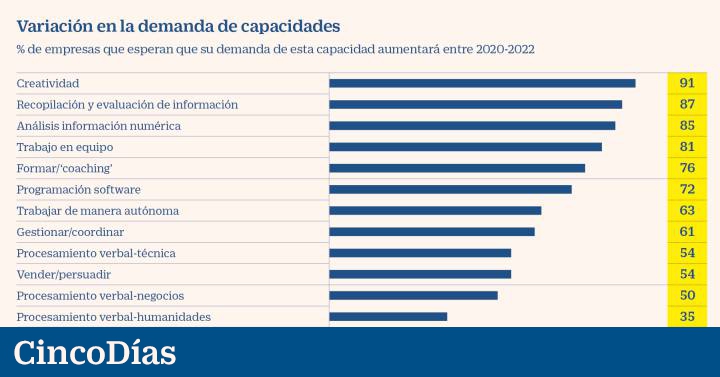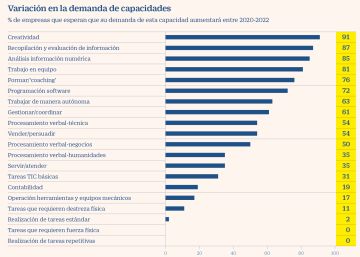 In recent years, companies have begun to become aware of the need to retrain their professionals so that their knowledge does not become obsolete. A concern that took hold as a result of increasing automation, since it was necessary relocate some of those workers who performed tasks that machines now perform. With the pandemic, digitization has accelerated and, therefore, also the obligation to train employees to adapt to the new context.
Despite the rise of new technologies, the best handling of them is not the capacity most demanded by companies, but rather the creativity. This is how the report illustrates Spanish companies in the face of the reskilling revolution, prepared by EY and Future for Work Institute, which reveals that 91% of companies expect their demand for this skill to grow between 2020 and 2022. The collection and evaluation of information (87%), the analysis of numerical information (85 %), teamwork (81%) and coaching (76%) complete the top of the table. Meanwhile, purely technological skills, such as software programming (72%) do not appear until the sixth position.
Some results that Santi García, co-founder of Future for Work, associates to the fact that the main challenge of current context It is marked more by a complexity linked to uncertainty than to the lack of technological development. "To manage difficult situations that we have never faced before, new problems, you need creative solutions", Explains the expert.
However, when carrying out this retraining, the study –in which the human resources managers of the companies have participated– detects two major barriers: the lack of a sense of urgency (96%) and the lack of orientation to learning (93%) of workers. A result on which, according to García, companies should not evade their part of responsibility. They are aware of the importance that both actions aimed at improving awareness of the importance of maintaining employability (59%) or being up to date on changes that occur in the environment (50%) are among the most effective measures, but less than a third of companies carry out these practices. Only 24% and 30%, respectively, acknowledge that these types of measures are consolidated in their organization.
"If companies ensure that they are aware of the barriers and that they know what can be done to break them, but they are not doing it, something is wrong," says the Future for Work spokesperson. In addition, there is an inverse correlation between the time that a person has been in a specific company and their concern for continuous training, which for the expert evidence a failure in the way in which training is being managed from human resources. "If as more time is spent in companies, the flame of interest goes out, there is something that is being done wrong or that is not being done", she develops.
To correct this gap, García insists that it is not necessary to stay alone in the first part of the problem: it is not enough to make workers aware of the urgency of updating, but to provide them with guidance, resources and safe spaces where their deficiencies and development needs are recognized. Culture, he admits, is another of the great barriers: "It is difficult to find spaces where people can accept without problem that they do not know how to do things."
Likewise, García insists that the responsibility for retraining must be shared between the company and employees. "That the obligation fell only on the company made sense when the usual were jobs for life, but you can not go to the opposite extreme," he continues. Especially in such a changing environment, where the speed of transformations keeps increasing. "Companies have to become aware of the extent to which they are dependent on the people who are working in it. Their survival is contingent on having the right people, "says García.
Training, however, is not always a regulated matter, but can also be the result of a culture where collaborative and informal learning is allowed. The report reveals that peer or peer teaching is the most effective (74%), while internal courses are in second position (63%). "In organizations there is a lot of tacit knowledge, from day to day, that the company itself cannot explain, only a colleague who is already dedicated to that could do so," completes the Future for Work spokesperson.