Creativity to macerate haute cuisine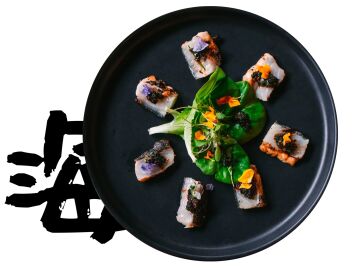 Creativity, style and passion. These are just some of the ingredients that Julio Zhang includes in the signature dishes that he presents in his Chinese haute cuisine restaurant Soy Kitchen, which is located in the heart of the Chamberí neighborhood of Madrid.
True to his roots, the chef has made a great commitment to the flavor of China, although he has also been seduced by the new techniques and flavors of Asia and Spain. The influence is inevitable, since Julio has been cooking in Madrid for 10 years, after hard work, today he is deserving of a Sol Repsol and has earned a space in the michelin guideIn fact, it is the only Chinese restaurant in Madrid on this coveted list. However, Soy Kitchen is first and foremost a market kitchen, with top-quality Spanish raw materials, for this reason, in its starter menu we find the inevitable appetizers with the addictive Dim Sums, typical of Cantonese food.
Like every season, the chef change the menu based on the products that are best appreciated at the station and thus get its best version with a traditional Chinese recipe. For this spring, Zhang's menu delights us with innovative dishes such as: Wild sea bass curry, Seasonal vegetable wok, Beef and vegetable Xiaomae or Grilled Turbot with pickle and almond sauces.
But, so much creativity also spills over into the cocktail bar, since its bartender has ensured that each mix lives up to the gastronomic proposal. Here, no one can leave the premises without trying signature cocktails macerated with exotic fruits or the classic Verdejo wines. At Soy Kitchen, evolution is constant and the chef's demands are evident. You only need to try a bit of his seasoning to understand why Chinese food is in fashion.