Covid-19: This is Pfizer's titanic challenge to fly the frozen vaccine | Companies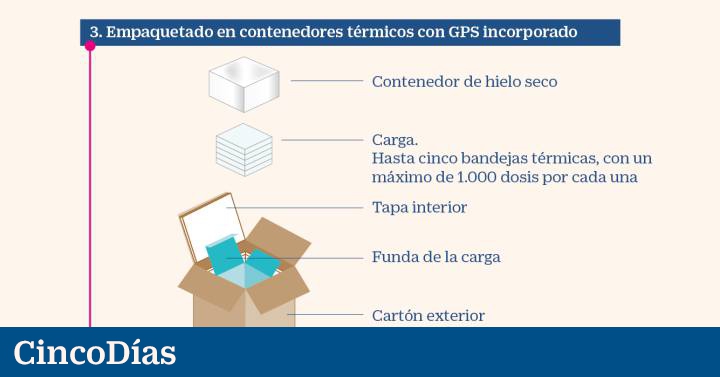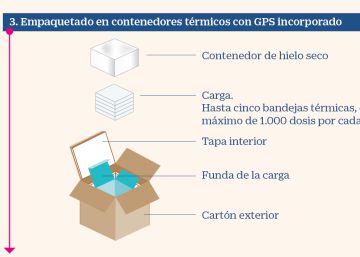 The distribution of the vaccine against Covid-19 of Pfizer and BioNTech It will entail a titanic effort for these companies and a few challenges for health centers. This innovative product based on messenger RNA (mRNA) technology has to be transported and stored at 75 degrees below zero to hundreds or thousands of kilometers and in all kinds of weather conditions. To achieve this, Pfizer has created a complex logistics system involving air and transportation companies.
These pharmaceuticals announced Monday that their vaccine is 90% effective according to preliminary data. It plans to deliver 50 million vials this year and up to 1,300 million throughout 2021. Yesterday it closed an agreement with the European Commission to distribute up to 300 million vials among the Member States.
The chain begins at Pfizer's Saint Louis plant (USA), in which the vaccine antigen is manufactured by a cell culture process, explain sources from the American company. The active substance of mRNA is produced plater in Andover (USA) and shipped to Kalamazoo (USA) and Puurs (Belgium).
In these two cities, mRNA is mixed with other raw materials to build a lipid nanoparticle. After that step, the bulk vaccine goes to an aseptic filling line and each sterile vial is filled and capped. It is then inspected, labeled and packaged. The product is move to blast freezers before being placed in another 350 of storage pending the final packaging in special refrigerators, according to the explanations of the New York laboratory.
The company manufactures simultaneously while conducting human trials, to be able to distribute the packages as soon as they have authorization from the health authorities. But it also has the production capacity of its German minor partner BioNTech and hopes to increase its industrial capacity. "We are investing at risk to do what is necessary to produce the highest number of doses of our vaccine candidate as quickly as possible" and will invest in new plants, advance sources of the company.
Pfizer to Airplane 7.6 Million Frozen Vaccine Doses Daily
Since the vaccine leaves the factory, a complex method of transportation arrives. From Kalamazoo and the Belgian city Puurs (point for distribution to European markets) 7.6 million frozen doses will be shipped each day by plane, as it advances The Wall Street Journal. The multinational will use 40 of its own distribution support centers and more than 200 suppliers around the world.
The intention of the company is that from Kalamazoo and Puurs the frozen containers will be sent directly to the health centers so that they arrive in one or two days. Or as an alternative, take them to intermediate storage points.
"The intention is to use Pfizer's logistics providers to make shipments by air to the main distribution centers of a country or region and by land to dosing sites," the laboratory details.
Thermal boxes
Thermal containers are about the size of a suitcase and fully loaded do not reach 32 kilos. "We have designed temperature-controlled containers that use dry ice to maintain recommended storage conditions of up to minus 75 degrees for 10 days," they explain from the laboratory. Every container counts with thermal sensors with GPS and in contact with a control tower that tracks the location and temperature of each shipment through its pre-established routes. "These GPS devices will allow us to proactively prevent unwanted deviations and act before they occur," they add.
Each box is prepared to hold between 195 and 975 vials, although the company is working on a smaller version that will be ready in early 2021. The container can be recharged with dry ice during transport and during temporary storage in health centers. . The laboratory has carried out mechanical and thermal tests to check the resistance of the containers, which are also reusable.
Once at the destination, hospitals with capacity can store cargo in ultra-low temperature freezers for several months. Also, in health centers inside refrigerators at temperatures between two and eight degrees for five days. In the case where you don't have any equipment, the containers themselves designed by Pfizer serve as temporary storage, up to 15 days, filling with dry ice.