Coutinho will have meniscus surgery and could miss the remainder of the season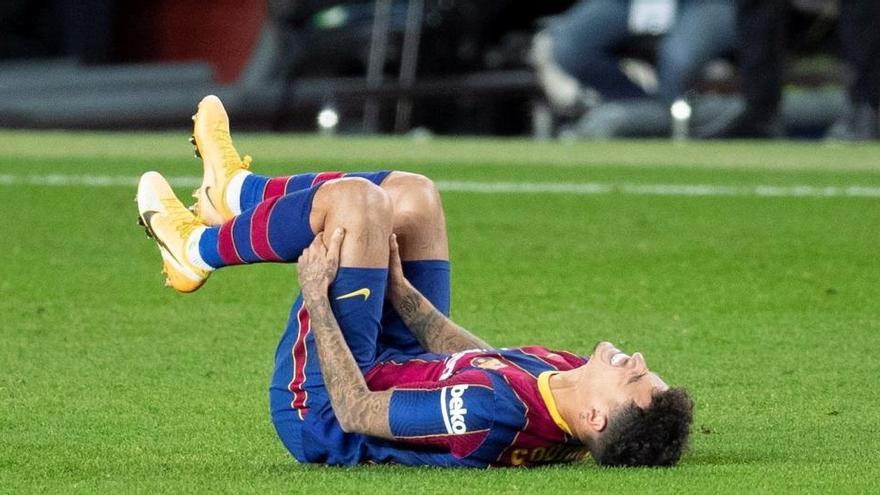 Barcelona's Brazilian midfielder Philippe Coutinho you will have to undergo surgery in the external meniscus of left knee, as reported this Wednesday by the Barça club, and could miss the remainder of the season.
The injury occurred during the match against Eibar. Coutinho entered in the 65th minute, replacing Miralem Pjanic, and had to leave the pitch in 86, so he left his team with ten footballers.
According to the club, the player will be intervened by arthroscopic technique "in the next few days" and he has not specified the forecast of the player's withdrawal.
However, the doctor Pedro Ripoll, who gave his opinion this Wednesday about the injury of the Barça player, has calculated that the recovery could last for "about five months minimum".
"The injury reported by the Barcelona medical services of the player Coutinho of involvement of the external meniscus of the joint is a very important injury, one of the most important that a knee can suffer, since the external meniscus is the main protective element of the cartilage that is in the joint. The duration of the cartilage is what determines the life of the athletea, the life of the joint. Hence, preserving the external meniscus is crucial for the athlete's future, "he stressed.
Faced with this injury "you have to sew," said Dr. Ripoll.
"This structure must be sutured so as not to lose the cushioning role it exerts on the knee," he said.
Ripoll considered that the injury "is very important" and marked the recovery in "at least five months" of Coutinho.
Philippe Coutinho has played a total of 14 games this season, in which he has scored three goals and has distributed two assists.