Countdown to Mojo Music Festival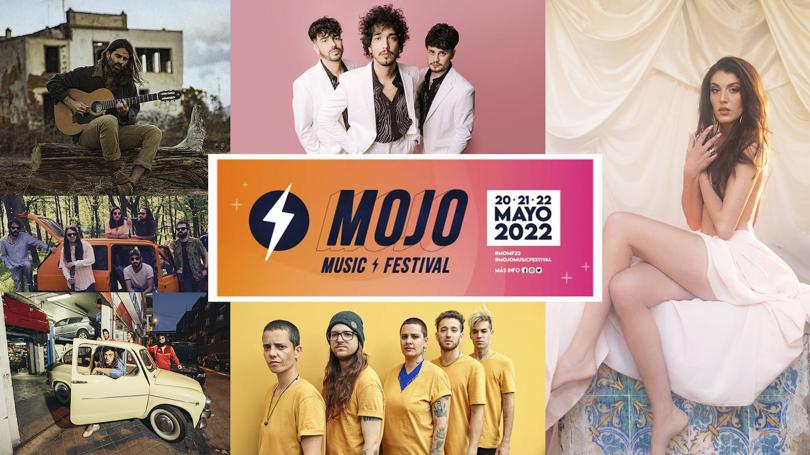 Festival
The Catalan Queralt Lahoz heads the extensive poster of what will be the first festival without covid restrictions to be held in the capital of Gran Canaria
The Catalan artist
Queralt Lahozone of the revelation artists of 2021, will head the poster of the
Mojo Music Festival (MOMF)the first festival without covid restrictions to be held in the capital of Gran Canaria, and therefore marks
the return to normality for this type of event, which had been canceled or adapted to protocols that required capacity restrictions, the mandatory use of a mask, numbered seats, a safety distance or a prohibition on the sale of food and drinks inside. All of this is going to go down in history and that end goes through this festival, which
in its third edition recovers its natural place, the Parque Litoral del Rincónin Las Palmas de Gran Canaria, at the exit to the North (opposite the Las Arenas Shopping Center), on May 20, 21 and 22.
The cartel bets again on
emerging bands, alternative music, crossed styles and a lot of local product, replicating in this way the programming of the concert hall that pays tribute to this festival, the now-defunct Mojo Club. Ron Voodoo and Tinguaro have been added to the list of groups announced at the time.
Among the main claims of this third edition is the singer Queralt Lahoz, one of the revelation artists of 2021, an artist born in Santa Coloma de Gramanet, the daughter of Andalusian emigrants, and who
mixes bolero, flamenco, soul, dancehall and hip hop in his music in a natural way. Their debut album,
Puritywas one of the most outstanding of the year, chosen by different specialized media among the best of 2021.
The list also features one of the most surprising bands of new Latin American music,
Francis, The Mangroup formed by Mexicans
Mateo and Sebastián Piracés-Ugarte and the Brazilians Juliana Strassacapa, Andrei Martinez Kozyreff and Helena Papini. This project has been very critical of the oppression of economic and political powers in Brazil, the country where the band resides. In his 2016 debut album, he contained what is considered a hymn against gender violence Triste, louca ou má,
nominated for a Grammy and that accumulates 25 million listeners on Spotify and 31 million on YouTube.
The Ponds, a Cantabrian psychedelic pop rock band based in Madrid led by Iñigo Bregel; Serial Killerz; dj duo plus drums with a forceful direct; Alberto & García Alberto & García is an Asturian group with roots in Latin American folklore, classic pop-rock and electronica;
The Vinegars, a verbenero rock trio born in La Palma and already installed in the Spanish capital; Y
Rupatrupa, a personal project defended by Roberto Ruido, who is based in Tenerife and who has just completed a successful tour of venues around the peninsula; are some of the bands that complete the bill, to which must be added other local formations such as
D'Local Groove, Las Ratas, Machango, Modo Rakune, Piedraviva and La Nueva Tralla Scoundrelbesides the djs
Umami, CRKS290 and Ant Cosmos Dj Setwhich will heat the
Opera Party of friday,
Mr Paradise on saturday and
Dj's Mojo Stars (Baked Belda and Dani Miranda) on Sunday.
There will not only be music this year. As in its first edition, a series of
complementary activities that include the Surf Champ Mojo (in the muellitos area), bachata, salsa and swing workshops, skate exhibitions, urban art (graffiti), Step-class and flea market, as well as a restaurant area with bars and food trucks. Already on sale
a subscription for the first to buy it at 25 euros for three days (early bird) on the platform
tickety.es.
The concerts will be held for a whole weekend on May 20, 21 and 22 in the Parque Litoral del Rincón

In 2019, the MOMF celebrated its first edition with a heterogeneous lineup, with local, national and international artists, who left their mark on the public, different proposals -punk, rock, indie, world music, electronica- among which Eskorzo, DeWolff , Capsule, Siloé or Group Podenco and that
gathered more than 2000 people. In 2020, the festival was held in a reduced format and at The Paper Club, and Capsula repeated alongside Chiki Lora, Texxcoco, Zeason and Highkili.
Rupatrupa it is a personal project championed by Roberto Ruido, who is touring some cities on the peninsula alone with his guitar. Every concert is a
mix of already known songs and some unpublished surprise that will be part of the LP that Rupatrupa is recording at this very moment.
The program of concerts and activities is as follows:
Friday 20 (from 7:00 p.m. to 4:00 a.m.):
- Opening doors
- Fuckin' 4 Factory (dj set)
- D'Local Groove
- Tinguaro
- Francisco the Man (Brazil)
- Queralt Lahoz
- The rats
- Operä Party (Umami, CRKS290 and Ant Cosmos Dj Set).
Saturday 21 (from 7:00 p.m. to 4:00 a.m.):
- Opening doors
- Rakune-mode
- Alberto & Garcia
- Rupatrupa
- The Ponds
-Serial Killerz
- Mr Paradise
Sunday 22 (from 11:00 a.m. to 8:00 p.m.)
- DJ's
- Machango
- Livingstone
- Dj's Mojo Stars
- Voodoo Rum
- Vinegars
- The New Scoundrel Tralla
Complementary activities:
Saturday 21
Sports:
- Cicero area. Surf Champ Mojo (09:00-17:00)
Festival Venue:
- Market (12:00-20:00)
- Dance workshop by Mojo Swing (12:00-14:00)
- Skate Monster Zone Exhibitions (11:00-16:00)
- Urban art (Graffiti)
Sunday 22:
- Step class
- Market (12:00-20:00)
- Dance workshop (bachata and salsa) 14:30-16:30
- Skate Monster Zone Exhibitions (11:00-16:00)
- Urban Art (graffiti)