"Count your orgasms, not your calories": sex products companies premiere at CES | Technology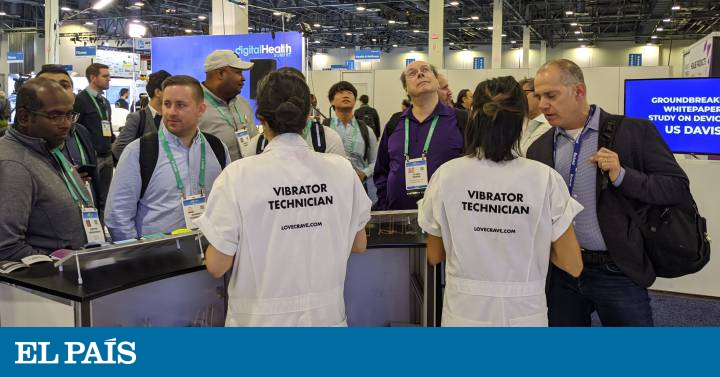 "Orgasm is a human right." "Count your orgasms, not your calories." "According to my smart fitness watch, I've masturbated for four kilometers." These are just some of the phrases that can be read by taking a walk around the CES, the biggest world consumer technology fair. Next to them, there are exposed clitoral suckers, necklaces and vibrating rings, male masturbators and devices to control ejaculation. Technology has been present in thousands of sexual products all over the world for decades. But the CES organization has taken more than 50 years to allow this type of device to be exhibited at the fair.
He has done it for the first time in this edition after a sex toy for women was controversial last year. The robot Osé Robotic Massager, developed by the company Lora DiCarlo, won one of the innovation awards granted by CES. But soon after they removed it. The rules indicated that products considered "immoral, obscene, indecent and profane" could not qualify for the awards.
Dozens of users reacted to the decision on social networks with the hashtag #CESGenderBias (gender prejudices at CES). After the controversy, a few months later the organizers of the ESC returned the distinction to DiCarlo and changed their minds. They would allow, at least by way of proof, that these devices had for the first time an official space within the exhibition.
As expected, the toy that raised the controversy last year has been one of the most anticipated. Hundreds of attendees at the fair have come to see this flexible device that seeks to stimulate the clitoris and the G-spot at the same time. "The fact that we are here is a very important step. People are still ashamed to talk about sexual health and it is a part of our lives that can help us feel better and less stressed, "explains Mazie Houchens of Lora Dicarlo.
In addition to this company, about a dozen companies sex tech exhibit their products in the "health and wellness" area of ​​the fair. "Sexual health has to do with whole well-being. If you don't have it, your health is incomplete. It's like bathing or brushing your teeth, "says Vanessa Palestino, a Satisfyer employee. This company, popularly known for its clitoris sucker, intends to release 80 new toys for men, women and couples in 2020.
In addition, he has just launched an app that allows you to vibrate sexual devices to the rhythm of the music, create a playlist Custom vibrations or couples controlling remote toys. At its stand, dozens of people wait for a queue to spin a roulette wheel. The prize is guaranteed. They receive different sex toys.
In a nearby post, two girls wear a white jumpsuit with a message on their back: "Vibrators technique". Actually, they don't fix these devices. But they know perfectly how they work. And they even wear them. They work at Crave, a San Francisco-based company that manufactures luxury vibrating rings and necklaces.
"They are not only very functional vibrators, they also release a message of empowerment," says Christine Concho. She is employed by the company and explains that the purpose of these jewels, whose price exceeds 60 euros, is "to stigmatize pleasure and become the owner of it." He says there is still a lot of taboo around the industry, especially in the United States.
Premature ejaculation
In this country, the presence of such companies in the fair is considered a real milestone. This is stated by Patricia López, an expert in the sector and founder of Myhixel, a company that has developed a device to help control premature ejaculation: "The sex-related product industry has been closely linked to the pornographic field. There are many products that remain so, but for a few years the industry has evolved towards sexual health and well-being. "
The majority of devices exhibited at the fair are for women. "This happens because we have normalized the discourse of sexual health and are used to going to the gynecologist. However, for a man, going to the urologist is a matter of life or death, "adds López. But they also care about sexual well-being. The research that Myhixel has done concludes that among the most popular searches on Google are "premature ejaculation", "last longer in bed" and "better sex".
31% of men between 18 and 56 suffer from premature ejaculation, according to a study by the National Health and Social Life Survey. Of them, 85% prefer to take it in silence. "Premature ejaculation can break relationships. From the Murciano Sexological Institute, they tell us that there are couples who go to consultations for it. It is a shame that for the taboo they do not seek solutions, "says López.
Returning the spark to couples who have been together with sexual devices for many years is the goal of MysterVibe. "In long marriages, sex sometimes disappears. A few years ago I asked my friends and they told me that all they did was take their children to school or have work meetings. At night, they thought about the next thing they would have to do instead of when they were going to have sex. We want to create products that help couples recover that mystery, "says MysterVibe founder Soumyadip Rakshit, who has been married for 15 years.
In his hands he plays with a purple vibrator. He bends it to one side and the other and says that "the more people talk about sexual health, the easier it will be to break down the barriers." "Almost 60% of women in the world will have a baby and 100% of those over 55 will go through menopause. In the case of men, many have colon or erection problems. Sexual health is something completely normal." , he says before making the following comparison: "Sex is like food. If you don't eat, you'll end up dying. If you don't have sex, there won't be a next generation and you'll end up being the last person on the planet."