Could Mercedes Milá return to TVE? "It's a matter of ending my life where it started"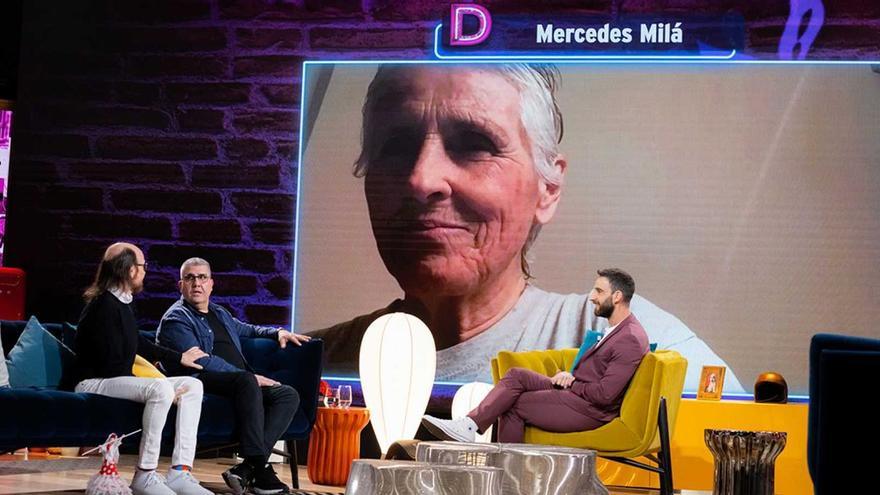 'The night D' connected last night with Mercedes Mila. The veteran communicator returned to TVE, the chain in which, as she affirmed, it all began, to speak of the television medium: "It started as my life when I was 22 and it has continued to be so until today, that I am still in it. It always seemed like a beautiful job, full of creativity, with many possibilities ".
"In fact, I've done a bit of everything, I have few things left to do ", recognized the one who was the presenter of 'Big Brother', who currently leads 'Scott y Milá' in Movistar. On the set of the program was Florentino Fernández, who told him that his mother wants to see her again on free-to-air television.
"I'm in MovistarDon't make me look bad, "the presenter told him, to which he replied:" But there we only see a few of you. " "That is a matter of talking to Televisión Española and ending my life where it began", said the driver, taking the glove to the public.
Mila claimed that one of something that The "pending" is to interview "the one from the United Arab Emirates"he said in reference to the king emeritus. "I would like him to come to Madrid and do an interview at the Spanish Television studios," he added. The comedian asked him to at least return to the set in person: "And I will give you the best interview in the world," said Rovira.
On the other hand, Milá revealed that among her favorite interviews are those she did with Adolfo Suárez or Isabel Pantoja, while the most uncomfortable had been that of the writer Paco Umbral: "He made me pass whores, but deep down I have to thank him, because generations that did not know that I existed saw me with a curious character who insists that he wants to talk about his book, "he explained.