Couacaud reigns in El Cortijo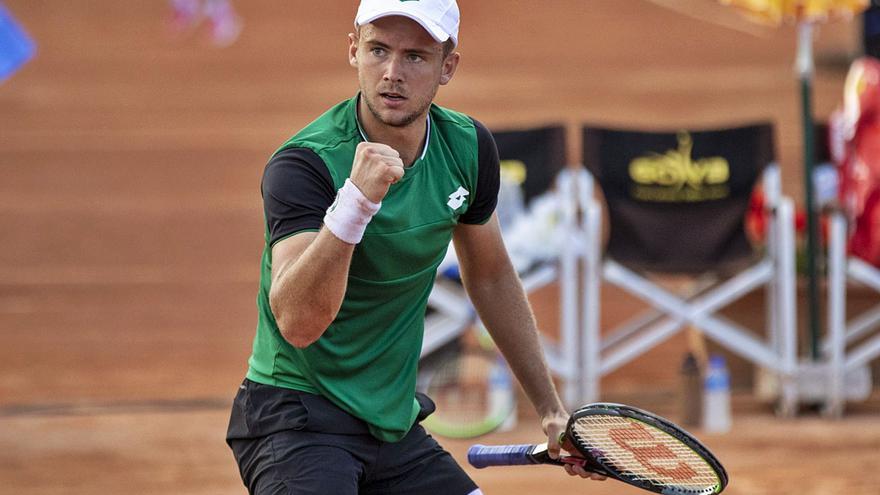 Enzo Couacaud inaugurated yesterday the list of champions of Gran Canaria Challenger 1. The Frenchman won the first edition of the tournament held on the slopes of El Cortijo Club de Campo by beating Steven Diez, a Canadian based in Barcelona, ​​in the grand final. the result of 7-6 (5) and 7-6 (3). After two hours and 31 minutes of play, he won the title of the event organized by the company MEF Tennis Events.
It is the second Challenger trophy of the career of this 25-year-old tennis player born in Curepipe (Mauritius): "I am very happy. I won a final full of ups and downs, I could have closed it earlier but it was a very close match. This success gives me great joy ", he declared at the end of the Gran Canaria competition.
In the quarterfinals, Couacaud also managed, like yesterday, to save two match points in his duel against Argentine Marco Trungelliti. "There have been several key moments in my path in this tournament. I think many players in the box could have won the title, but this has been my week ", he pointed out satisfied.
Now the winner looks confidently at the rest of the current season: "I'm sure I can continue to do well. I will play the Gran Canaria Challenger 2 -it is held this week on the same stage-, another tournament full of excellent tennis players, and I will do my best to extend the positive moment I am going through ".
To finish, Enzo Couacaud dedicated a few words to the tournament organizers. "Everything has been fantastic. Despite the rain, which threatened to alter the match schedule, the players have had all the comforts at our fingertips since the start of the event. And also, playing in such a wonderful place doesn't happen often, "he said.
Francisco Castellano, Sports Councilor of the Cabildo de Gran Canaria, was in charge of delivering the trophy to the champion. The head of the sports area of ​​the Kabildicia institution wanted to congratulate the organizers for the excellent level of the tennis event on and off the courts. He highlighted the great work of MEF Tennis Events and David Marrero, the tournament director.
The second installment, on stage
After the celebration of the first installment of the two tournaments that the company MEF Tennis Events organizes at El Cortijo Club de Campo, this week the Gran Canaria Challenger 2 takes place, whose qualifying phase began yesterday. In this second installment, a proper name resonates strongly, that of the Spanish Carlos Alcaraz. The new jewel of Spanish tennis, who arrives on the island accompanied by his coach, Juan Carlos Ferrero – former number one in the world – becomes one of the great attractions of the event. The young man from Murcia will make his debut against Italian Stefano Napolitano. 17 years old and number 127 in the world rankings, he has just participated in the ATP 250 tournament in Montpellier, in which he lost in his first match just a week ago against the Dutchman Tallon Griekspoor. | MO