Cosmopoética proposes to its audience a leap to the other side | Culture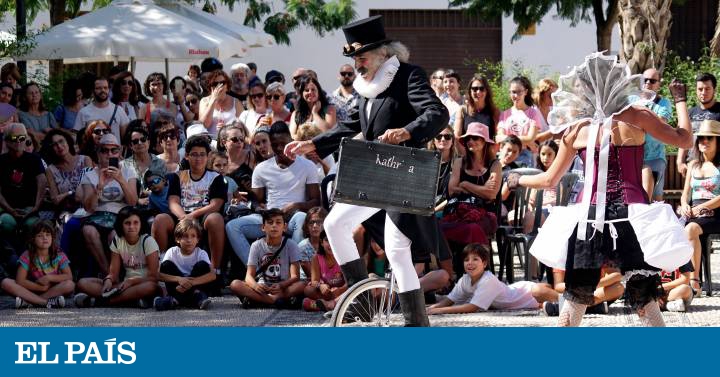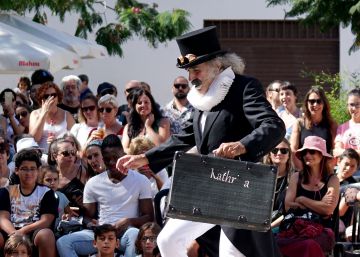 The abyss that separates the viewer from the creator is not insurmountable. The papers can be exchanged over time, but Cosmopoetics He has wanted to minimize the process and has offered his audience the opportunity to jump to the other side in less than a week. "That's how bold we are," said Antonio Agredano, literary director of the Cordoba event that celebrates its 16th edition with the United Kingdom as a guest country and under the motto God Save the Poetry.
The international poetry festival, in which 64 creators from various disciplines participate, has premiered this saturday Do It Yourself Lab, an initiative in which 60 people, without age or curriculum limitations, have attended poetry workshops at Casa Góngora, taught by Carlos Pardo - director of Cosmopoética in his first eight editions and literary critic of EL PAÍS; prose, by Lara Moreno, writer and contributor to this newspaper, and illustration, offered by Maria Hesse, who just published Pleasure (Lumen), a work on female sexuality where he signs text and drawings. The novelty is that all attendees have created a work that, prior selection, will be published in a book that will be released before October 5, when the appointment ends.
"It is an exercise to try to break the visual logic with which we usually simplify reality," says Carlos Pardo as he guides his students through the medieval labyrinth around Cabezas Street. They go in pairs: one, with his eyes closed, has to be guided by his partner to perceive other aspects of reality. "We have to wait, someone has been lost and that is precisely what I am looking for, to play with the strangeness, that they leave their comfort zone and consider the concept of time, of the present," explains Pardo. In his group, of the most heterogeneous, they participate from two students of Secondary of 16 years to a man of 63, Francisco Jiménez, Cordovan who has already published in some anthologies and to whom the verses come out "fast and spontaneous". Ágora Reix, a 33-year-old from Alicante and a "poetic activist," has traveled from his city to participate in Pardo's workshop and intends for the festival to create "an open wall" in which people can read his poems.
"I have proposed that you discard that first idea that comes to you about the concept of time to create a visual poem," says Maria Hesse, while correcting the fruits that her students are drawing in an exercise to practice with Chinese ink. "For me, the development of the concept is the most complex, drawing is easier for me," he adds.
All Cosmopoética is a boldness backed by the response of the public that, at the opening of the event, almost filled the Góngora theater (about 600 locations) to carefully follow the intelligent and sincere reflections of Svetlana Alexievich, the Belarusian Nobel, who spoke of war, feminism, politics and love. And although she always emphasizes that she has been the first journalist to receive a Nobel, the "woman-ear" - as defined - was unmarked from the profession: "I use interviews as the basis of my work, but my goal is to understand the mystery of life, of love, of sacrifice. Most journalists are carriers of banalities, "he said.
Among the public, many young people and some faces known as Paco Lobatón. The journalist and writer recognizes that his book I will look for you while I live (Punto de Mira, 2018) has a debt with Last witnesses: Children of World War II (Debate), by the author of Chernobyl voices. Chronicle of the future, the work on which the American HBO series has been based Chernobyl, They have already seen more than 650 million viewers and has turned the Nobel into a celebrity. The words of the Slavic writer also dug deep into Miriam Gil, 19, a poet and translation student, who has already published a youth novel -We are ice and fire (Editorial Amarante) -. "I really liked her defense of feminism and her fight against climate change," says the young woman.
Cosmopoética, with a budget of 250,000 euros, has attracted - in the last three editions - an average of 10,000 spectators. Poetry literally takes the city into 15 spaces. From September 27 to October 5, in Córdoba everything is verse and up to 400,000 napkins from bars and taverns (60 local in the city have joined the initiative) remind their parishioners that poetry flees from corsetations and sneaks for all the slits: "You, who do not rhyme with anything", signs Santi Balmes, singer of the band Love of Lesbian, or "Slowly / I write, as if I had to live / two hundred years", by the Polish Adam Zagajewski, Princess Award Asturias de las Letras 2017 and eternal Nobel candidate, can be read on those small napkins not very useful for cleaning but that invite reflection.
The list of names that pass through Córdoba in nine days includes several British authors who demonstrate that "behind the topic of British corsetation, a rupturist lyric flows that has marked the world literary rhythm", as can be read in Cosmoperiodic, a free publication that offers all the keys of the appointment. They are Robin Robertson, with his sensory poems; the performer and playwright Joelle Taylor, Holly Pester, author of experimental fictions, and Amara Amaryah, who speaks of faith and black femininity. Among the Spanish authors are Yolanda Castaño - who opened the festival - Berta García Faet, Antonio Praena, Isabel Bono, Juan Vicente Piqueras, Sergio C. Fanjul and Luisa Castro.
And since poetry is not old, children also find their place in this event in Cosmopeque. "The children are very spontaneous and have participated easily, especially with riddles," said Juan Kruz Igerabide, who displayed the magic of his work to about 70 children. Titiridary alphabet, with which last year he won the National Prize for Children's Literature. In the Cordoba event the genres intermingle, the important thing is its lyrical content, not its form and in addition to the prose of Donna Leon or Brigitte Vasallo, the nights are for the music of the hand of María Rodés, Christina Rosenvinge, Mariola Membrives, Santi Balmes and Soleá Morente. Different formats, but always poetry.
. (tagsToTranslate) cosmopoética (t) propose (t) public (t) jump (t) side (t) festival (t) poetry (t) gather (t) cordoba (t) 64 (t) creator (t) edit ( t) book (t) work (t) viewer (t) create (t) laboratory



Source link