Correos estimates the follow-up of the strike by 12%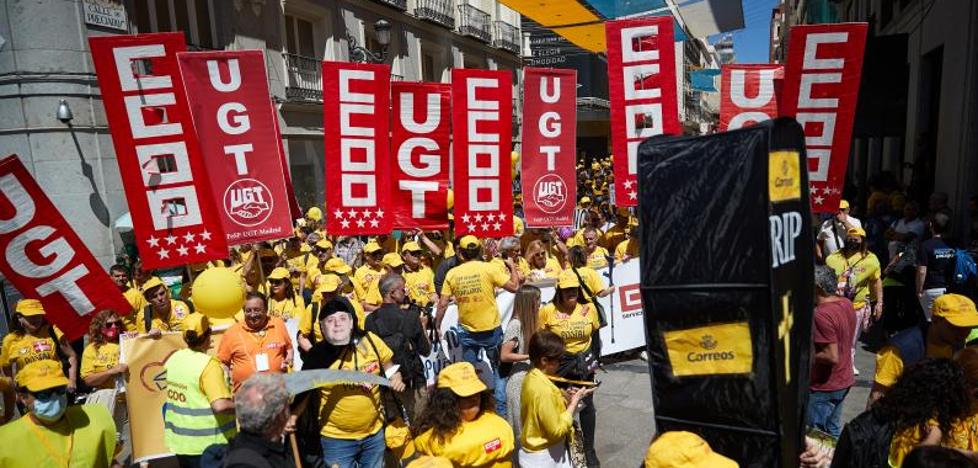 The unions raise the participation to 90% and thousands of workers demonstrate in the center of Madrid against the "dismantling" of the public company
First day of strike at Post Office. The unions have called three days of strikes to protest the "dismantling" of the company and denounce "the failure" to which -they consider- the business and labor management of the public company has led and have demonstrated in the streets of downtown Madrid.
More than 20,000 people, arriving from all the provinces of Spain -according to union estimates-, supported the protest, "by far" exceeding the expectations that both UGT and CC OO had regarding the expected attendance at the demonstration. They toured the main streets of the capital for an hour and a half wearing T-shirts and banners that read "stop scrapping", "for the viability of public mail, mobilize", "disastrous management, garbage jobs, economic ruin" or "against the cuts, a sufficient workforce and with the right».
"The class unions are very much alive, the postal sector has shown that the workers have joined to channel the indignation and anger over the dismantling of the Post Office and the lack of a project, and it is a success for the entire organization" , pointed out the secretary of the Postal Sector of UGT Public Services, José Manuel Sayagués.
figures dance

UGT and CC OO, the majority unions, consider this general strike a "success" and encrypt the follow-up in the morning shift of 90% and 80% in the night shift. However, Correos reduces this percentage to 11.85% and ensures that the activity in the company is being carried out "normally and without incidents".
Correos also took the opportunity to deny the accusations made by the unions, defending that the company "guarantees the quality of the postal service" and rejected that there is a plan to privatize it or to destroy jobs. Likewise, it made it clear that it will continue to be public and denied that there is going to be a transfer of its activity to its subsidiary Correos Express, at the same time that it assured that it is not closing any office or distribution center, but, on the contrary, it is expanding its service. to the rural area, where it is digitizing the points of attention to the public.
"It is completely false that Correos is going to fragment. This is an internal reorganization that will not affect the unity of the company. It is a specialization by lines of business to improve management, within the structure of the company, "the company defended itself.
The strike began this morning with a "massive" follow-up of 80% in the first shift in the 22 logistics centers that are distributed throughout the country, located in the main cities, according to union data, which rose to 90% in the shift in the morning.