Coronavirus moves from Bags to factories | Economy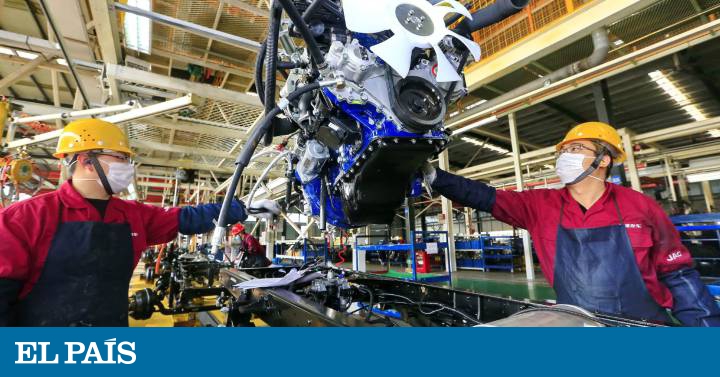 As soon as the first cases of the coronavirus were known, the Chinese stock markets collapsed, the price of oil fell and exports were hit hard, and dragged the stock markets around the world. They were difficult to assimilate macroeconomic figures. But the crisis caused by Covid-19 It has already moved to factories to stores and airports.
So much so that this Saturday the managing director of International Monetary Fund, Kristalina Georgieva, pointed out that in the current scenario, back to normal in the second quarter, the economic growth of the Asian giant would be weighed in 0.4 points (up to 5.6%) and world GDP in 0, 1 on January forecasts. "But we are also analyzing more dire scenarios," he warned at the meeting of the G20 Economy Ministers.
Among the companies, the alarm voice was given by Apple this week by announcing that it will not meet the revenue forecasts of 67,000 million dollars for this quarter due to the double negative effect of the drop in sales in China due to the closure of stores and the stoppage of Chinese factories where their iPhone and Ipad are assembled .
Blame it largely on Foxconn, the world's largest manufacturer of electronic components and China's largest exporter, which keeps a good portion of its labor army of more than 500,000 workers inactive, particularly those working in its Zhengzhou macro-factory . The Taiwanese firm not only works for Apple but for other multinationals such as Sony, Microsoft or Amazon. Other Chinese technology companies such as Huawei or Xiaomi are also having supply problems and the same happens to the US chip companies Qualcomm and Broadcom, which depend on the Chinese factories. The recent suspension of Mobile World Congress of Barcelona He staged the mark that the panic of the virus has left in the technological sector.
A fear that has slowed the production of food multinationals such as Pepsico, Kraft Heinz, Nestle or Pernod Ricard who have factories in the Asian country. And it has forced restoration or leisure chains like Starbucks, McDonald's, Ikea or Walt Disney to close thousands of establishments in the Asian country. Or has reduced the production of car giants like Nissan, Renault or Volkswagen.
Spanish companies also suffer contagion directly. Around 15,000 of them export to China, in fact, one in 10 exporting companies sells their products in the Asian country, according to Icex data. And another 600 have headquarters or stores there. Among them, there are giants such as Repsol, Inditex, Técnicas Reunidas, Alsa, Siemens Gamesa, Cepsa, Meliá, Gestamp and El Corte Inglés.
Ignacio Sánchez Villares, CEO of Leroy Merlin in Spain, He was somewhat catastrophic. Without citing specific sectors or companies, he predicted supply problems as of May if the Chinese manufacturing break extends to March. "If in March the factories are not fully operational, there will be a big problem," he reiterates to this newspaper. It does not exclude your company altogether, although it ensures that the spring-summer campaign has been provisioned at 75%, in which they send sun beds, pool items or garden furniture. "We have moved to avoid the crisis, and we do not foresee any risk by June, but if it lengthens… He who has done well will suffer in June; whoever has done very well, in July or August, "he predicts.
But the coronavirus crisis not only affects factories also the movement of people. The International Air Transport Association (IATA, for its acronym in English) warned this week that due to the outbreak it expects a revenue reduction of 29.3 billion dollars (27.150 million euros) throughout the sector in 2020, of which 12.8 billion They correspond to Chinese airlines.
Iberia has suspended its flights to Shanghai, following the steps taken by British Airways, Lufthansa, Air Canada, United Airlines, Air Seoul or Taiwan's China Airlines, which They have canceled their flights or reduced frequencies.
Tourism is being strongly impacted. In addition to airlines and cruises (Royal Caribbean Cruises and Carnival), national hotel chains such as Meliá or NH Hoteles have canceled thousands of reservations in the country. And although Chinese tourists are still a minority – not more than half a million annually visit Spain of the 130 million who travel outside the country – their spending is increasingly high, and amounted to 1,675 million euros in 2019, 28% more than in 2018.
The fear of Sánchez Villares that restrictions on the movement of people and goods continue is shared by the companies consulted. At the moment, supply problems have not surfaced, but if the crisis is prolonged, nobody dares to make forecasts.
"According to our data, the spring-summer campaign came out before the Chinese New Year, the question is whether the first deliveries of the next campaign will arrive on time, which is starting to occur now," says Angel Asensio, president of the Spanish Federation of Apparel Companies (Fedecon).
Textile sector
The textile sector is one of the biggest affected by the Covid-19 crisis, both due to the stoppage of factories and the restriction of circulation and the closing of stores (more than half of the points of sale throughout the country are still closed and non-essential trips are virtually banned, according to Bloomberg). This week, Adidas acknowledged that its sales in China had fallen 85% since January 25 compared to the same period last year, while Puma predicted less profits and Nike, with half of its stores closed. In a report this week, Goldman Sachs expects stagnation in the luxury sector this year, compared to the 5% it anticipated a few months ago.
Given the situation, some producers begin to look for alternatives. Asensio admits that some of the partners have moved production to countries like Turkey or Morocco. Inditex works with 1,800 suppliers in China, but manufactures 60% of its stores in close proximity (Spain, Portugal, Turkey, Morocco or Tunisia). What comes from Asia, above all, is a basic garment, which is ordered in large quantities well in advance, but has a waist to divert orders to the other production clusters that supply it, so it monitors the situation closely. Mango, which works with 327 Chinese factories, or Tendam (the former Cortefiel), which produces 30% there and admits that its "supply would be impacted towards the beginning of summer" if the crisis persists, they handle two options: "send merchandise by air transport to recover some potential delay ", with the disadvantage that the transport becomes very expensive; or "derive part of manufacturing" to other places.
José Serna, president of the Spanish Intertextile Council, the employer who brings together the spinning, weaving and finishing industry, points out that some producers are receiving orders "that they didn't have before". And it expresses the desire that the crisis will help companies turn towards a multilocalized production model that favors industry in Spain. "It begins to give a replacement of production, although there is still idle productive capacity in Spain," he says.
The manufacturing stop also fully reaches the automobile sector Spanish, since the province of Hubei, epicenter of the epidemic, is a center specialized in this industry. Gestamp, with 11 factories (one of them in Wuhan, closed), and Grupo Antolin, with 25, have suffered. Both ensure that their factories are already returning, little by little, to normal. Gestamp admits that "the supply chain does not work even at the usual rate, since there are customers and suppliers that are not 100% of the production."
Spanish builders "for the moment" are not affected, says Jordi Carmona, secretary of Automotive Industries of UGT, but warns that "the sector is a chain down, with suppliers of first grade, second." SEAT sources point out that in Spain they are mainly supplied by European suppliers, but "a supplier's supplier may fail" if the crisis is prolonged and there the "reaction capacity" will be essential to seek efficient alternatives.
Pork jam in Spanish warehouses
In an attempt to contain the expansion of the coronavirus, the Chinese authorities not only decreed the closure of large work or commercial places, but has greatly limited the transit of merchandise. And that impacts in Spain. With swine fever, China is importing large quantities of Spanish pork.
"But when the goods are stagnant in the ports, there is a traffic jam in the Spanish cold stores," says Julián Corriá, president of Aldefe, an association of logistic cold stores. "There are not so many cold containers that need to be connected to electricity, so if they don't come back, you can't send more, and the warehouses here are, in some areas, at 100% capacity," he explains. Aldefe manages facilities with a total capacity of six million cubic meters, usually near ports, slaughterhouses or supply markets. Bills 200 million a year and employs 13,000 people, according to Aldefe.