Coronavirus: Cultural survival kit for confinement (day 35) | Babelia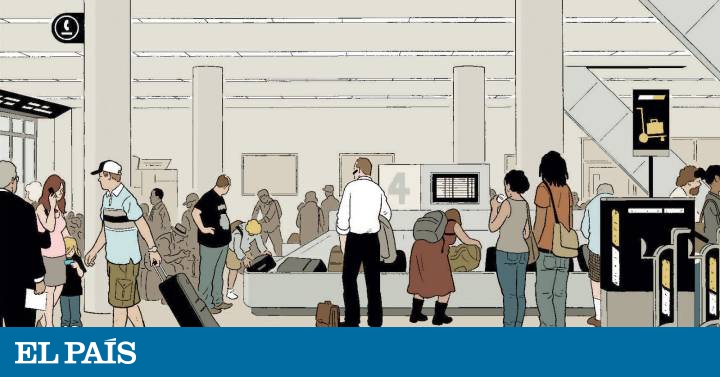 Exhausts Kristof He was born in Hungary in 1935 and died in Switzerland in 2011. Between those two places and those two dates is a life in exile and an uncompromising literary work whose flagship is three short novels –The big notebook (1986), The proof (1988) and The third lie (1992) – that the author herself called, succinctly, "the trilogy" and that in Spain she has ended up titled herself with the name of its protagonists. Each installment is an enigmatic variation on the previous one, but neither the second nor the third, with all its virtues, have the strength of the first, a masterpiece of the present indicative and of childish cruelty. "Grandma is our mother's mother. Before we came to live in her house we did not know that our mother still had a mother. We call her grandmother. People call her The Witch. She calls us 'sons of bitches.' This is noted in their notebook Claus and Lucas, two twins who spend the war – a war – in town. There they try to survive while they spend their days in exercises to toughen up: not move, fast, act as blind or beggars, look each other in the eyes, and repeat certain words – of love or contempt – until they lose their meaning. The end is a firecracker worthy of the best thriller. "Sad as it is, a book cannot be as sad as a life", we read in The third lie. The phrase is not rhetorical. Exhausts Kristof was slow to learn French —The language in which he ended up writing— because in the factory where he worked he couldn't speak to anyone. When her daughter needed help with homework, she had no choice. Then it became a myth of the Francophonie. If the Council of Ministers read The big notebook they would relax the confinement of the children. Javier Rodríguez Marcos
Claus and Lucas. Exhausts Kristof. Translation by Ana Herrera and Roser Berdagué. Asteroid Books, 2019. Available as a free loan from public libraries (eBiblio) and in All your books, Libelist, Amazon and Fnac.
These days the questions accumulate to us, and almost all begin with "when". When will they allow children to take to the streets and parks? When will I be able to hug my mother again? When will kissing stop being dangerous? When will the nightmare end? When will life be as before, or preferably better? Or, raising the tone, and literally quoting a letter Beethoven wrote to his friend Heinrich von Struve on September 17, 1795, and the emphasis is his, "when will the time come when there will be only human beings? ". Unfortunately, we have no answers, although Beethoven ventured a not very encouraging one for his own question: "It will be centuries before that happens." This inevitably leads us to The Unanswered Question, a miniature made up of Charles Ives in 1906, but it could not be heard until forty years later. Composer only in his spare time, which further accentuated his libertarian and iconoclastic spirit, Ives was ahead of the European avant-garde in almost everything, turning polytonality, the overlapping of rhythmic strata and even tempi different, or the coexistence of tonality and atonality in our daily bread.
The work is very brief: five pages of score and just over six minutes long. The trumpet solo intones a brief atonal design – "the perennial question of existence" – in two almost identical variants. Below, long static chords of the string in pianissimo and muted, barely audible. Above, the woods, apparently foreign to the rest, weave choppy and lively dissonances until, finally, they give up on their endeavor, with an almost mocking edge. They are three worlds apart, which seem to coexist in watertight compartments, and the questions are suspended successively in the air: over and over again without any answer, of course. Terrence Malick used Ives' music in his movie The thin red line and also appeared in an episode of the fourth season of the series Frasier, significantly titled Don't ask me questions. Ives teaches us in The Unanswered Question, a miniature that can be heard ad infinitumYes, they must be done. Or ask us, even if we don't have answers. Luis Gago
The Unanswered Question. Charles Ives. Available in multiple versions in Spotify and other platforms.
Over the years, Fernando Fernán Gómez has been recognized for his talent not only as an actor and writer, but also as a director. To titles like this masterpiece that is The trip to nowhere, or The strange journey, Life ahead, Life around, Mambrú went to war and My daughter Hildegart, the premiere of the restoration of The world goes on, thus recovering a fundamental film to understand the Spain of the sixties. However, it is likely that the film closest to this artist's heart was The trip to nowhere (1986), chronicle of the collapse of a world, that of the actors of traveling theater companies, people who, passionate about what they did, lived carrying their plays from town to town, and who suffered in the 1940s and 1950s the popularization of cinema . Based on the novel of the same name by Fernán Gómez himself, the drama —which triumphed in the first edition of the Goya Awards— depicts how love, economic problems, emotional development, artistic egos, disillusionment of new generations and hardships the post-war period undermine a group of people, the Galvanes, who will end up longing for a past that was actually no better. In a way that is both raw and melancholic, Fernán Gómez portrays that hurt and suffering Spain, in which puppeteers, a definition that they proudly defend and others use as an empty insult, gradually fade into the gutters. And that has left for history, in addition to the subtlety and mastery with which Fernán Gómez and José Sacristán build a parent-child relationship, the phrase "I shit on the father of the Lumière brothers!", Spit out by the film director who José María Caffarel embodies. Gregorio Belinchón
The trip to nowhere. Fernando Fernán Gómez. 1986. The film is available in FlixOlé.
In recent years, adult animation on television has increasingly dared to delve into complex issues. Beyond the usual humor and social criticism, some creators use animation to delve into issues such as mental health and with different genres and visual proposals. In Undone, Raphael Bob-Waksberg and Kate Purdy, two of those responsible for another huge example of that recent animation maturity that is BoJack HorsemanThey dare to use a science fiction framework to make a deep and very interesting portrait of mental illness.
Waking up from a coma after a car accident, Alma begins to experience visions and space-time travel accompanied by her deceased father. He teaches him how to live in several realities at once while the viewer is immersed in a plot about depression, family and the complications of not knowing how to be at peace with oneself. The emotional experience that is the viewing of this series is intensified with the use of rotoscopic animation, which consists of painting on the actual recording frames, a technique that has already been used in films such as Heavy metal or Tron and that served to give life to characters like Betty Boop or Popeye in animated shorts in the thirties of the last century. Besides, Undone He uses oil paint in some backgrounds. Rosa Salazar and Bob Odenkirk lead the real cast of this series that amazes both in form and substance. Natalia Marcos
Undone. Raphael Bob-Waksberg and Kate Purdy. Amazon Prime Video. 2019. The eight half-hour episodes are available at Amazon Prime Video.
In the early 1990s, a trend that could be called "fromcomic-book de autor ", which took advantage of the majority format of comic book publishing in the United States to develop a personal and differentiated discourse. Mythical series like Eight ballby Daniel Clowes, ACME Novelty Library, by Chris Ware, or Palookaville, by Seth, just to name a few, consolidate an author's comic model that recovered to a certain extent the insurgency of the fanzine underground from the sixties, but from a postmodern reading with a clear literary influence and with a personal graphic conception and far from mainstream, generally linked to prestigious publishers such as Fantagraphics or Drawn & Quaterly. It could be considered as a dangerous integration of fanzine within the system, but the truth is that authorial freedom was the norm and success of this change. One of the last series to hit this list was Adrian Tomine's Optic Nerve. Strongly influenced by authors such as Clowes, Ware or the Hernández, the short stories that made up each installment navigated self-fiction and contemplation of their surroundings. But little by little, the influences were giving way to their own personality, to a conception of the slow narrative on which an underground irony, very Carverian, always rested, which would crystallize in works like Intruders (Sapristi Comics). Short stories that speak of loneliness in a hyperconnected society that is incapable of looking into each other's eyes, but that in this work also generate an atrocious portrait of a society where the individual becomes invisible and disappears if he does not follow the rules, in a living death that confines him in a space of indifferent oblivion more frightening than any grave. Tomine fixes with these stories a creepy photo of an abandoned solitude. Álvaro Pons

Intruders. Adrian Tomine. Sapristi Comics, 2015. The comic is available at All your books and Amazon.

Braid, launched on the market in 2008, is a platform game built on the foundations of the Marios Super Nintendo: two-dimensional screens that we run from left to right. And yet, the great success of Jonathan Blow's masterpiece, the mind behind this game and the personal as well as challenging The Witness (2016), is that with the same narrative wigs (a character looking for a princess who has kidnapped a big man), he twists the story to sow doubt and ambiguity, and dares to put forward dark hypotheses ahead of his time. What if we are, not the rescuer, but the monster from which the girl runs away? The twist in history (which also hints at the nuclear holocaust), along with some very bold mechanics (time and gravity control, rewinding of our actions) make the game, yes, a masterpiece. Jorge Morla
Braid. Jonathan Blow. 2008. The game is available for Linux, Mac OS X, Windows, PSN and Xbox Live.