Coronavirus: Cultural survival kit for confinement (day 13) | Babelia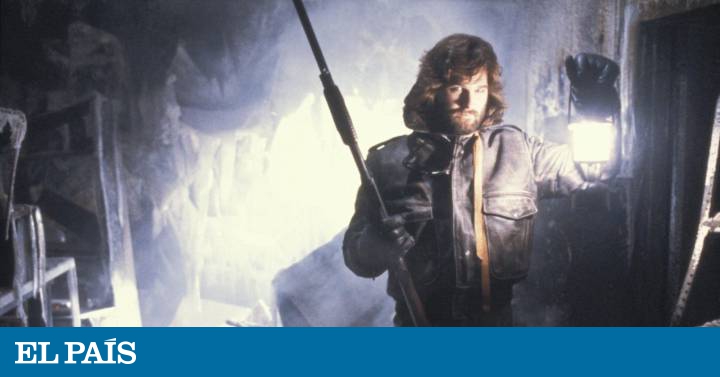 There is a well-founded - and, if I may say, logical, given its traditional drift - belief that comics is an art and a primarily narrative medium. In fact, many of those who have unsuccessfully sought a strict definition of the medium have included the obligatory nature of its narrative. However, the visual expression of the comic revolves before any definition and seeks to continually break the mold: why is it necessary to tell a story? Why not take advantage of the potential of the comic to go further, to embrace abstraction, to provoke purely sensitive and emotional responses from the drawing? Questions that were in the air throughout the 20th century, from the works of George Herriman to those of Edmond Baudoin, but that in recent years have found answers from a collective collective of young artists that explores new paths for comics: from the pure abstraction (whose best exponent can be Robert Massó) to the booming line that poetics brings to the language of comics, graphic poetry.
With authors like Begoña García Alén or Maria Medem, the comic is finding that the rhythms of a poem can be translated into images and colors. A good example may be Evan M. Cohen, an author who from Instagram plays with fixed vignettes to make suggestive pieces that use color and lines to generate subtle visual rhythms. His works are not read, they are experienced; there is no history, there are sensations, emotions that are difficult to explain. Tricks where perception changes and mutates as we shift focus from page to bullet. The radical contrast of colors does not provoke visual cacophonies, but achieves its own rhythm, creating purely chromatic readings. Visual mandalas in which you have to get lost to appear in other worlds. Álvaro Pons
The works of Evan M. Cohen can be seen in his account Instagram.
Scrutinizers from other galaxies, creators of artificial intelligence, unpunished destroyers of nature, we believed ourselves almost gods: until a microscopic virus has put us in our place, has brought us back to reality and globalized our confinement. Johann Wolfgang von Goethe first published his poem Grenzen der Menschheit (Limits of humanity) in their Writings from 1789, where it appears along with other odes with a strong Hellenic imprint, such as Prometheus, Ganymede Y The divine. It is worth remembering now, as pertinent, some of his verses. Second stanza: "Because no human being / should be measured / with the gods. / If he rises upwards / and touches / the stars with his head, / his uncertain feet / they lose their support, / and clouds and winds / play with it ". Fourth: "What difference / to the gods of human beings? / That many waves / advance before them, / an eternal current: / the wave lifts us up, / the wave engulfs us, / and we sink ". And the conclusive envoi, with clear Homeric resonances: "A small ring / delimits our life, / and many generations / are constantly happening / as links in the infinite chain / of existence."
Franz Schubert He faced the pantheistic universe of Grenzen der Menschheit in 1821, creating in turn a perfectly organic entity that translates the successive central elements of each stanza (fire, air, earth, water) with different musical procedures until graphically populating white and round the score when translating with sonorous chords the "little ring" and the links of the final "infinite chain". Goethe and Schubert mark us the limits that, as human beings, we cannot - nor should we - cross. This extraordinary song is written for a deep male voice and you should listen to its prescient clamor, if possible, to the greatest: read Hans Hotter or Dietrich Fischer-Dieskau. Luis Gago
Franz Schubert. Grenzen der Menschheit. Multiple versions available in Spotify, Apple music and other platforms.
Why should anyone spend two days of their confinement reading a biography of Juan Antonio Samaranch? For many reasons: because July marks the 100th anniversary of his birth and April 10 of his death; why the Tokyo Games have just been postponed and he - IOC President between 1980 and 2001 - was, with Baron de Coubertain, the most important figure of modern Olympism, that is, of the marketing and geopolitics applied to sport. Also because he was the most influential Spanish in contemporary China according to a list published in 2006 by the People's Daily. He shared honors with Marx, Freud, Marie Curie or Bill Gates. For all that, but especially because the book, published in 1999, is a masterpiece. If two journalists from the New Yorker would be considered a classic of the genre.
Those who still believe that the Olympics come from Paris and that there were no Francoist Catalans will do well to follow Boix and Espada recounting the career of an eminent Barcelona Falangist who took advantage of his position as the first Spanish ambassador in Moscow after the dictatorship to rebuild a IOC bankrupt and bathe him in dollars. How? Ending the political boycott of the Cold War and the hypocritical post-war sports amateurism: TV pays for the best, make way for dream team. The authors turn everything they touch into great literature, be it the disputes between Adidas and Puma, the goings-on of the Barcelona bid or the corrupt ones in Salt Lake City. As one of the managers of International Sports & Leisures, the manager of the IOC's commercial program, said: "There are only four things that cross all borders: sports, music, violence and sex. It is difficult to find a sponsor for violence and sex. " Now we know that there is a fifth. And that sounds Olympic: the Covid-19. Javier Rodríguez Marcos
Samaranch. The sport of power. Jaume Boix and Arcadi Espada. Espasa. Is available in Amazon, Fnac, House of the book and AbeBooks.
Another classic of science fiction cinema and the film stories of survivors. In 1982 John Carpenter He reviewed a script by Howard Hawks, and gave it a huge twist to tell a claustrophobic story: that of a remote Antarctic station in which, when an alien is defrosted, the workers begin to disappear. The bichejo has an advantage: its ability to blend in with other living things. With music from Ennio Morricone, with a Kurt Russell in his prime and with Carpenter directing what is his own favorite movie, The thing became a masterpiece. The Tension Building is a manual for future filmmakers, with the viewer accompanying Russell's character in his fight to both end the alien and survive himself.
At the time, The thing did not have a good reception. Moreover, due to the irony of fate, it was released the same day in the United States that Blade Runner: Both received negative reviews and did not start well at the box office, until years later fans of the genre considered them two classics. Kurt Russell deserves a separate comment: few like him can be defined as true children of Hollywood (among those rest there are cases as surprising as Ron Howard's). We are talking about an actor who started as a kid at the Disney factory, at 11 years old, and has continued working until the present day at 69 years old (his last release was Once upon a time ... in Hollywood). A survivor movie with a survivor inside who cooks her plot in Cold War paranoia: hard to beat The thing. Gregorio Belinchón
The thing. John Carpenter. 1982. The film is available in Rakuten TV Y Google play.
The House of Big BrotherClosed to the brim, with all its cameras that record 24 hours a day and its contestants locked between walls where everything is magnified, it turns out to be the safest place when the zombie apocalypse breaks out. Before creating Black Mirror, Charlie Brooker He had a terrifyingly twisted idea that he captured in that five-episode miniseries for the British network E4, which is Dead set (2008). Surely Brooker never imagined that in 2020, a pandemic would make his series so cited. Because, until a few days ago, while the rest of the world was almost paralyzed by the coronavirus, the contestants of various realities from different countries remained oblivious to what was happening outside. Nor the famous of Survivors they knew the reality until last week. You could almost say that Brooker's twisted mind sped the future more successfully in Dead set that in most chapters of Black mirror.
The story begins in a night of expulsion in Big Brother, the Big Brother British. While the chaos breaks out outside, the inhabitants of the house remain oblivious to everything. Although, inevitably, that chaos will also end up reaching them. The result is a series not suitable for weak stomachs in which the action develops at the same dizzying speed at which these living, bloodthirsty, guts hungry and very noisy move. The series, which Filmin today has recovered for the streaming Spanish very skillfully, it is very enjoyable and is more current than ever. Of course, only recommended for those who like the zombie genre. Natalia Marcos
Dead set. Charlie Brooker. E4, 2008. All five episodes of the series can be viewed at Filmin.
The portal pistol fires a first orange shot that generates a portal on a wall or on the ground. The portal gun then fires a blue shot that spawns a second portal. If you enter through one of the portals, you exit through the other. As simple as that. And so revolutionary.
In 2007 Valve Corporation flipped the concept of physics in video games with Portal, a simple game in appearance and premise (a woman, Chell, who wakes up in a laboratory and undergoes tests by an implacable artificial intelligence in exchange for a piece of cake), but infinite in its possibilities and influence. A first person puzzle game that will be played for decades. In 2011, an equally superb sequel was released, expanding the game's universe and delving into the mechanics (and also its convoluted humor) without complexes. But the first PortalIn many ways, it changed everything. As we could see in a stealth graffiti written with blood, "The cake is a lie." Jorge Morla
Portal. Valve Corporation, 2007. The game is available for Microsoft Windows, Playstation 3, Xbox 360, OS X, Linux Y Android.