Copa América: Messi 'Maradoniano' and Alves as the best player in the Copa América | sports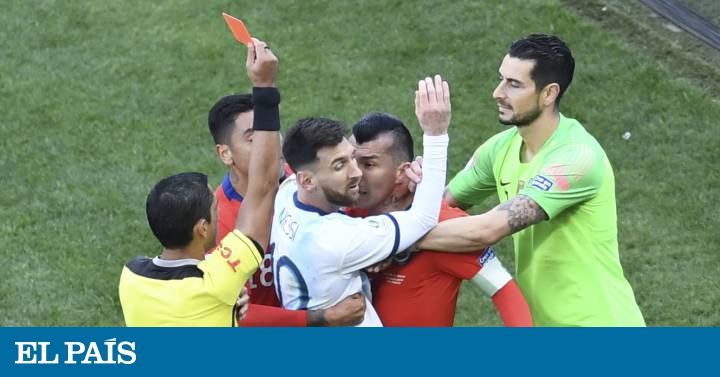 Brazil reigns again in America. Tite's team lifted its ninth Cup, the sixth in the last 30 years. In the same period Argentina, Uruguay and Chile won two. The Albiceleste conquered America in 1993 and has 26 years without titles.
The Messi maradonian. Lionel Messi (32 years old) had a practically untouched career. They were not reminded of great outbursts or media mess. The Argentines seemed bothered by the gentle and polite attitude of 10, as if he needed to evoke Maradona in the field and in the press room. He, meanwhile, defended himself. "This generation was mistreated. We are not selling smoke to us. We are professionals, "Messi had said in March. In Brazil, however, a completely different Messi appeared: he pointed to Conmebol and even sang the anthem, which was practically his trademark in 14 years with the national team.
After the defeat against Brazil, Messi pointed to the main continental body. "Brazil handles everything." And he did not want to go and look for the bronze medal: "There is no doubt, he is armed for Brazil". And he insisted: "I felt that we had been robbed, we had to be in the final. We do not have to be part of corruption. " In Argentina the new attitude of 10 was celebrated, but the rest of South America condemned it. "He has to be respectful," said Tite. "You have to have strong evidence to talk about corruption," Gareca added. "I do not agree with Leo, we've worked hard," Dani Alves concluded. Messi, who saw the red before Chile, is exposed to a penalty, since the Conmebol has the power to extend it by suspension.
Was Neymar playing? As if no one had learned that Neymar was injured, in the streets of Copacabana reigned the shirt of 10 Canarinha. His, but also Marta's, Pelé's, Ronaldo's and even Romario's. To get Coutinho's, Firmino's or Arthur's had to be ordered, few street vendors dared to expose it. "And … they are the most famous, those of the others are not bought by anyone," explains a street vendor in Rio's most touristic neighborhood.
Neymar, in any case, was seen in the stands. On Sunday he was with his son in the box and before had already seen the semifinal with Argentina in Belo Horizonte and the quarterfinal match against Paraguay in Porto Alegre. He went through the concentration in São Paulo. Yes, to get control with the doctor of the CBF, Rodrigo Lasmar. The same one that had already operated on it last year from the breaking of the fifth metatarsal. Neymar does not want to know anything with the PSG or with his medical services. Use your physio personal, Rafael Martini, and since his time at Santos, he has always been close to the physical trainer, Ricardo Rosa. In Barça the salary was paid by Neymar, now PSG.


Peru is not surprising, Colombia does not start. In the hands of Gareca, the Inca team returned to a World Cup after 36 years and played a final in America after 44 years. "Peru is not a revelation. With the exception of some young people, this selection has players with a lot of experience. We came to win the cup. For some it will be exaggerated, but we had that conviction. " After reaching José Pékerman's quarterfinals in Brazil 2014, a historic achievement for the coffee team, with Carlos Queiroz began an exciting project. In fact, he led with authority group B, against Argentina, Paraguay and Venezuela. But it remained stuck in quarters. He played a bad game against Chile in the quarterfinals, although it was condemned by penalties roulette.

The debt of the game. Brazil won with more authority than good football, away from the classical school, the one with which Tite had hoped on his arrival in Canarinha. "Our idea is to make a balanced football, which attacks and defends with security, which plays well with and without the ball," said Cléber Xavier, his second coach from Brazil. Argentina, who started the cup down, ended up excited about the performance of the team. Far, in any case, to shine, still without getting a title with Messi. It has been drought for 26 years. The great generation of Chile begins to turn off, waiting to see how Uruguay evolves. Meanwhile, the best player of the tournament was Dani Alves, an excellent right-back of 36 years. Gareca, however, is optimistic. "There is more and more information from Europe. There is super information from Europe. It seems that in everything we want to imitate them. There are good things about Europe, but we also have good things in South American football, "said Gareca.
The last lesson of Master Tabárez. Far from complaining about the defeat and attitude of Peru in the quarterfinals of the Copa America, the coach of Uruguay analyzed: "We must accept the defeat and congratulate the opponent because he did not do anything outside the rules, tried to lower the pace to the party and not intimidated, how many times have we done it? ", he explained. And he concluded: "All the defeats hurt, but if we believe that we are favorites and that the problems disappear with the victories and that we have to be champion of everything … They are visions that I do not share".
Controversial VAR. The Spanish company Mediapro provided the video arbitration system that was used for the first time in the Copa América. "The people of Conmebol are going to have to do something. In this cup they tired of collecting boludeces: hands, pelotudos penalties and here they did not go to watch the VAR. They were two clear penalties that did not charge us, "complained Messi, after the semifinal against Brazil. "Everything is done to improve. Then we will enter into some debate about what to suppress and which to remove. It will be perfected and that will make sure there are not so many doubts and that the referee has more security when making decisions, "Gareca said. Tite was resounding: "The arbitration was horrible".
You can follow EL PAÍS Sports in Facebook, Twitter or subscribe here to the Newsletter.