Continuous session of jazz in women | Culture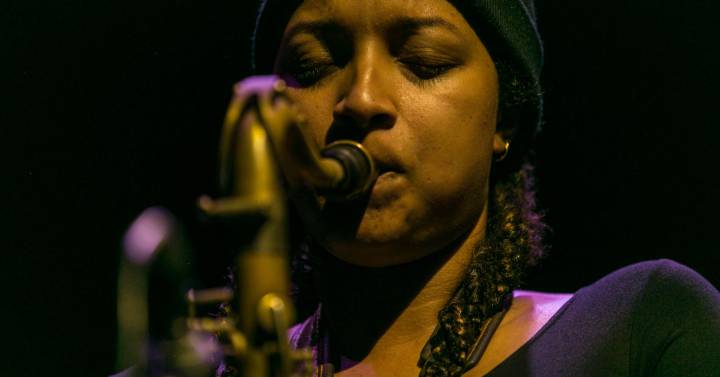 They were presented last night, within the programming of Madrid International Jazz Festival, two risky and personal proposals created by women of generations and distant styles but of deep artistic depth. And the continuous session allowed us to verify that the growing female presence in gender in recent years is due to more than just a matter of quotas.
The American Myra Melford (USA, 1957) is one of the unavoidable references in the jazz piano of our day. Composer as well as interpreter, presented in CenterCenter to piano alone. He focused his concert on the repertoire (own compositions) of his album Life Carries Me This Way (Firehouse 12, 2013). It began melodic, with folkloric air and repeating phrases, slow, meditative. He followed with monk winks, rhythmic and exquisite with his left hand, free and improvising by many styles with his right hand. He honored Andrew Hill in Images of time, original and austere, continued towards the world of cinema with melodies that reminded Sakamoto in its deep simplicity, traveled through Cuban rhythms, had winks to contemporary music, to ragtime, to pop melodies and of course to the crudest free improvisation (Cecil Taylor was a clear reference throughout the show), masterfully percussing the keyboard from which he obtained, even in these extreme moments, a beautiful musicality. Rhythmically superb, stylistically sharp and unbeatable, sober and delivered in the performance, Melford signed a concert simply impeccable.
And in the auditorium of Conde Duque Cultural Center was presented Nubya Garcia, one of the sensations of contemporary English jazz. It does not reach thirty, it is an active part of the collective We out here next to Shabaka Hutchings or Gilles Peterson and is also a member of the urban jazz band Nérija, frimated by the Domino label and formed almost entirely by women. Tickets sold out, younger audience than in other jazz meetings, the expectation was important to receive Garcia in his first Madrid concert, and he did not disappoint. From the beginning they were clear reasons: he post bop from the 60s it is the starting point for an energetic dialogue with urban music (reggae and hip hop as spearheads in the show that concerns us). From a collective conception of the jazz band (double bass, keyboards and drums; they inform us from their Spanish agency that they prefer not to reveal the names of the musicians) the quartet approached the dub, the cosmic jazz of Sun Ra, with the same ease to the spiritual jazz of John Coltrane's classic quartet or Latin jazz. Few alone and very original, long own compositions, raw sound and groove, much groove, completed a concert that more than met the expectations of a delivered (and rightfully) public.
. (tagsToTranslate) session (t) continuous (t) continuous (t) jazz (t) female (t) North American pianist (t) (t) myra melford (t) saxophonist (t) English (t) English (t) nubya garcia (t) offer (t) concert (t) madrid



Source link