Conrado Domínguez, the serene man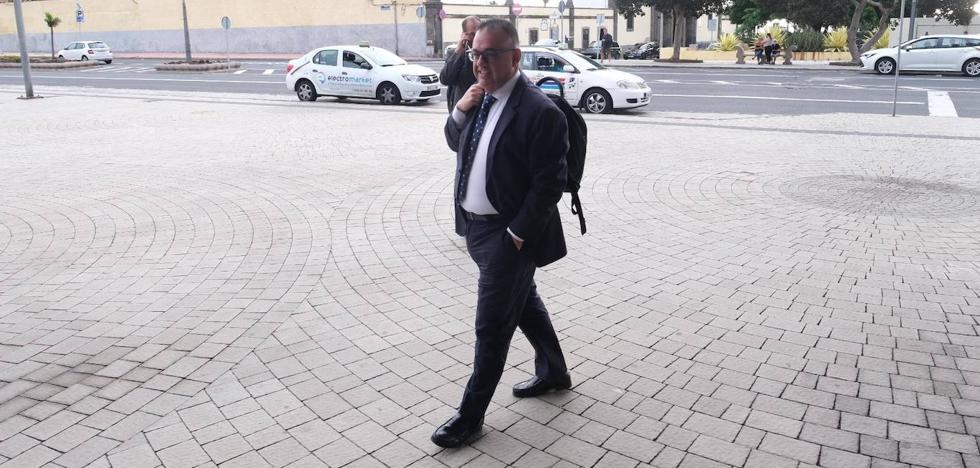 The City of Justice looked like any other day on Thursday morning, although it was not. Several people were waiting for the opening of its doors minutes before they were deployed, at 9:00 a.m. Confused, between them,
Conrado Domínguez wasdirector of the Canary Islands Health Service (SCS), who was going to appear for the first time before the judicial authority, as an investigator, for the
case Masks.
The expectation, due to this, was maximum, and Conrado was not only awaited by the judge, Magistrate Francisco Javier García García-Sotoca, and the parties, but also by
various media.
Domínguez was, at all times, calm, smiling and even greeted different acquaintances with total nonchalance. His face only twisted when the press approached him.
"I will not make any statements"snapped before getting lost in the vicinity of the City of Justice in the capital of Gran Canaria.
Rayco Rubén González goes to court with his lawyer Rachid Mohamed Hammu. /

Cover Audiovisual Services

The director of the SCS was not the only one summoned by the investigating court number 7 at 9:30 am this Thursday; also, the sole administrator of the car company RR7 United SL, Rayco Rubén González.
The truth is that the strategy of both was very different, it is unknown if agreed or not. If Domínguez appeared at the judicial offices in a very punctual manner,
González did it on the hornaround 9:30 am, accompanied by his lawyer, Rachid Mohamed Hammu.
His gesture was more serious than that of the director of the SCS and he did not attend to the media either; although, his profile is not public like Domínguez's and he is not as familiar with the press. In fact,
thanks to this court date, the man behind the RR7 company was put on face.
The administrator of RR7 with a serious face before entering the judicial premises. /

Cover Audiovisual Services

The first to appear was Domínguez, whose statement lasted about two hours, and it was not until approximately 12:20 that he left the judicial premises. So he did stop to exchange a few words with the media, even thanking them for waiting for him all this time.
Domínguez left the court, but not his smile. Shortly after, Rayco did, who remained serious and distant with the press. His lawyer, however, did respond to the journalists' questions.