Conrado Domínguez: «I left the barracks sick. Do not be surprised that they are recording us »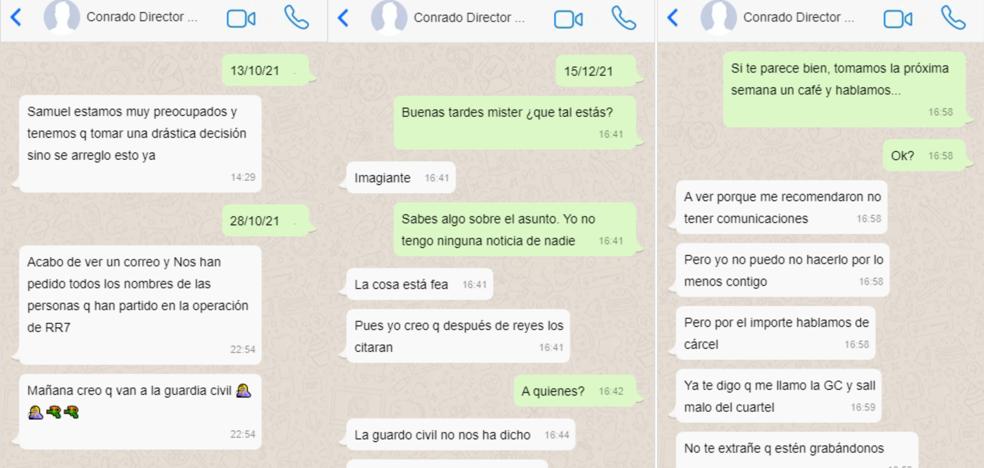 "Samuel, we are very concerned and we have to make a drastic decision if this has not been fixed already." This message was sent via WhatsApp on October 13, 2021 by Conrado Domínguez to commission agent Samuel Machín when he saw that the second shipment of masks did not arrive after the first failed shipment of false 3M. All this, after paying RR7 United four million.
Dominguez,
who is being investigated for influence peddling and prevaricationleaked to his contact that an investigation had been opened into this Masks case and that they had been asked for "all the names that
e have participated in the operation of RR7. I think they go to the Civil Guard.
On December 15, the manager of the SCS wrote to Machín "things are ugly", when the commission agent asked him. He told him that they were going to summon them to testify
«to you, Rayco and the other boy» and that he had called the administrator of RR7 "a thousand times". "It is a big fraud issue because, in addition, the Tax Agency appears to be in person because of the destruction they did," he said about the counterfeit masks. "And if the Treasury is...", she added with an emoticon of a person with his hand on his face.
Machín wrote to him that
"I don't have to see there", in reference to the breach and that Rayco Rubén González did not answer the calls to Domínguez. «But you were an interlocutor and we talked about a lot of money and the people from Fronteras are also there, apparently.
It's a roll without need. And since there is a foreigner, Interpol, too», referring to supplier Ihsan Mahmhoud. "From the movie, my source tells me very badly."
Machín wrote to him in that conversation that he contributed to the prosecutor that
«I will be without problem where and when they call me, but I am clear that I have been scammed», already stated that RR7 did not pay him the agreed commission, despite the fact that the operation was not completed: «Yes, but in front of the Gobcan it is you. What a need and being the Treasury involved, it makes me panic because it can be a cross all my life. [...] Because it was also financed by the State, that is, the final swindled is the Government of Spain. [...] Well, really, I don't understand how they are going to throw away their lives with this cross». The intermediary that December 15 continued to excuse his actions, to which Domínguez replied: "Even showing his face could be reoriented", the four million pufo.
Drink a coffee

Machín asked the director of SCS to have a coffee, but his interlocutor told him that
«Let's see why they recommended me not to have communications. But I can't not do it, at least with you. But the amount we are talking about is prison.
I already told you that the Civil Guard called me and I left the barracks bad. Don't be surprised they're recording us. I have no problem but I'll tell you what they told me. [...] You have always shown your face, but the responsibility is solidarity. The Treasury is going to collect everything and is going to go against the three and whatever they have. But you should locate Rayco and talk to him because he's going to drag everyone down, when even if he shows his face, we're not going to do anything to fuck around,
but without a face the Civil Guard and the National Police begin to act»put the director of the SCS.