Conrado Domínguez arrives at the courts: "I will not make statements"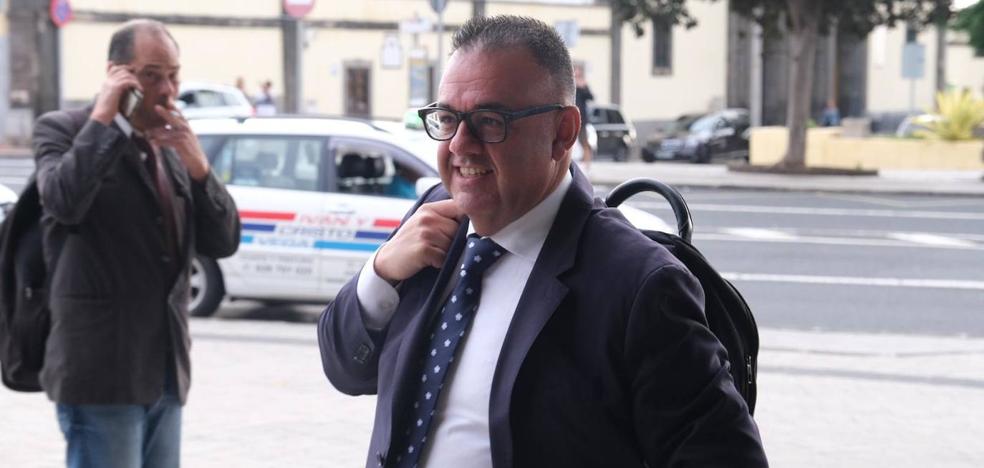 Case Masks
The director of the Canary Health Service (SCS) appears for the first time, for the Masks Case
"I'm not going to make any statements" were the words of the director of the Canary Health Service (SCS), Conrado Domínguez, addressed to the media, upon his arrival at the City of Justice of Las Palmas de Gran Canaria to appear before the judicial authority, for the first time, for the
case Masks. He will do so before Judge Francisco Javier García García-Sotoca.
Dominguez, who
has been summoned this Thursday, at 9:30 a.m.in the Court of Instruction number 7 of Las Palmas de Gran Canaria, together with
Rayco Ruben Gonzalez, sole administrator of the company
RR7 United SL, has been punctual and has arrived at the courts at 9:00 am, at the opening of its doors; she has been affable and has greeted several people. González is still waiting.
According to the complaint of
prosecutionDomínguez was the person who contacted the then general director of Economic Resources for Health,
Aat María Pérez, also investigated, with Samuel Machín, intermediary acting as a commission agent in favor of RR7.
This company received
4 million euros for a million masks They never made it to health. The money has not been recovered.
The prosecutor attributes to Domínguez the alleged
crimes of prevarication and influence peddlingwhile Rayco González aggravated fraud and
money laundering.
The
expectation is maximum, the number of journalists who have been waiting for the director of the SCS and the administrator of RR7 prove this, and that is that with their appearance several unknowns will be cleared up, for example, if those under investigation will maintain what they stated before the prosecutor or if they will take advantage of their right not to testify.
In this way, Rayco Rubén González, that man behind RR7 United SL, who does not have a
public profile like that of Conrado Domínguez.
On the other hand, on Tuesday he declared
Ana Maria Perezwhose lawyer accused the prosecutor before the press
Javier Rodenas to filter details of the proceedings. He also assured that her client had responded to everything because she "had nothing to hide."