Confinement with stuffed animals – La Provincia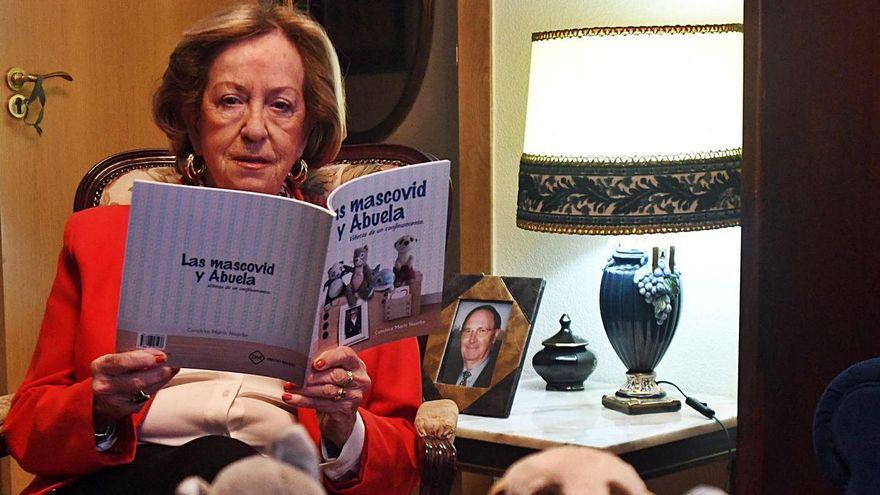 Like many other older people, at 81 years old Conchita Marín Noarbe spent alone in his house located in the Carmen neighborhood, Murcia, the general confinement that was decreed in Spain in March 2020 and lasted until May of that same year. Although she was alone in her apartment for two months, she felt surrounded by a very special and unexpected company. A meerkat, a dolphin, a panda and a cat, the stuffed animals of her grandchildren, helped her to better cope with the quarantine and ended up becoming the protagonists of a book of children's stories written by her.
Born in Guadalajara, Conchita raised her family in Murcia and feels "more Murcian than meat pie," she herself tells this newsroom. Before retiring, worked as a primary school teacher in the municipality of Mazarrón, in the Murcian district of La Ñora and in Roldán (Torre Pacheco). During the years that this job lasted him, even then he liked to write and make up stories for children.
During the lockdown, her daughters left her shopping on the landing of her house and on one of those occasions they left him the stuffed animal of one of his ten grandchildren, a meerkat. Later, on other days, the 'pets' of other grandchildren arrived: a dolphin, a cat and a panda who "slept in a bed next to mine, kept me company," says the octogenarian. "I started to make comics with them, scenes that occurred to me. One day I put them in the window with little flags of Spain for the health applause, another day I put masks on them, another to play, another I took them to a beach that I rode in my terrace … ", says Conchita. A) Yes, He began to create small vignettes with them and to take photographs that he sent through WhatsApp to the family group.
"We laughed a lot, my family had fun and it reached a point that if days went by and I didn't send a cartoon they would ask me for it." It was then that the idea came to accompany the photos with a text and make a children's story. "The process filled me a lot, it kept me entertained and my family too; my grandchildren had fun, they found it very funny," says Conchita with laughter, who captured those stories in a children's book which she titled 'The mascovid and Grandmother', an edition that he took out with the Murcian bookstore Diego Marín to give to the family, but "later they found out at the school that I worked and they asked me for it too, so we made another edition to sell it to them." The book has been presented in some schools in Murcia and Conchita does not rule out that, if more people ask for it, take out other editions.
"I've always written, it's something I like." On previous occasions, Conchita had already created some stories for her grandchildren and confesses that she has written a kind of diary since her husband died, as if she were telling him what happens to him on a daily basis. In addition, he usually travels with his six sisters and after each getaway he has a tradition to write a funny summary of the adventure. A hobby that has not lost its enthusiasm, since it has recently entered a short story contest at the Carmen library.
Thus, with the publication of 'Las mascovid y Abuela', Conchita has fulfilled a goal that has also meant helping her fight the sun and laziness in the middle of the pandemic, about which she says "being a little tired, but in good spirits" . "I have many hobbies, besides writing. I also like looking for things on the computer, reading … Anyway, I'm spirited, I'm in very good health, so I don't feel overwhelmed or bored," says Conchita, who clarifies that What angers him the most is not being able to make the Imserso trips that he used to carry out with his sisters. "You are adapting to living in times of coronavirus, also due to age; I feel more for young people, it makes me very sad," he adds. Conchita hopes that the health crisis "will end soon" and, regarding the current whereabouts of the stuffed animals that have inspired her book, she mysteriously says that "to find out, you have to read the end of the story."