Condemned to raise the fruit of her womb (for rent) | Society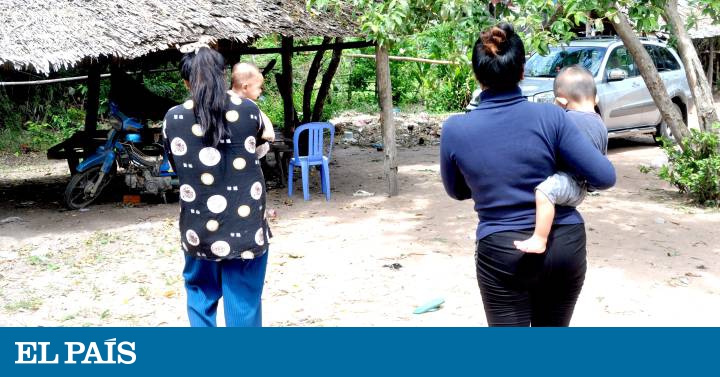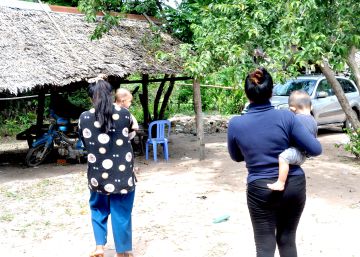 Sreyoun (fictitious name) looks tenderly at the smiling 10-month-old baby who rummages in his arms. "We have spent a lot together," he confesses, it would seem that justifying his attachment for the little one, this Cambodian of 24 years. "A lot" does not do justice to her inconceivable history: she is part of a group of 43 women arrested in Cambodia to do of bellies for rent for foreign families, some of them Chinese, being provisionally released under the condition of staying with the babies that were pregnant. If they do not, they could be sentenced to up to 20 years in prison for trafficking in children.
"Before giving birth I did not expect that I would feel so close to him. But I really love him like a son, I feel very sorry for him, "says Sreyoun, while little Li (a pseudonym) fiddles with the odds and ends that are within their reach, both sitting on an old wooden platform next to his cabin. bamboo in the province of Kampong Speu (Cambodia). They do not share genetics: Sreyoun was implanted with the embryo, fruit of a fertilization in vitro Previously, in a clinic in the capital, Phnom Penh, and only knows that the couple who hired her is Chinese. The aspect of the restless Li evidences it.
Sreyoun would not have guessed by far that this would be his destiny almost two years ago, when a colleague in the textile factory where he worked –a key industry of the Cambodian economy– told him about the possibility of doing a rental belly in exchange for a stipend of about 10,000 dollars (8,800 euros). With a monthly salary of around 160 dollars (141 euros), the woman made calculations and thought that she could buy a house and save some money. And he said yes.
Shyly, he says he did not know that Cambodia decreed pregnancy by surrogate in 2016. He did it a year after Thailand prohibits the rental of wombs to foreigners, at which time Cambodia, one of the poorest countries in Southeast Asia, became the main focus of hiring bellies in the region. While his Executive is discussing a draft law on the matter, "he considers it child trafficking," says Sam Everingham, of the Australian NGO Families Through Surrogate Gestation.
"It is the first time in the world that pregnant women without genetic links with babies are forced to keep them," he emphasizes. Until the arrest, everything went relatively calmly for Sreyoun; Once she became pregnant, she was transferred to a house in Phnom Penh with a dozen women in her same situation. The atmosphere in the house was relaxed, they had a cook, they did not pay expenses and became friends with other pregnant women, among them Sreya (fictitious name). The young woman, who claims to be 21 but does not appear to be more than a teenager, joins the conversation with a four-month-old baby, also of Chinese origin, tied to his waist.
But everything changed one day in June 2018. Then several police officers broke into the house violently, while many others did the same in a nearby apartment. In total, 32 women were arrested. Sreyoun, the mother of a 5-year-old girl, was eight months pregnant. Sreya, newly married and without children, had just stayed. "I felt panic, I did not know how serious everything was until they told us they were accusing us of child trafficking," says Sreya. Each one was transferred to a capital hospital: Sreyoun al Royal and Sreya al Central. And there, under police supervision and sometimes handcuffed to the stretcher – "an agent took pity on me and took them away from me when I gave birth," says Sreyoun, "Li was born. Sreya would light up out of captivity.
Provisional freedom
Last December, a Cambodian court granted the 32 provisional release if they stayed with the children. "I was happy to be back home together," says Sreyoun, who by that time had spent six months with the baby in the hospital, a time when he says he was fond of him. She had no choice: during these weeks, she was frequently visited by Chou Bun Eng, vice president of the Commission against Child Trafficking in Cambodia, who reminded her that if she turned her back on the child she would be sent to prison. In November another 11 pregnant women were detained, released on bail in May also on condition of keeping the babies.
All are awaiting trial, while the biological parents lack, for now, access to the little ones. "I think about what they must be suffering, but I do not want them to find us," says Sreyoun. Both speak with fear; that children "lose", they say, to end up being imprisoned. "I do not want your parents contacting me. If that happens, I will fight for him, "adds Sreya, repudiated by her family for what happened and even poorer than before. None has received the agreed money, they have one mouth to feed and can not work, because their documentation is confiscated until the trial ends.
Still oblivious to the drama, the little ones sit in the arms of the women, protected from the scorching midday sun by the precarious uralite roof that covers the unexpected Cambodian home of Li. "If one day he asks me about his origin, I will tell him the truth. I can not lie to you, all the neighbors know their history ", affirms, afflicted, Sreyoun.
The biological parents, in silence
While the 43 women wait for their trial to be held, whose date is yet to be determined, the biological parents – or the "applicants", as it is unknown whether they resorted to donors for the embryo – maintain a low profile. According to diplomatic sources from Phnom Penh who speak on condition of anonymity, they could have been recommended by their Embassies in Cambodia to do so while interceding for them. The same sources add that there would also be western babies among those born. The Embassy of Spain in Thailand, on which Cambodia depends, has no record of any Spanish involvement. Everingham, on the other hand, points out that the majority are of Chinese origin. "It is a very difficult situation for parents, there is no legal framework to take them back," warns the Australian. Two groups of parents unsuccessfully tried to see the women when they were under arrest in hospitals, and at least one of the parents was trying to initiate adoption proceedings for one of the babies, whose exact number is unknown. A newborn died within hours of the birth, and four women suffered abortions after the arrest, said the sources.
(tagsToTranslate) condemn (t) raise (t) fruit (t) belly (t) rent (t) ten (t) woman (t) be (t) force (t) cambodia (t) stay (t) baby ( t) gestar (t) third party (t) prohibition (t) maternity (t) subrogate



Source link