Comic: Miguel Gallardo's characters: passport to immortality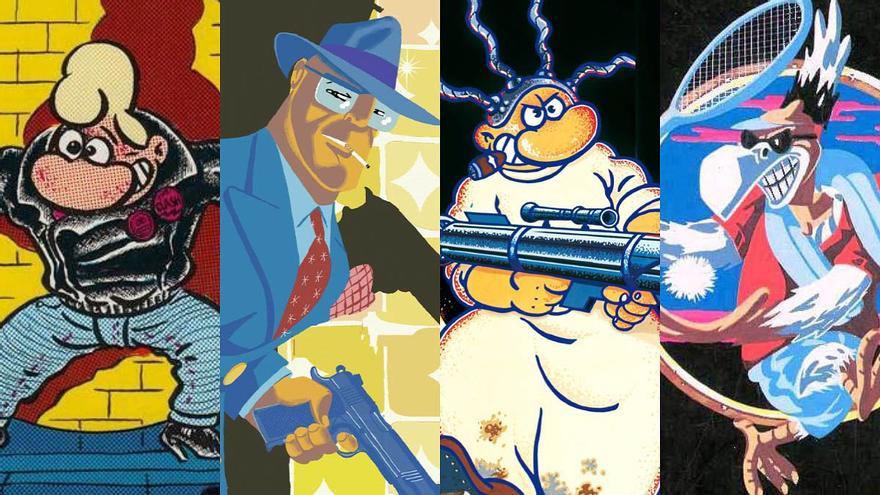 Miguel Ángel Gallardo Paredes, stage name Miguel Gallardowho died on Monday at the age of 66, was not only, along with Max, this hopefully for many years to come, the author who best illustrates the evolution of comic Spanish of the last four decades, but also a solid link with the past of comics, from the Bruguera school to the American classics (Carl Segar's Popeye or Windsor McCay's Little Nemo, for example). We pay tribute to him through an unbeatable gallery of characters and albums.
Makoki, idol of marginal masses
Or how a guy who staged a riot and escaped from the phrenopathy in nine electrocuted vignettes ('Revolt in the phrenopathy', a cartoon published in 'Disco Expres' in 1977); who also escapes with a skullcap from which electrodes welded to the coconut hang, ends up inspiring a song from Paradise ("Makoki, Makoki, Makoki is great / public enemy number one"), giving his name to a Legion flag and skull bars of town, tattooed on bodies and echoing in the rock basque radical. The answer is not so complicated: the adventures of Makoki and company were the wild B-side of the 'underground' intellectual of the transition and advocated without knowing it or wanting the advent of punk. Old griffons, former legionnaires, neighborhood gangsters and budding punks, a whole lower stratum than the official 'marginal' roll and finally the winner, were represented there, largely thanks to the Russian spy ear of screenwriter Juan Mediavilla for street talk. An absolutely essential document of the Spanish transition is the Makoki saga.
Experiments 'pulp art' with the Niñato
From 'la basca' or gang of scoundrels from the Makoki stream, two characters were emancipated: uncle emo, a full-fledged psychopath, more addictive than Irvine Welsh's Begbie, and El Niñato, which is what interests us now. In the comics of this character, Gallardo began to unleash his arsenal of visual references, from German expressionism to Bruguera, passing through cartoons, Little Nemo, George Herriman's Krazy Cat, psychedelia, the B series of Martians and the that it was necessary Decades later, what Gallardo did out of sheer intuition would be labeled pop surrealism. Pepito Magefesa, Perico Carambola or Perro Nick (reissued by La Cúpula) would follow along the same 'pulp art' lines.
Buitaker vulture, a first and rare 'I' of the author
Fascist bird of prey, philosopher and 'bon vivant' that lives on top of the monument of Colon. Extra in the Makoki saga, Gallardo later lent him features of his physiognomy and it is not difficult to place him as the author's alter ego, except in regard to ideology.
'A long silence': the memory of the father
Here it got serious. The public 'a long silence' (Astiberri) in 1997, when in this country "the historical memory of the Civil war", he stated. In it he paid tribute to his father, Francisco Gallardo Sarmiento, who died months after seeing the comic in bookstores, after surviving a more than humble childhood in his native Linares, a premature orphan, bombs, Ebro and Teruel fronts, hunger and concentration camps in exile in the south of France, and the fear of being shot as a republican when returning to Franco's Spain.Maus' by Art Spiegelman, Gallardo Jr. collected his writings and interspersed them with his vignettes in this book in which he thus gave voice to his father, who remained silent during the 40 years of dictatorship. He was the pioneer cartoonist in the type of work, and in comics in particular, who rescued the personal experiences of republicans, small moments of history that are lost as the people who lived them die", he said, advancing on a path that authors such as Antonio Altarriba ('The art of flying'), Jaime Martín ('I will never be 20 years old') or Paco Roca ('Regreso al Eden'), to name just a few, would soon travel successfully.
'Maria and I': accepted autism
A vacation in the Canary Islands with her daughter María would probably not have been more important if it weren't for the fact that she was born with autism. Gallardo recounted her day-to-day life with her in the seminal 'María y yo' (Astiberri), a landmark along with 'Arrugas' -where Paco Roca approached the world of Alzheimer's-, who took this disorder out of the social closet. "We came out together, each one with their story, and suddenly the press discovered that it was possible to talk about comics beyond saying 'Superman has died' and that comics could deal with important issues, from real life and with sensitivity", said the Catalan cartoonist. A 'Maria and I', translated into more than 10 languages, would be followed by the documentary of the same name (2010) by Félix Fernández de Castro and, some time later, the album 'Maria turns 20 years old', where Gallardo recovered María's life at that age. He explained it in vignettes with the premises that he would later apply to himself in the face of illness and death, naturalness, humor and the absence of sentimentality. "I don't want drama or pity or compassion. My life is painful because I have Maria, but I wanted to express that despite all her difficulties, she is a champion and she pushes forward like a motorcycle". Like her father, who was most worried about what would happen to Maria if one day he and her mother were missing. Gallardo said of her that she is "a unpredictable and special that can give you a smile".
'Something strange happened to me on the way home': dealing with a brain tumor
The comic that should never have existed. Drawn "without melodramas", he emphasizes, tells how in early 2020 he was diagnosed with a brain tumor, a "despicable sweet potato" that grew "on the roof", as he himself baptized it, displaying his particular humor. Panel by panel recounts how he was admitted to the hospital, how they removed it and how he returned home in full confinement to begin cancer treatment. For Gallardo it was like living "in a bad science fiction script." "When I woke up from the operation, to flee from fear, death was a friend, I almost wanted it to escape from all that, just like a child calls his mother, you look for someone to shake your hand and get you out of there -he confessed to this newspaper. As with the pandemicwe see that we can not decide on our lives. "The fears are still there. Every day is new. Just like with the coronavirus, we are trying to recover a normality that does not exist. You cannot afford the past because everything is new. I forced myself to recover my natural curiosity to see what the next few years will be like and my appetite for life", he was honest then, who always had a positive thought, a joke, a courageous way of facing the bad. He tried to go "'p 'alante', always 'p'alante'", as his father had taught him. And he did it as he knew best, drawing. Posthumous will be his last comic, which he signs with his wife Karin, and will hit bookstores on March 10 in Astiberri, 'The great book of dogs'. In it, without losing humor, he tells how in 2019 they adopted their dog Cala, who had been abandoned, and how that changed their lives. "In the hospital, the first thing that What I did after the operation was to get up and see if I had lost mobility and the most valuable thing for me, the ability to draw". It was still there. Like all his work.