'Comey's Law': A Two-Part Miniseries About American Politics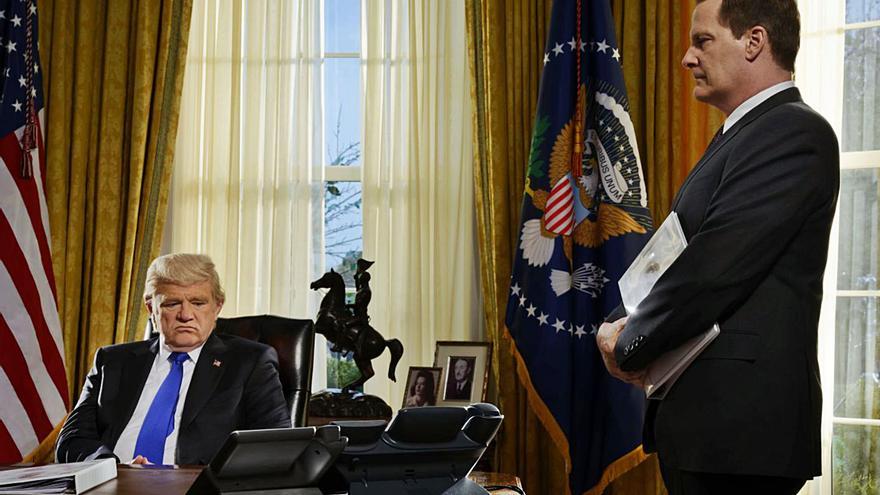 Based on the book A Higher Loyalty by former FBI Director James Comey, the series introduces us to private settings in politics and the media at key moments in recent US history. The first installment, which Movistar Series premiered last Tuesday, the 20th, takes place between 2015 and 2016, on the days when the FBI opened, closed and ended up reopening, with catastrophic consequences, the investigation of Hillary Clinton's emails, in addition to exploring Trump's possible alliance with Russian intelligence; On this last plot, the great Alex Gibney has directed a documentary miniseries, Agents of chaos, which HBO is already taking to release in Spain.
The second installment of The Comey rule, which could be seen on Wednesday, shows the day-to-day relationship between Comey (Jeff Daniels), a man of iron principles, and Donald Trump (Brendan Gleeson), rather quite the opposite. As is well known, the former ended up being the victim, in May 2017, of the first of many abrupt dismissals in the administration of the US president. "When I finished watching this series," says Daniels through Zoom, "I thought that this was really just the beginning of the story. Then Fiona Hill, William Taylor or Lieutenant Colonel Alexander Vindman fell, to name a few ".
Movistar Series premiered this miniseries last week, now so topical
Everything seen in the series is well known, but the power of a good dramatization should not be underestimated. It was important to Ray that people see his series before voting this imminent November. When ViacomCBS wanted to schedule it at the end of that month, the director was furious. "The story is happening now," he says. "It could not be more timely." In the end it was released on September 27.
It was thanks to the pressure of Ray, but also of Comey, the same Comey who for a time doubted about the series. "It was difficult to convince him," says Ray. "He had doubts, especially about his family; He believed the series would invite a new level of scrutiny. But [el productor] Shane Salerno managed to convince him of the importance of delivering a message on leadership and remembering the value of institutions in American life, "he explains.
Looking at The Comey rule, one may wonder where Comey's dignity ended and his stubbornness began, an uncompromising idea of ​​righteousness. But while preparing the character, Daniels only learned to admire him even more: "I discovered his ability to stay true to what he believes in, which is law, justice and truth. It was difficult for him to stand on apolitical ideals in a country so politically divided.
Trump's 'soul'
And what was difficult for Daniels to inhabit Comey? "The most difficult thing to solve seemed my little physical resemblance. I put on some hair and some lifts; Jim is over two meters. I worked on the voice, because he finishes the sentences in a high-pitched tone. Apart from that, little else, because the important thing was to explain his thinking ".
Its two chapters address the fight between the former director of the FBI and Donald Trump
For some, the inevitable star is the flamboyant Trump, a Brendan Gleeson who knows how to hide his Irish accent and avoid comic underlining. "We didn't want Alec Baldwin doing a Saturday night live skit," recalls Ray. "We wanted to see the darkness, the thought, what was behind his eyes. We wanted to see Trump's soul, if he has it. "
Daniels and Gleeson are joined in an impossible cast by Peter Coyote as former FBI director Robert Mueller; Scoot McNairy as former Assistant Attorney General Rod Rosenstein; Holly Hunter as former Attorney General Sally Yates; Jonathan Banks as former Director of National Intelligence James Clapper, or Amy Seimetz as former FBI attorney Trisha Anderson. Look at how many 'exes'.