Coco González Lohse and Antonio Guzmán arrive at the Francis Naranjo Foundation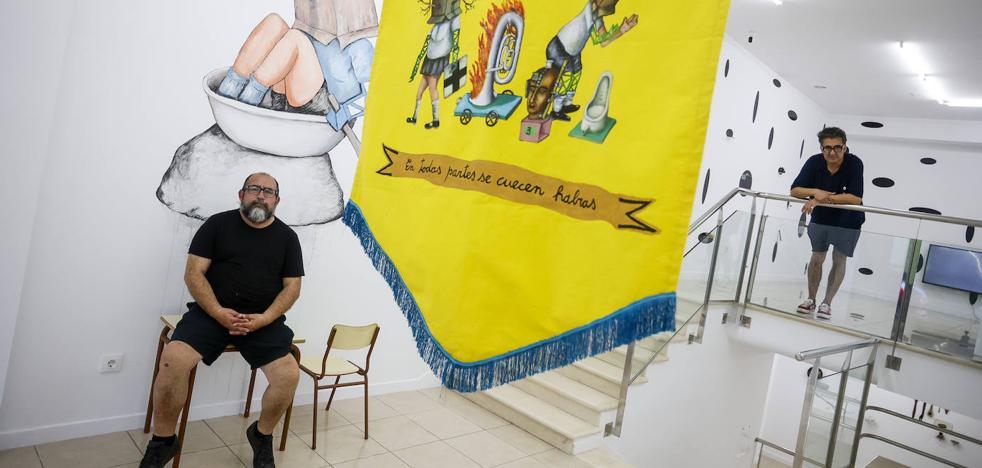 Starting tomorrow, at its headquarters on Avenida Primero de Mayo in the capital of Gran Canaria, it hosts two individual exhibitions and a joint one by Chilean artists.
After the summer break and two 'performances', by Vivien Déniz and Antonio Guzmán,
the Francis Naranjo Foundation reopens its exhibition facet with three exhibitions in which he once again looks towards Latin America, one of the main nuclei of his international open-mindedness.
In the three spaces of its headquarters
at number 63 of Avenida Primero de Mayo in the capital of Gran Canaria hosts, between tomorrow Friday September 23 and November 19, three exhibition projects by Chilean artists Coco González Lohse and Antonio Guzmán, the result of an agreement between this Foundation and the City Council of Las Palmas de Gran Canaria.
The ground room it will be occupied by Antonio Guzmán's project entitled 'Emblematic School', made up of pennants, maps and banners, under the curatorship of Juan Peralta Berríos.
The Upper Room it will be occupied by Coco González Lohse's project called 'Fantasía', curated by Ramón Castillo. While
the basement room hosts the project carried out jointly by the two artists, entitled 'Eating with the eyes', curated by Carolina Castro Jorquera.
In his exhibition proposal 'Emblematic school. Pennants, maps and banners' everything previously expressed in the works of Antonio Guzmán seems to be «finely inserted here, contributing towards the consolidation of his critical, political and social artistic project from his reflection in the field of education and in a way precisely, education in art», point out those responsible for the project.
The exhibition "interweaves symbolic units, each with its own significance, using representativeness in the collective imagination. Guzmán presents four articulated work units."
In his pieces are represented «students in different actions, wear a mask with a donkey head and others, for the most part, a cardboard box on their heads without eyes in allusion to precariousness and the search for social control since the annulment of vision and this has to do with the Chilean government's food donation program to alleviate the Pandemic. "There are also referential elements such as Marcel Duchamp's urinal or the pipe of the surrealist artist Rene Magritte, Mao's 'Red Book'", they add about a proposal that includes a mural drawing made in the room itself as an intervention, the el video 'Astay. Cartography' (2019) and some sheets called 'Palindromes'.
The exhibition 'Fantasía', by Coco González Lohse, "is a 'nomadic' project that is conceived as an offering of hope with places, their imaginaries and their people". «The aspiration to reach a state of fantasy no longer seems to be an issue that is resolved in the utopia of modernizing or globalizing projects, here the scale is changed, and in the 'person to person', 'look by look', the possibility of getting out of the confinement to which too much pandemic and post-pandemic reality has led us", add those responsible for the Foundation about this exhibition curated by Ramón Castillo.
From painting, audiovisual, installation and local dialogues Coco González has started a journey towards other wisdoms and forms of life as if she were a hunter-gatherer of seeds that are exchanged for new-old crops.
'Comer con los ojos', meanwhile, is the fourth collaborative exhibition by Chilean artists Coco González and Antonio Guzmánwho, uniting the language of the visual arts with certain pedagogical methodologies, address the rights of the human being, offering a critical look, on this occasion, at the right to food.
As our planet goes through one of the biggest food crises in recent decades, with record food prices pushing millions of people into extreme poverty, increasing hunger and malnutrition, 'Eating with the Eyes' is presented as a
reflection space of the various ways in which we relate to food, the way it is produced, harvested, prepared and consumed.