'Clear things' explains its controversial label next to the images of Barcelona: "Tourists in Madrid"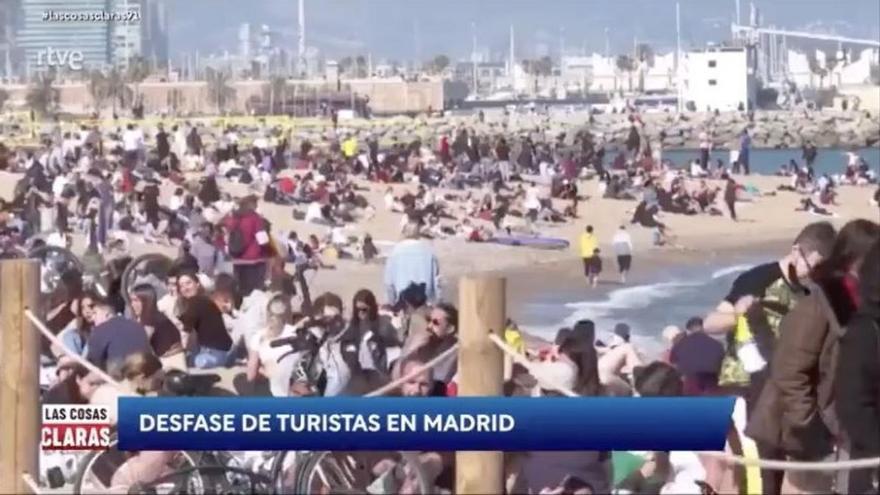 TVE continues to be looked at with a magnifying glass and the fault lies with another 'controversial' label, this time in 'Things clear', the program that leads Jesus Cintora at noon at 1. The program was talking about the French tourist gap in Madrid and immediately after crowds of people on Barceloneta beach, in Barcelona, ​​when both news were crossed by human error.
"You also see these images, because They come to us from Barcelona, ​​from the Barceloneta beach. In the middle of the pandemic. There they are seeing it. They are images of tourists. Images of beaches where, obviously, there are no safety distances in many cases. They are also images for controversy", expressed the presenter of the space, showing these images and without knowing that the controversy was going the other way.
However, the skirt that appeared referred to the news previously discussed, so the sign said "tourist gap in Madrid." Although the error lasted a few seconds, social networks echoed and the matter went as far as Jose Luis Martinez Almeida, Mayor of Madrid: "It is shocking to see these agglomerations on Calle Alcalá", he wrote sarcastically. For her part, Isabel Díaz Ayuso also made fun of: "We already have a beach."
To try to cut the controversy, the program responded on Twitter: "Jesús Cintora at all times talks about Barceloneta Beach, in Barcelona. In a few seconds, there is a change in the label of the information prior to the one we began to offer," they clarified from the profile on the social network.