Clapso's 30th birthday closes the season at Cuyás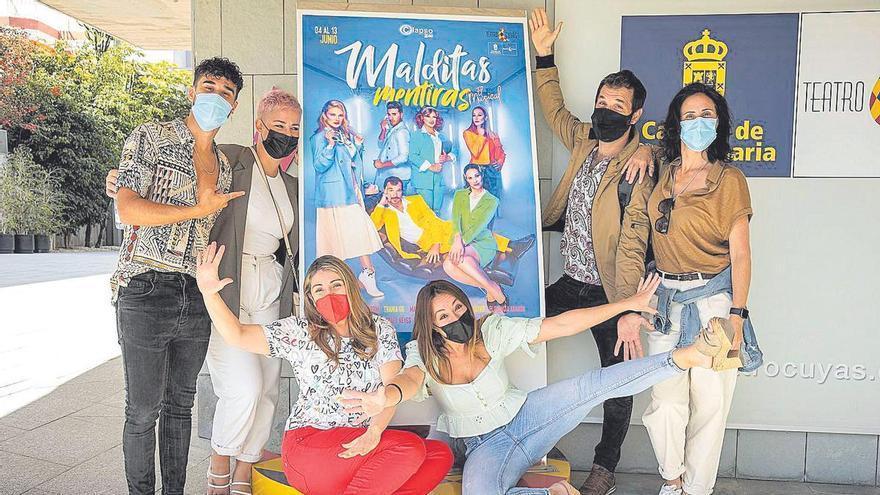 "I think we are at a time when we have to start celebrating, because this project was about to stay in the drawer," Reyes said yesterday, during the presentation of the montage. "We cannot stand idly by, because it has been shown that culture is safe and that the theater has been a ball of oxygen not only for the profession, but also for the public. And now that the end is looming, the people in charge of Cuyás have understood that this project was the most suitable for the end of the party of such a complicated season as this one ».
Written and directed by Reyes, the cast of Malditas mentiras includes assiduous performers from Clapso's shows, such as Lili Quintana and Maykol Hernández, with the recent additions of Raúl Martín, Florencia Aragón, Saray Castro and Thania Gil, since the musician and composer Germán A. Arias signs the musical score, which performs a line-up of five musicians live. In this regard, the actress Lili Quintana recapitulated her relationship with Clapso, materialized in her participation in "some 15 or 16 productions", and highlighted that she is leading this project with "great enthusiasm", marked by "a sometimes difficult rhythm, with the seal and the language of Israel, but that we have been fitting very well and that it will be an incredible amusement ».
The musician Germán A. Arias signs the musical section, with five musicians live
For his part, Reyes has pointed out that Clapso's career is linked to that of Cuyás, which in the run-up to the pandemic commemorated its twentieth anniversary, and that it has hosted the premieres of great productions such as Sorry, pretty, but Lucas loved me me, The mousetrap or Don Mendo, the musical. Its objective is for this new theatrical adventure to revolve around the rest of the Archipelago and end in Madrid, where, precisely, the company will arrive on June 24 with the assembly Paco España, from glory to oblivion, around the mythical artist of the transformism.
All in all, Malditas mentiras will crown the Cuyás poster over two weeks with seven performances from June 4 to 13, always at 7:30 p.m., and whose tickets are already on sale.