City and Liverpool, another battle for the Premier League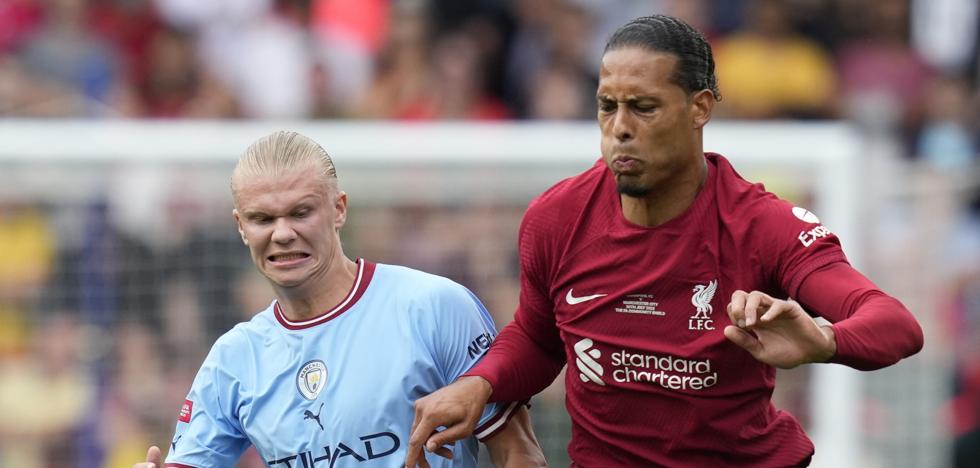 Presentation
The English championship begins this weekend with Guardiola and Klopp as the main candidates for the title
The Premier League today raises the curtain on a new season and it does so with Manchester City as the team that everyone wants to beat. The team led by Pep Guardiola has dominated the competition with an iron fist in the last five years, winning four titles and seeks to reign supreme with a project in which he has made small but large tweaks. Erling Haaland is the proper name among the 'skyblue', who are starting a new path in which Liverpool will be the main stumbling block and in which Chelsea, Arsenal, Tottenham or Manchester United hope to give more war than in previous editions.
"The magnitude of our achievement is measured by our rival. I have never seen anyone like them. Liverpool have made us stronger. It is the most honest competition, it is not 'fake', "said Guardiola after achieving his fourth English league. The one from Sampedor sweated the fat drop in the final stretch of the championship and culminated a long-distance race in which he had to reach 93 points to take the cat to the water and leave Jürgen Klopp's men behind by just one point. It was a winding road, a one-on-one journey that fortunately for football lovers has its starting point again this weekend.
And it is that the duel between City and Liverpool will be the one that marks once again, except for surprise, the fight for the Premier League. Guardiola's team has gone on the market and has done so with the aim of propping up the small details that were missing to be an even more devastating team last season. The 'citizens' needed cement in the medullary and have done with Kalvin Philips. They also needed a '9' who would bring the entire offensive flow of Foden, De Bruyne, Mahrez and company to the net. That striker is Haaland, who has cost the Manchester team 'barely' 60 million euros and who arrives with the obligation, according to his expectations, to mark an era in the team that saw his father play between the years 2000 and 2003. Behind the Norwegian will be the 'spider' Julián Álvarez in his first European experience after leaving River Plate.
City is the favourite, while the alternative is a Liverpool that is still looking for formulas to sneak into the 'skyblue' domain. Those from Merseyside have broken once and for all the trident formed by Salah, Firmino and Mané after the Senegalese's departure to Bayern and now have an attack with many more variants. After the signings of Diogo Jota and Luis Díaz, Klopp's new toy is Darwin Núñez, who has cost a whopping 75 million and 25 more in variables. The Uruguayan arrives after scoring 34 goals with Benfica last season and will be the icing on the cake for a team that scored 92 points last season and reached the Champions League final.
The alternatives

Beyond City and Liverpool, there is a range of teams that continue to strengthen with the aim of surprising. Chelsea stands out, a group that has changed owners and that with the arrival of Todd Boehly to the property has bet heavily on this transfer market. The 'blues' have spent 162 million on Sterling, Cucurella, Slonina and Koulibaly and continue to narrow down their options until August 30 to find a midfielder and a center forward. Both demarcations are a priority for Tuchel, who after winning the Champions League in his first year seeks to take a step forward in the Premier, a competition in which he has not yet managed to get past third place.
After Chelsea, there is a priori fight for fourth place that can be exciting. Conte's Tottenham have formed a dream trident with Harry Kane, Son and Richarlison and have strengthened the second line with Perisic and Bissouma. Arteta's Arsenal has left a good feeling in preseason after investing 132 million in flashy signings such as Gabriel Jesus, Zinchenko or Fábio Vieira, while United starts a project with Erik ten Hag. The former Ajax player has already had a hard time with Cristiano Ronaldo, who at 37 years old does not want to continue in a team with long-term views and who does not play in the top continental competition.
the other Premier

There is a lot of life beyond the 'Big Six' and the investment proves it. Teams like West Ham or Leicester will seek one more year to take advantage of any mistake that the big teams have, while in the lower zone equality is maximum. Historic last season like Everton or Leeds did not seal their permanence until the final stretch and this course also promises strong emotions. The proof is that the newly promoted have spent 145.25 million euros on transfers after Nottingham Forest (94.75), Fulham (38.6) and, to a lesser extent, Bournemouth (11.9) have thrown the house down the drain. window. And it is that every effort is little to remain in a Premier League that ensures 100 million euros in television rights for each club.