Citi launches to seek investment opportunities in Spanish fintech | Markets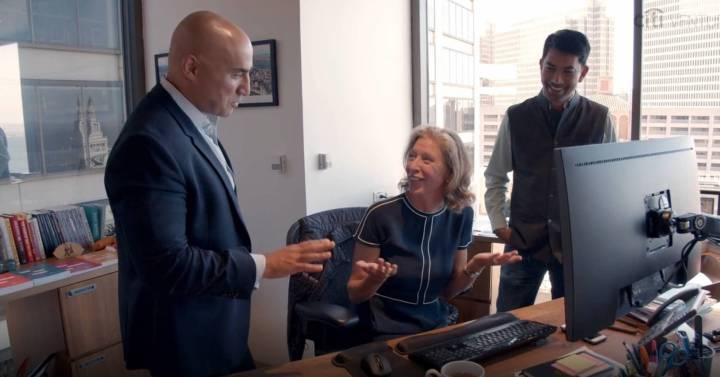 Citi Ventures is Citigroup's unit of innovation. In its commitment to technology companies that offer financial services (fintech) worldwide, it has made more than 100 investments since its creation in 2008, 25 of them last year, and it already works with Banco Santander, CaixaBank and BBVA. After having made purchases in several European countries, he is actively looking for investment opportunities in Spain, according to Vanessa Colella, head of Citi Ventures.
Colella, who is also Citi's global chief innovation officer, is a technology-focused venture capitalist. She has worked at US Venture Partners (USVP), Yahoo and McKinsey, until finally being signed in 2010 by Citi. He assures CincoDías through a questionnaire that Citi Ventures' mission is to lead innovation in the financial sector through venture capital investments in its intermediate and advanced stages, as well as advising and through alliances with companies and banks.
By 2021, on the side of the fintech, anticipates that trends are focusing on payments, loans, neo-banking and insurance. "Spanish companies are also promoting B2B software innovation [business to business o negocio a negocio, en español], such as Jobandtalent in human resources, TravelPerk in travel or ClarityAI in sustainable investment analysis ", says Colella.
The directive adds that they are especially interested in new banking and payments solutions, in integrated commerce, in data analysis and management, in automation, in identity and in environmental, social and governance (ESG) criteria. Although its base of operations is in San Francisco (United States), with offices in London, Israel and Singapore, it has already deployed investments all over the planet.
In Latin America they have a Brazilian company in their portfolio and Arcus, a fintech Mexican founded in 2013 and specialized in payment processing. In the Old Continent they have nine companies, among them Feedzai in Portugal, PPRO in Germany, GoHenry in the United Kingdom, Cashforce in Belgium and Komgo in Switzerland. "We are also actively looking for investment opportunities in Spain and we collaborate with Spanish banks such as BBVA, Santander and CaixaBank", highlights Vanessa Colella.
Investments
In the year the pandemic broke out, Citi Ventures made 25 investments around the world and changed its processes to choose projects virtually. It also executed the spin-off of Proxymity, a start-up that delegates votes in shareholders' meetings that was created through its D10X incubator, in which the bank's own employees participate, and launched in the United States. United the City Builder investor platform, for which it is now preparing to launch across the globe. As the icing on the cake, Colella's team launched a program to attract young talent to Citi through virtual work placements.
So far in 2021, Citi Ventures has closed the bet on three companies in its main portfolio, which has more than 60 firms in total, and 11 in its impact fund, Citi Impact Fund. This one, created with a firepower of 200 million dollars (about 165 million euros), focuses on five areas: development of the workforce, financial training, physical and social infrastructure, sustainability and access to capital, and economic opportunities. .
New products
The very bank where she works is one of the main targets in the area piloted by Vanessa Colella. "Citi is fully prepared to take advantage of all the opportunities that this new environment offers us. We are partnering with both fintech as with large technology firms, to help grow the digital banking ecosystem through new products and services, "he says. As examples, he mentions the Citi Plex Account, a checking account integrated into Google Pay, or the Spring by Citi, a global payment gateway for companies that takes advantage of the technology of its German subsidiary PPRO.
Citi Ventures' best-known investments include mobile payments firm Square; Plaid, focused on "democratizing financial services through technology"; the browser extension to find discount coupons Honey (bought by PayPal for 4,000 million dollars in 2019); treasury management software company HighRadius, and Singapore-born Grab app that provides transportation, product shipping and payment solution services.
This Citi division will continue to focus on financial services and technology, data analytics and machine learning, commerce and payments, business information technology and security, customer experience and marketing, and data management technology.
The bank before the Covid
Dual model. It is not so obvious that the virtual model will be the only one that survives once the pandemic is over, according to Vanessa Colella. Spanish banks, with work carried out for years, are well positioned in the digital sphere. Some have already closed branches or this move is on their roadmap for the immediate future. But there will always be a face-to-face part that cannot be replaced.
Advice. "While we see increasing use by customers of our digital channels, we also see the demand for personalized and face-to-face advisory services," says the board of directors of the US bank. Thus, he adds that at Citi they are giving a new approach to their branches so that they are better prepared to advise clients who require it. It also sees the opportunity to launch different office formats and is targeting its wealth hub in Singapore. It is a mega wealth advisory space dedicated to clients that was inaugurated last December. More than 300 bank experts offer advice at the center, which has flexible spaces to work and hold events.