'Chucky', LGTBIQ+ ally in a surprising series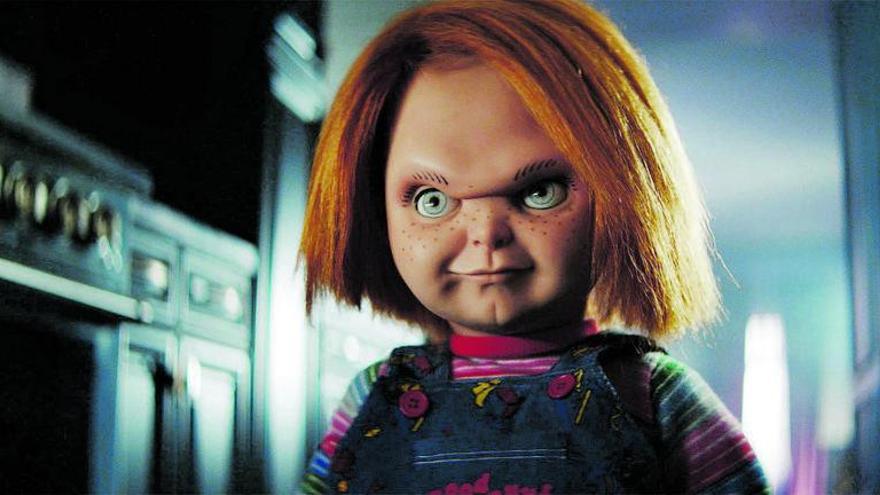 The diabolical doll protects a gay teenager from bullying in a series created by Don Mancini and produced by Nick Antosca. SYFY has just released this bloody and emotional bet, already renewed for a second season.
There are many horror franchises, but few as coherent as the one starring Chucky, the Good Guy doll possessed by a serial killer at the beginning of Deadpool. From that fairly cheap 1988 movie, a surprise success for Metro-Goldwyn-Mayer, a franchise was born that has been dominated by the vision of Don Mancini, who created the character and has written all seven films in the saga to date. (not counting the 2019 reboot), in addition to directing three of them. Since 1988, narrative continuity has also been maintained; a milestone in times of ruptures, restarts and deviations.
All this means thate Chucky, the new series (SYFY, which has been broadcast since last Monday, the 10th) about the outrages of the foul-mouthed plastic redhead, is a more or less direct sequel to Cult of Chucky, from 2017, although you don't have to be an expert in the saga to enjoy it. Those who are, on the other hand, will enjoy twice as much: the series has all the references, all the cameos and (self) tributes that are expected in a new exploitation of an intellectual property with more than three decades of history.
The series has all the references, cameos and (self)tributes of this franchise with more than 30 years of history
Mancini created Chucky under the influence of other evil dolls: the tribal warrior from Trilogy of Horrors and the talkative Tina from The Twilight Zone. But in the first cinematographic installment influences as diverse as the animatronic monsters of Gremlins and the viperine tongue of Freddy Krueger also merged. To give the creature a foul-mouthed voice, Brad Dourif, one of the most sought-after actors to play a psychopath, was chosen: he was in films as diverse as Ragtime, Mississippi Burning and The Exorcist 3, and, it is said, he almost did not arrive. to be in Cape Fear under the command of Martin Scorsese. Dourif has also signed on to the new series, as has her daughter Fiona Dourif, the paraplegic heroine of the last two films.
All bets paid off and, starting with a budget of nine million dollars, Devil Doll ended up grossing more than 44 worldwide. A franchise was born. At times bumpy ride: the third installment was the subject of controversy in the UK in 1993 after being cited by the media (in reality, the connection was never proven) as an influence in the murders of James Bulger and Suzanne Capper .
She too
Five years later, humor won out over terror in Bride of Chucky, in which Jennifer Tilly joins the saga by voicing Tiffany, a doll possessed by the girlfriend of a serial killer: the ideal better half for our favorite villain. It was the best movie of 1998 according to John Waters, who later scored a cameo in The Seed of Chucky, a metafiction with Tilly playing herself, overwhelmed by working on a Chucky sequel after being nominated for an Oscar (for Bullets on Broadway ).
From The Seed of Chucky a son was born, as the series reminds us, queer and gender non-binary. To the bewilderment and apparent virulence of the most retrograde fans, Mancini, gay more than declared, has been introducing more and more queerness in the saga. The protagonist of the Chucky series is, directly, a homosexual teenager who suffers abuse even at home, a nightmarish situation that is recognizable for Don Mancini.
For the foul-mouthed voice of the creature, Brad Dourif, one of the most requested actors to play a psychopath, was chosen.
Jake (Zackary Arthur), a young aspiring artist from Hackensack, New Jersey, picks up a Good Guy doll (Chucky, unbeknownst to him) at a yard sale to use for his next sculpture. Jake has a crush on Devon (Björgvin Arnarson), a classmate who has a true crime podcast and whose mother, police officer Kim (Rachelle Casseus), ends up investigating the blood trail left behind by Chucky, who protects Jake from bullying. his unique way and tries to install in him his passion for murder.
33 years later, a new iteration of Chucky can surprise the viewer? Maybe, and nicely, too: Chucky has elements of unnecessary fanservice (those flashbacks to Charles Lee Ray's childhood), but rises above rehash in the seriousness with which it deals with teenage angst and love, as well as the imagination. invested in returning Chucky, an unexpected LGTBIQ+ ally, to action, with hardly any digital inferences.
None of this should surprise us if we read the credits: in addition to Mancini, its writers and producers include Harley Peyton, who cut his teeth on television with Twin Peaks herself, and the great value of current terror Nick Antosca, who had Mancini for the writers room of his legendary Channel Zero. Old and young horror talents in happy union.