Chronicle of a city isolated by the virus: armored hospitals and ghost stations in Wuhan | Society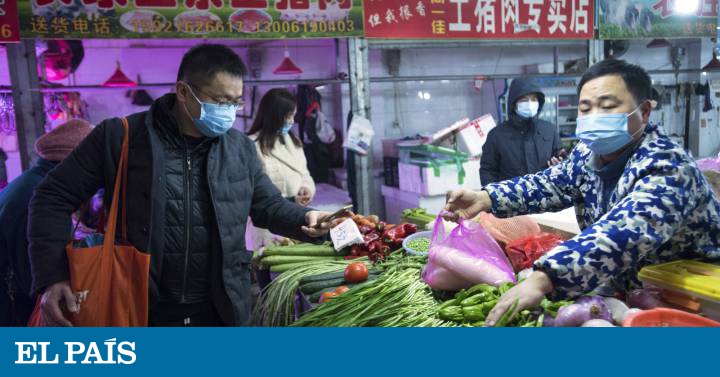 Zhang Wenzhen is sitting on the sidewalk, checking his mobile phone frantically. There is no one around him, except a dozen security guards who across the street protect the entrance to the Jinyintian hospital. This health center, specializing in infectious diseases, is one of the largest in Wuhan. Inside, it welcomes a majority of people infected to date with the coronavirus 2019-nCoVwhose threat has put the Chinese city of 11 million inhabitants in quarantine. The most recent data place cases in 18 dead and 634 infected. Zhang Wenzhen's mother is one of them.
"My mother is in there, but they won't let me in," he explains. Zhang while pointing at the cops in front of her. The security measures in the area are very strict. All vehicles that approach the hospital are forced to turn around, except a van, from which a group of health workers dressed from head to toe in a white protective suit stands. Before the vision of a camera, one of the agents approaches and demands to erase all image under his watchful eye. No one knows for sure what happens inside the building, not even the relatives of the sick. The images shared on social networks show crowded halls, fading people, screaming and crying. WHO has asked China for greater transparency in the management of the health crisis.
Zhang lives with his parents and together they lived a normal life until earlier this week his mother fell ill. He is not worried about having been exposed to the virus because "young people do not get so easily, but older people cannot resist": all those who have died to date have been over 70 years old. At this time, Zhang is only looking forward to having more information about his mother's health status. "I was working and I don't know what happened, it must have gotten worse if they moved her here." Although with all hospital accesses blocked it is impossible to establish contact, do not give up. "I won't move from here until I know something else, only then will I go home."
A few meters away, another young woman named Wang carries a bag of tangerines. She has had more luck: this afternoon, during the two hours in which the hospital has allowed the delivery of objects for the sick, she has managed to speak with one of the doctors. One of his relatives, also a victim of the coronavirus, seems to progress properly. "The results are positive, he has no fever or cough and his appearance is normal. I have been told that he is well and that he may be discharged in the next few days, "he says with relief. In his opinion, the closure of the city has been an appropriate decision. "The isolation is for our own safety, it is a responsible and understandable measure."
The streets of Wuhan are deserted and the few shops that had opened in the morning have already closed. For some, however, life continues despite everything. This is the case of taxi driver Wu Yunsong, who has seen the opportunity to make some extra money given the small number of cars on the roads. She is worried, but takes it with resignation. "If from above they want me to die, I won't be able to do anything to avoid it, that's why I'm working today."
One of his companions, who insists on being called a Taxi Driver, is more optimistic. He, like most of Wuhan's population, expresses unambiguous support for the Government's decision to close the city gates. Although they have been left inside. "The government is doing a great job," he exclaims. "In these 70 years [de gobierno comunista] China has developed a lot in all aspects. Our country is now very powerful, unlike the past. We have experts and academics very prepared. They will control the outbreak, there is nothing to worry about. "
One of the reasons that explain the quarantine that prevails over Wuhan is its condition of railway junction. The city has three train stations: Hankou's is one of them. From early in the morning, the doors of the building remain blocked by fences and police vans that prevent access to the terminal, a huge Soviet-style construction. A group of cleaners protected in an orange suit and carrying fumigating equipment behind their backs chat in a corner of the adjacent esplanade. The strange public address service that resonates in the surroundings is complete, a voice that announces tirelessly that from 10 am on Thursday - three in the morning in Spain - and until further notice, Wuhan is a closed city which cannot be entered or exited.
When a few walkers stop in front of the station to take photos or seek roofing in the rain that has fallen during the afternoon, police officers choose to expand the security perimeter and clear the area. One of the people forced to move is Xiao Xue, a young woman who carries a bulky plastic bag and two suitcases that contain all her possessions. "I work as a waitress in a hotel near here, but they have closed," he says and breaks into tears. "I'm not from here, I don't know what to do with my things, I don't know where to go."
The last surprise of the day awaits back at the hotel, a large tower with capacity for 500 people in which there are only 17 registered guests. On the other side of the door, an employee waits with a digital thermometer in her hand, behind a table that offers disinfectant wipes and masks. "We have to measure the temperature of each and every one of the people who enter, it is very important," he apologizes. Make unsuccessful attempts on the temple, forehead and ear. Finally, the forearm serves. A beep follows, after two seconds of restlessness, a green light. 36.3º, shows the screen. "Go ahead, welcome."