Christine Giampaoli «We are going to reach the whole world to raise awareness about climate change»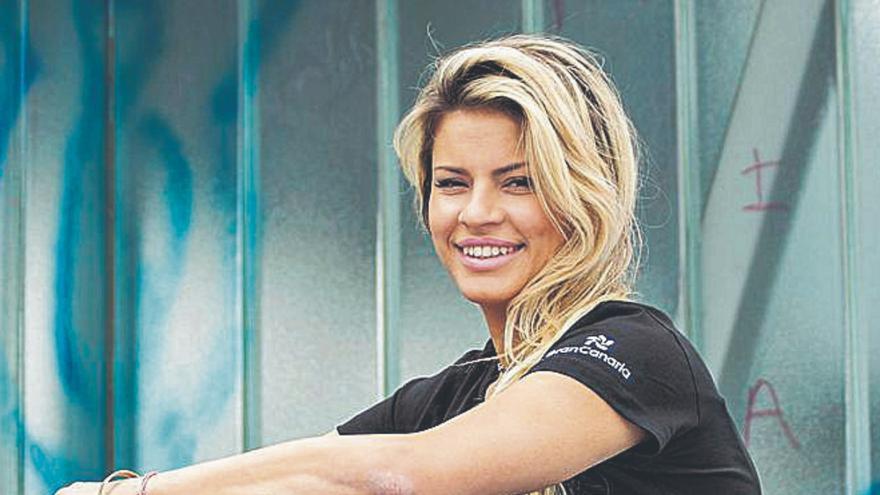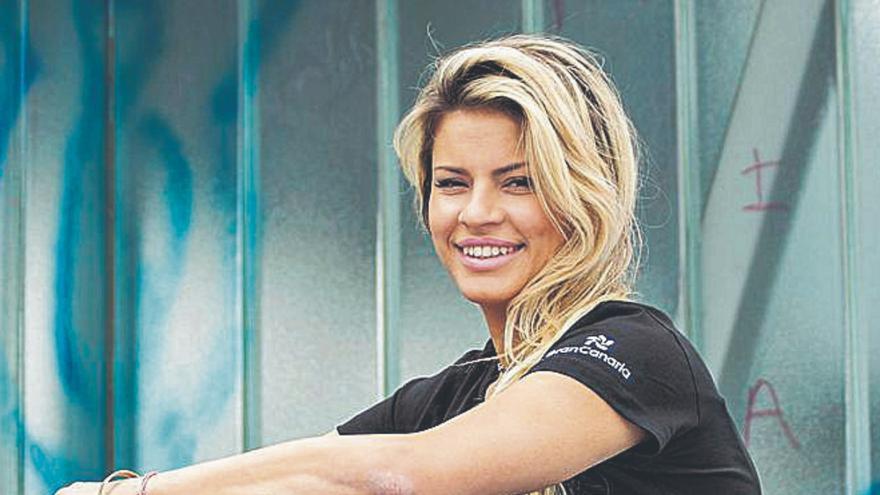 Well, I always say that my heart is Italian-Canarian. I have my family scattered around the islands and when I come home I don't stop visiting all my friends and motoring people. Let's see, I was born in India, I lived in Italy for a very short time and when I was 14 we decided to come to a warmer place and we ended up here. I remember when I arrived I didn't speak barely any English or Spanish and it was a bit complicated at first, but look back at olé [mueve sus manos al estilo sevillana] and I communicated with everyone, I loved it. It is true that now I do not stop traveling but whenever I can come I feel the relaxation of being at home.
For those who are still lost, the Canary Islands is their home …
Sure! I give you the example. When I land with the plane in a different city, I am always curious to know what there is, to know the place and such. But when I get here it's like I feel the Island, it's the peace of being at home [resopla].
Giampaoli Zonca, your record is there for those who want to discover their talent behind the wheel. But now you have an opportunity in a new world of Extreme-E. How do you convince the average fan to stick to TV to watch it?
The first thing I can say is that this type of racing has never been seen before and that is why the competition format is worth it. The cool thing about all this is that we go in pairs and on top of that we are mixed. That is competitive, but we must take into account the real issue of this competition, which is the movement to save the planet that we are carrying out.
Do you think that the future of motor racing goes through electric vehicles?
Let's see, we all love the noise of the engine, but apart from that sacrifice, I think we must raise awareness and continue on this path towards the future.
What's different about traditional cars?
At the beginning it is very strange, you are not guided by that information about the engine noise, but many other noises come to you that make the car feel differently. You connect with him, so to speak. And well, the power they have is wild. There are 550 horses! It's a bit heavy and big, but with brutal power. It seems you have a switch where you say on-off and come on, fly [estira el cuerpo describiendo gran velocidad]. The first day I tried I had gum in my mouth and it was not the best idea [ríe].
Can you expand on the idea of ​​"saving the world" that you referred to earlier?
The Extreme-E goes to five of the most remote locations in the world and we have an obligation: to leave it better than we found it. We have never raced in the places where we are going to go and we are going to show that with sport we can improve the situation of these places. And with the impact that there was in the first race, we are going to reach everyone in the world to raise awareness about climate change. Who doesn't want to see Carlos Sainz, Sebastian Loeb, Johan Kristoffersson compete, which for me is something supernatural in this discipline? And then why would F1 world champions Hamilton, Rosberg, or Button, who runs on top of it, get involved? Boys and girls, here is the future.
He has released here a string of names that sound like even the least lover of the motor world. With this poster, how does it feel to compete against them?
A lot of nerves at the beginning, but I think I've been able to reconvert them and set myself challenges to be better than them. It is a responsibility at the same time, because I have to measure up. I feel like I adapt well to these kinds of circumstances. In the first race I decided that I would go out to run with the boys, I was the only woman who did it and that is that when I lower my visor … there we are the car and I and I do not care who is next to me.
Tell us about that debut in early April in Saudi Arabia.
Well, there was a lot of uncertainty. You are going to a place that you do not know, but at the same time you are thinking, wow, I am going to run in the middle of nowhere among the canyons of the desert. We went through some super beautiful arches and a boy came and told me: "Oh yes, those are the graves of I don't know who." How could that happen without eco-friendly cars? It is a privilege to be part of this championship from which to learn a lot.
Let me ask you if you have any referents on the grid
Yes, it is clear to me. Sebastian Loeb.
Excuse me for the next question then. You answered with the name of a man. So for the future. Would you like a woman to one day answer another journalist that her reference is Christine Giampaoli?
Wow, yeah. Well, hopefully this can happen one day. Motoring is a world dominated by men and it would be a dream come true if I can pave the way for more women to race. Even so, we are more and more and we are achieving it. In the end, no matter how much female participation, everything is set on a clock. When other girls ask me, I always say: "If you have it clear, go for it because we all can." I myself have left a workshop in the middle of the dunes [ríe].
The format of Extreme E also helps to make visible to the great pilots
Of course, now it is not only a competition in which only women run, that when you win, you stand out, but it is contradictory at the same time. Here 50% -50% and time adds up. There was a bit of uncertainty at first, but it proved that we can make better marks than the boys. At least I was faster than my partner [ríe]. See if we have been visible that even my grandmother who never watches any racing wrote to me because she saw me on TV. This is brutal.