Christie's withdraws a painting by Murillo from an auction due to doubts of its authorship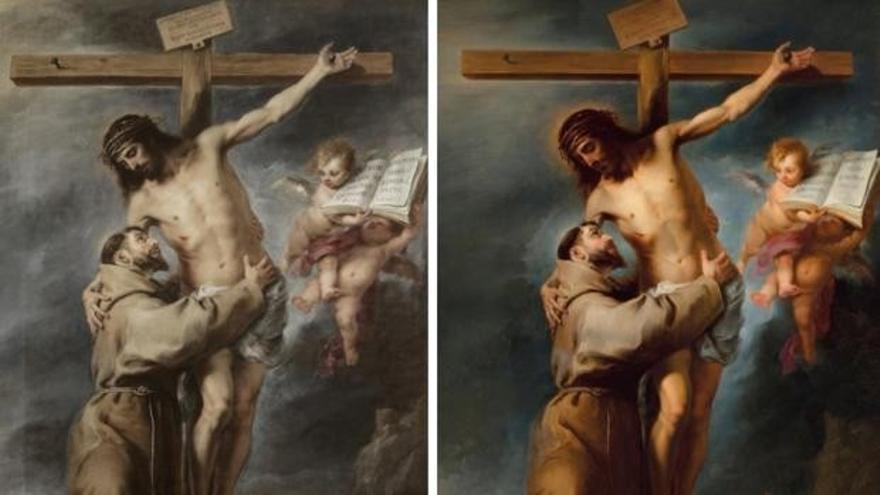 The auction house Christie's withdrew from a sale this Thursday a piece attributed to Bartolomé Esteban Murillo and what was there valued at between $ 1.2 million and $ 1.8 million, after doubts arose about its authorship.
Representatives of Christie's confirmed to Efe that the piece, an exceptional reproduction of 'Saint Francis embracing Christ on the cross' that Murillo himself would have painted, was not sold at the auction this Thursday, as planned, but refused to offer explanations about it. "We will not offer further statements in this regard."said Christie's communication department.
Days after announcing to the press that this work was among the catalog of his sale of Old Masters, the art historian Pablo Hereza, an expert on this artist, questioned the social media that the author of the copy was Murillo himself, and he exhibited side by side a photo of the original and a photo of the piece that Christie's wanted to auction. "From the first of 'Murillología'"Hereza said in his post on April 6, highlighting the obvious nature of the attribution error.
"I think that I have never previously stated about an auction sale, but for this matter, and at this time, I think I should do it out of professional honesty," he said.
Christie's had explained at the time that the painting was a 'ricordo', as the copies that painters made of their own works are called, and that it was "in fantastic condition," which is why Murillo's fluid brushstrokes could be "fully appreciated." The piece, according to the company, had been analyzed by the art historian Enrique Valdivieso, who came to the conclusion that it was an excellent quality reproduction carried out by Murillo.
Although we see copies of Murillo's works, discovering a duplicate of the author himself, hidden in a private collection for so long, is a wonderful find, "the director of sales of Old Masters at Christie's, Jonquil O'Reilly, told EFE at the time.
'San Francisco embracing Christ on the cross' was prepared by Murillo as part of a commission from the Capuchin Order of 1665, which ended up consisting of a series of eight paintings and that ended up being not only the most ambitious project of the artist but also one of the most important groups of works of the seventeenth century in Spain. The series of paintings was divided in 1835 with the invasion of Napoleon and it was not until a few years ago, in 2017, when it was reunited for an exhibition at the Museum of Fine Arts in Seville.