Christie's sells its first digital work for more than 57 million euros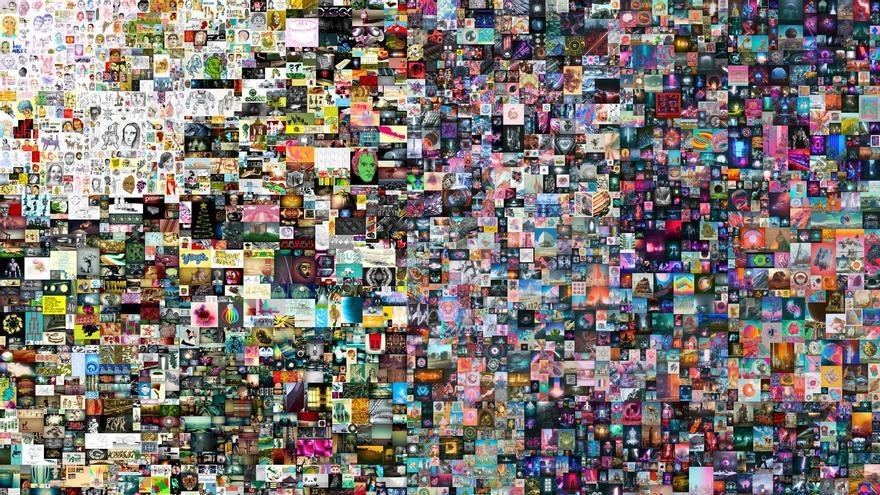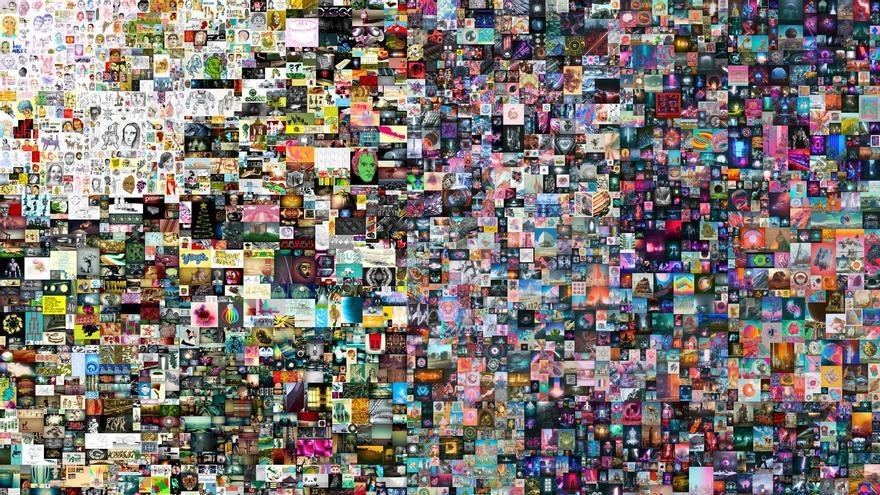 The first oart bra Entirely digital, a JPG file created by artist Beeple, sold Thursday at Christie's auction house for an unpublished record of nearly $ 70 million. (58.5 million euros), thus consolidating the NFTs (Non-Fungible Token or cryptographic token) as a new, original and exclusively binary art form.
'Everydays: The First 5000 Days', a "collage" of Beeple's daily digital creations since its inception, has broken all records and places its creator, until recently only known in crypto art forums and among fans of the internet counterculture, among the most sought-after living artists, at the height of figures such as David Hockney or Jeff Koons.
Mike Winkelmann, the real name of Beeple, has celebrated in a party of 'Clubhouse' 'a social network for virtual meetings in audio format, "a historic day", which supposes the consolidation of NFTs as the technological framework that has given life to a new market for art that is only and exclusively digital.
New day in art history
Beeple's reaction, who instead of canvas and paintings uses Cinema 4D software and who five months ago had no idea what an NFT was, was a loud and expeditious "holy fuck" (shit!) On Twitter.
NFTs use blockchain technology, the same technology that sustains cryptocurrencies, to create an unalterable record of unique digital content and original and that cannot be copied without losing its authenticity cryptographic signature, to which everyone has access on the internet and which allows to verify the origin of that content.
This technology, which marks a turning point in the history of art and in the world of investment in scarce assets and demanded by digital collectors, Dapper Labs was born in May 2017 with its CryptoKitties, a collection kitty game that revolutionized the world of 'blockchain'.
Since then its use has spread to video art, digital art or fields such as sports, with the NBA pioneering the sale of NFT basket videos (a Lebron James dunk recently sold for more than $ 200,000 / € 167,000).
The Spanish investor Pablo Rodríguez Fraile, one of the largest NFT art collectors and who until today held the record for selling a Beeple work (a 10-second video) for 6.6 million (5.5 million euros), explains to Efe that Christie's record "is the clear validation of this movement; a catalyst that reflects that digital art is as important or more important than 'traditional' art. And for many reasons, the community is more attached and close to these works. It is the beginning of a transformation. "
"One of the strengths of NFTs is that it puts an end to the historical problem of traditional art with provenance, something highly imperfect and biased. This technology eliminates the problem of counterfeiting or damage to art. It is also a type of art. with which people are more and more comfortable. It is something that is here to stay ", the entrepreneur and technology consultant Athan Slotkin thinks in an interview with Efe.
Digital asset
"Digitization has broken all borders and the 'blockchain' is one more evolution. There is clearly an investment component with the creation of these new assets, but also highly emotional, of people who buy it because they really consider it a work as valuable as a canvas, "says Carlos Domingo, expert in cryptocurrencies and digitization and CEO of the company Securitize.
"In the case of 'blockchain' we are in a very interesting moment, because it is maturing a lot, but its shortcomings have been seen, such as problems with the cost of transactions. Perhaps in the future we will have blockchain platforms for NFT and others for financial applications, "adds Domingo.
Platforms such as Nifty Gateways, Opensea or Foundation have become in a very short time the great markets of digital art and the custodians of a multimillion dollar business, which has not stopped growing in recent months.
The NFT rush has made use of the planet's renewed digital presence during the pandemic and communities of lovers of artistic content or simply "memes", in the increasingly complete universe of the internet.
In Slotkin's opinion, "the fact that we spend more time at home and on the Internet has served as an accelerator of this type of art, but we would have reached this moment anyway."
The blockchain revolution, which has led to question the very logic of fiat money or value agreed by a society around a piece of paper, now touches the foundations of the value of art itself or what the philosopher Walter Benjamin called the ' aura 'when in 1935 the value of a work in the era of' mechanical reproduction 'was questioned.