China's CPI rises 2.7% year-on-year in July, above forecasts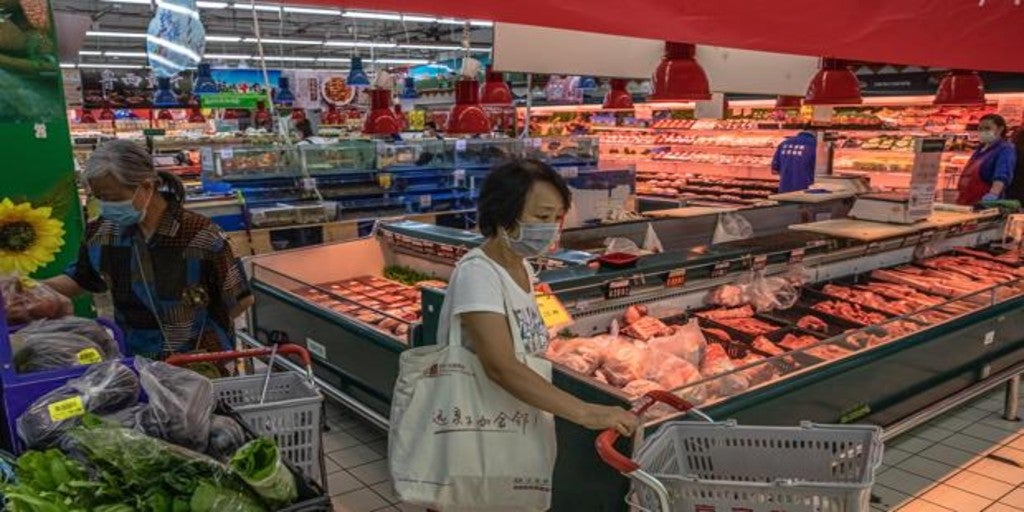 Madrid
Updated:
save

China's consumer price index (CPI), the main indicator of inflation, has increased by 2.7% year-on-year in July, compared to 2.5% in the previous month, the National Statistical Office (ONE) reported today. The figure is slightly higher than expected by analysts, who had forecast an increase in inflation of around 2.6% for June.
The institution also disclosed this Monday that the producer price index (PPI), which measures Wholesale inflation fell by 2.4% year-on-year in July after falling 3% year-on-year registered in June.
ONE statistician Dong Lijuan has explained in a statement that the data reflects the result of government policies aimed at stabilizing prices and guaranteeing supplies, and noted that "the market was generally stable."
Sharp rise in food prices
As in previous months, the ONE data shows that the main protagonists of the rise in the CPI were food, which became more expensive by 13.2% y-o-y in July compared to 11.1% in June.
Specifically, the pig price, one of the most demanded products by Chinese consumers, continues unstoppable and has increased in un 85.7% year-on-year last month (in June it increased by 81.6 and in May, 81.7% year-on-year), given that its production has been reduced since mid-2018 by an African swine fever epidemic that has decimated the national herd.
Likewise, the price of fresh vegetables increased by 7.9% year-on-year in July, while thel of eggs fell by 16.6% and that of fresh fruits fell by 16.6%. On the other hand, the ONE has indicated that the price of non-food products did not register changes and, among them, that of consumer goods increased by 4.3%, while those of services did not experience variations either.
The cost of medical care it rose 1.6% year-on-year in July and education, culture and entertainment, 0.3%, while the prices of transport and communications fell by 4.4%; those of clothing, 0.5%, and those of housing, 0.7%.
The IPC has grown by 2.4% year-on-year in July in urban areass of the Asian country, while in rural areas it increased by 3.7%, added the agency.
Regarding the PPI, that has fallen by 2.4% year-on-year in July After falling 3% in June and 3.7% in May, the ONE highlighted the drop in the prices of industries related to the extraction of gas and oil (-27.8%) and those that process it ( -17%).