China shares an image of the soil of Mars collected by its robot Zhurong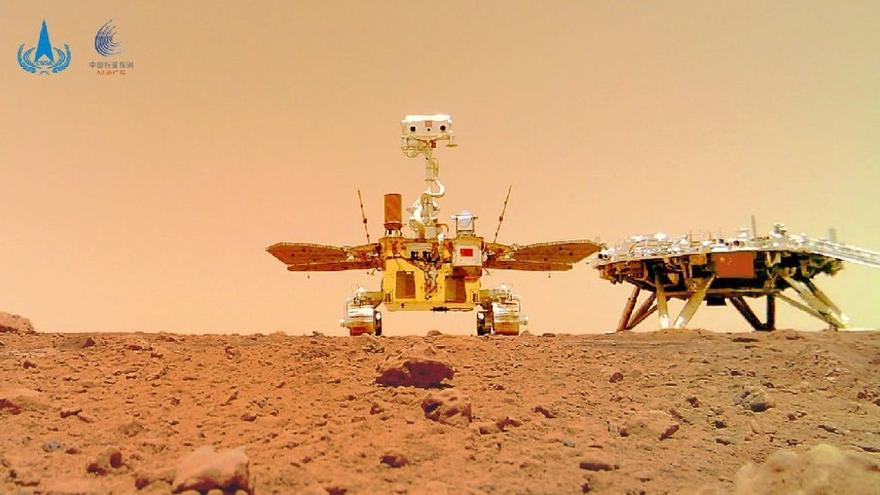 The Chinese space agency, CNSA, has released the first batch of scientific images from Mars of the Tianwen 1 mission lander and the Zhurong rover. at its location in Utopia Planitia.
The panoramic view of the landing site was made using the navigation terrain camera on the rover's mast to take a 360-degree mosaic image. The image shows that the terrain near the landing site is flat, and the Martian horizon can be seen in the distance.. The abundance and size of the rocks are consistent with expectations, indicating that autonomous landing site selection and implementation of obstacle avoidance hovering was effective.
The first map of topography and geomorphology images taken by navigation camera after the rover reached the surface of Mars.
The image shows that the nearby surface is relatively flat, with stones of different sizes distributed, with smooth edges, light colors and semi-buried. There is an annular well at the far end, with darker cornerstones at the edge of it, and some sand dunes further away, report a CNSA Weibo account.
Another image includes the landing pad taken when the rover moved about 20 feet to the southeast. The image shows that the landing platform shines, where the Chinese flag appears, and a surface rich in detail is appreciated.
For another image (topping the information), the rover traveled about 10 meters south of the landing pad, where released a self-contained camera installed on the underside of the vehicle and then retreated to the vicinity of the landing pad. This camera took pictures of the movement of the rover and the landing pad, which are transmitted to the rover via wireless signals and then relayed back to Earth via the orbiter by the rover.