China leads the world's largest free trade area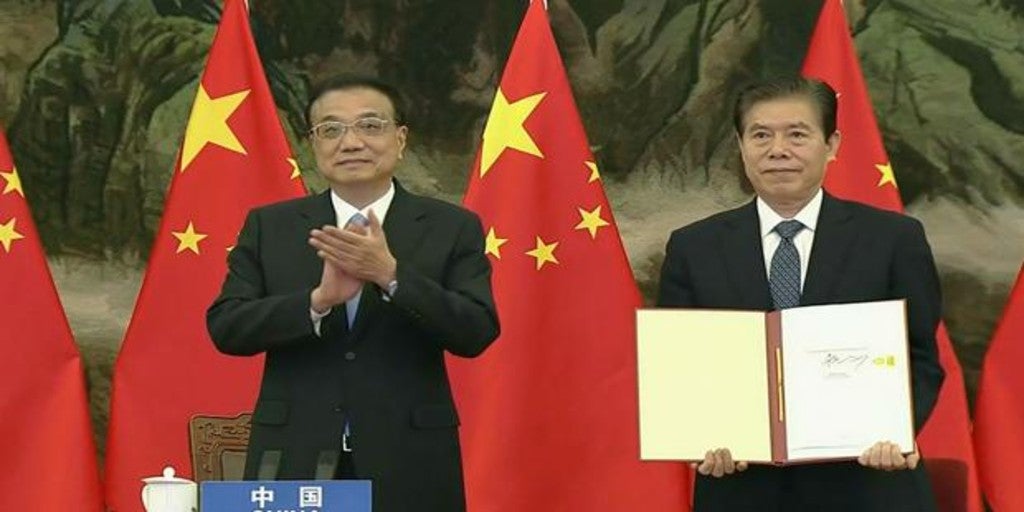 Updated:
save

It took 8 years and 28 rounds of negotiations, but the goal has been achieved. The largest free trade zone in the world is a reality, after the signature of the Regional Integral Economic Association (RCEP). There is currently no such diverse market that encompasses a larger population (about 2 billion people) and presents similar development potential.
China, Japan, South Korea, Australia, New Zealand and the ten nations of Southeast Asia have become part of a common market that concentrates one third of the global economy. The signing of the agreement, broadcast in streaming last Sunday, responds –according to the fifteen countries that signed it- to the current needs of the digital economy, respects intellectual property rights in any field and develops, with special detail, the chapters of electronic commerce.
90 percent of the products and services that will be marketed in this immense geographical area will be duty free. According to the official representation of China, the RCEP is the most inclusive treaty currently in force.
Not in vain the estimate of planned investments, the result of consensus and multilateral effort, points to Increases higher than the original agreement known as "10 + 1". Only the sum of China, Japan and the Republic of Korea will significantly increase the development of trade in the region.
This giant step in the opening of Asian borders for free trade coincides with the Covid 19 pandemic and the "Report on the perspectives of the world economy", published in October by the International Monetary Fund (IMF), where it anticipates a contraction of the world economy of 4.4% this year 2020.
In this scenario, the brand new East Asian market, enormous economic vitality and great growth potentialIt is a success but, for the Chinese authorities, it also represents a firm "veto" on the current protectionism of, in their words, some "American politicians."
The commercial alliance, sealed from the respect and individual differences of each nation, sends a political message to the economies that resist opening their markets. Singapore Prime Minister Lee Hsien Loong summed it up this way: "The signing of the RCPE is a huge step forward for a world where multilateralism is under attack and global economic growth is slowing."
The agreement of the fifteen incorporates countries from developed economies such as Japan, Australia, New Zealand, the Republic of Korea and China plus the nations of the ASEAN, (Association of Southeast Asian Nations, for its acronym in English): Vietnam, Thailand , Singapore, Indonesia, the Philippines, Malaysia, Myanmar (Burma), Cambodia, Laos, and Brunei.
With these new common economic and commercial rules, for countries with complementary identities and characteristics, it is hoped to integrate and develop varied industrial chains in the region and further expand the Asia-Pacific Free Trade Area (FTAAP). China considers this agreement a fact against the current of protectionism from other blocs and defends "globalization" as a passport to the future. "The decoupling of the economy and trade," lost its reason for being, say the authorities. These are new times but "the right path" to continue moving forward is built with "multilateralism and free trade."