"Children have always been to the nines. I'm not a slut."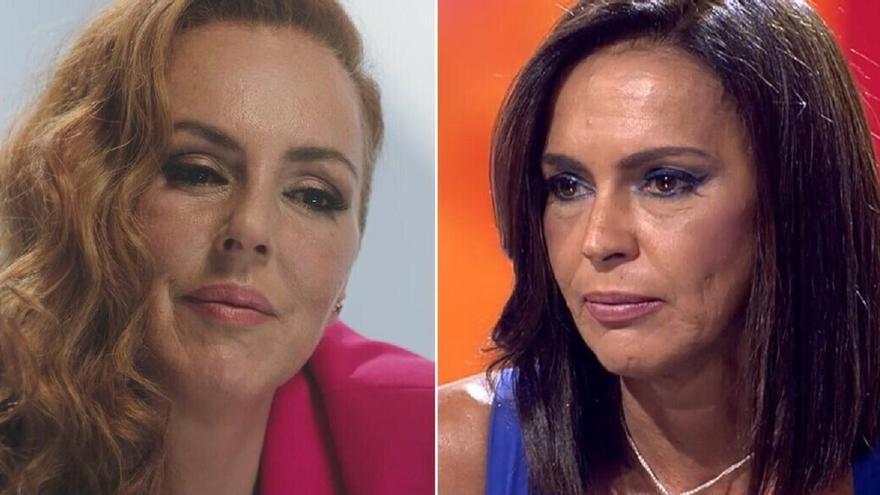 After what Rocio Carrasco break a quarter century of silence in 'Rocío, tell the truth to stay alive', the documentary series that Telecinco aired between March 21 and June 2, which led to the cessation of Mediaset as a collaborator of Antonio David Flores, her ex-husband and father of her children Rocío and David, it is her turn to Olga Moreno, which has recently won 'Survivors 2021'. And it is that the winner of the Mediaset program is in the spotlight after the brutal allegations of the protagonist of the controversial docu-series and was interviewed by Carlos Sobera and several collaborators such as Isabel Rábago, Antonio Rossi, Marta Lopez, Master Joao, Cristina Tarrega Y Kiko Matamoros in 'Now Olga'.
"I am very nervous. I am not here to convince anyone. I am not here to talk about Rocío Carrasco, I am here to talk about what has been said about me", started.
"I have seen my family collapsed. My husband, Rocío, David and my 8-year-old daughter, Lola, but I am a very strong person and I will always be by their side. They have missed me a lot, but here am", has related about how he has seen his family after passing through 'Survivors'.
He has remarked that the only thing he has done has been to take care of Rocío and David, the children of Antonio David Flores and Rocío Carrasco. "All I have done in these 22 years is give a lot of love to some children who are not mine. I would do it again. I would have liked their mother to be there always because for us it would have been easier, but I do not lose hope I hope you open your eyes and know that your children are there. ".
"I have rowed in favor. The only thing I have done is give love, be in all the doctors, be in all the tutorials … And the one who should have been is her because I am not her mother. I am a woman who I met my husband with two children "he added.
Regarding the suicide attempt carried out by Rocío Carrasco almost two years ago, Olga Moreno states that "How do you want me to help Rocío Carrasco?" before the question of Isabel Rábago. "I know what I have done when I found out. When Antonio David leaves 'Big Brother', in the hotel hall the lawyer tells us what has happened. Days later the father tells his daughter, who calls to Rocío Carrasco and I'm not going to say anything else "he adds.
"We were one hundred percent with the children for fifteen days. I have not had a bad relationship with Rocío Flores. She was very much like her father and anyone who touched her father was like 'he's going to take my job away.' earn my living ", Explain.
"I have spent six years of my life hunting lice. The children left my house like two brushes and when they returned after 15 days I had to go hunting again. In my house there was no longer room to put more products "Said the defender of the hearing of 'Save me'.
"I, out of respect for the children, am not going to get into any of that. Those children have gone like a brush leaving my house. The children have been to the nines. I am too much with hygiene. This seems to me. .. I can tell you that the children have been perfect. I am very clean. That they had lice when they were children, well, what can you say to me. The children have always gone to the nines. I can only say that I'm not a slut ", has remarked.
On Christmas 2010, David flores he had to be admitted to the hospital because of pneumonia. The minor was at that time about 12 years old and assures that Rocío Carrasco had been notified and that it took five days to go to the hospital. On the other hand, she has denied that neither Antonio David Flores nor she told her that her mother was not going to see him.
"That's a lie. David entered because he had pneumonia or pneumonia, I don't know, and Rocío called her mother and after I don't know if four or five days, that I was in bed with him to hold the tracks, they arrived on the one in the morning. "My reaction was' Come on, David, look who has come, your mother, what joy!", he counted.
"If he goes to another place there, I am not going to spoil him. The only thing I've done is take care of his children, who are not mine. Dantesco? I'm not going to spoil you. I tell you from the bottom of my heart and don't go out there, especially for your son. I am the best in the world but I do not pass that way if that is what you want to imply ", He narrated when he saw a fragment of the docu-series in which Rocío Carrasco describes as "dantesque" having found the partner of his ex in bed with his son.
"Couldn't you think that your husband's wife is taking care of her son because she had pneumonia that scared us? Her daughter suffered a lot because her mother was not with her brother. That is why Rocío did not talk to her mother", sentence.
Replica of Rocío Carrasco
Save me I would have decided to change the section Talk to her, which leads Rocio Carrasco as an advocate for the audience. The space, which normally airs on Tuesdays or Wednesdays, would go this week to Thursday, one day after the broadcast of the special of Olga Moreno.
From the program they trust to collect all the comments and opinions of Olga during the special, so that Rocío can freely answer from her space just a few hours after the broadcast of the expected interview